Militant Islam Monitor > Satire > Kamran Bokhari :Strategic Forecasting's Terrorism Intelligence Report's 'Islamist Disservice'
Kamran Bokhari :Strategic Forecasting's Terrorism Intelligence Report's 'Islamist Disservice'
Militant 'post' Islamist and 'post' State Department counter terrorism expert analyse intelligence for Stratfor
August 3, 2004

MIM:

Kamran Bokhari: From Militant Islamist to Strafor Intelligence Analyst:

Even before he was hired as a geo political intelligence analyst at Stratfor, Bokhari made political assessments and forecasts . In 1999 he defended Osama Bin Laden against charges that he was involved in the US embassy bombings in Narobi and Tanzania . Bokhari accused the US of anti Muslim bias for focusing on Bin Laden as the perpetrator . In the same article Bokhari "forecast an escalation of hostilities in the future" which begs the question as to if his predication made as spokesman of Al Muhajiroun, a group with ties to Al Qaeda, was based on "insider information".

Excerpts from Kamran Bokhari's 1999 article: "Freedom Fighters Now Called Terrorists".

Bokhari's article was in response to a piece entitled : "Terrorism Poses A Serious Threat to Society". The bombings refer to Al Qaeda attacks directed by Bin Laden against the US embassies in Nairobi and Kenya.

"The general principle of a person being innocent until proven guilty is conveniently and arbitrarily suspended in the case of Muslims–who have become the "usual suspects."

"The U.S. government has yet to provide a shred of concrete evidence that proves Bin Ladin's involvement in the bombings. He is being attacked for the alleged acquisition of nuclear weapons by those who themselves maintain the largest arsenal of such horrible weapons, and happen to be the only ones who have used them to date"

"Islam is a mercy for all mankind, except for those who are at war with Muslims, i.e., the occupiers of any Muslim land. Islam obligates Muslims to defend themselves from the aggressor(s), which is a right entitled to every human individual and group.

"If it is proven that Bin Ladin is truly responsible for the death of innocent civilians, I would be among the first ones to call for his prosecution. But I am increasingly growing skeptical of a fair and impartial handling of this matter and forecast an escalation of hostilities in the days to come".

-------------------------------------------

Kamran Bokhari writing as Al Muhajiroun spokesman while a student of political science in the Southwest Missouri State University paper on 2/17/99. http://www.southweststandard.com/93-21/f2.html

His article was in response to SMSU strategic and defense studies student Rod Stark's article "Terrorism Poses A Serious Threat To Society". http://www.southweststandard.com/93-20/f2.html

Since 2003 Kamran Ashgar Bokhari has been employed by Strategic Forecasting Inc. as a geo political analyst for the Middle East and South Asia. http://www.stratfor.com/stratfor/corp/CorporateAbout.html

---------------------------------------

Strategic Forecasting Incorporated has just announced it's new "Stratfor Intelligence Service"

Given the increased urgency of the terror threat more accessible terrorism updates and information could prove to be a useful resource if the credibility of it's data was not undermined by the fact that one of it's geo political analysts, Kamran Bokhari, is the spokesman for Al Muhajiroun, "one of the most extremist groups operating in the world today".

One would expect that a company like Stratfor, which bills itself as "one of the world's leading global intelligence firms" would also have been able to exhibit a modicum of common sense beyond the concept "it takes one to know one " when they hired self professed 'post Islamist' Bokhari. whom CEO Friedman reportedly sees as an asset to the company because of his Islamist background.

Bokhari certainly has impressive credentials in militant Islamist circles from the UK to the US (and perhaps his native Pakistan), but it doesnt take a strategic analyst or subscription to Stratfor to predict the folly inherent in the notion that "Islamists know terrorism best " could also be extrapolated to find that Bokhari's fellow Islamists may be getting more information then any of Stratfor's paid subscribers.

Stratfor's hiring of an Islamist as intelligence analyst and the company's heralding of a 'New Terrorism Intelligence Service' is a cross between farce and gallows humour , given that their 'in house' "geo political analyst" for the Middle East and South Asia , is none other then Kamran Bokhari, North American spokesman for Al Muhajiroun. the group which celebrated 9/11 as "A Towering Day in History" and had a picture of the Capital building in flames on their website. Al Muhajiroun is and both of it's founders Omar Bakri Mohammed and the now jailed Abu Hamza Al Masri are directly linked to Bin Laden and Al Qaeda .

Former SMSU student Kamran Bokhari (and SMSU professor of Arabic history, Ahmed Ibrahim, who translated for Omar Abdel Rahman when he was in the Federal penitentary in Springfield in 1996, were among the founding members of the Islamic Center of Springfield Missouri, which is presently under investigation for ties to Al Haramain and Al Qaeda funding.

Besides the label of an "insult to your intelligence" report coming to mind,one wonders how Stratfor's accessment of any terror threat could be credible if one of their own consultants has personal and political ties to the very people who are posing the threats themselves.

Below is an example of a possible conflict of interests between Stratfor's risk assessment and geo political analyst Kamran Bokhari's view of the same risk as 'post' Islamist Al Muhajiroun spokesman.

------------------------------------------------------------------------------------------

MIM:Stratfor geo political intelligence analyst Kamran Bokhari, has a "post Islamist" assessment of who the real extremists are posing a threat to America today. At a 2003 conference of the American Association of Social Scientists entitled : "Extremism: A Threat to Global Peace", an Islamist neo con bashing Jihad fest surrealistically intended to, "dispel the popular image that all Muslims are extremists and that Islam is engaged in a holy war against the west." (!)

"Kamran Bokhari examined how neo-conservatives and right wing Christian fundamentalists influenced the Bush administration policies.He underscored the threat they posed to inter civilisational dialouge and harmony,endangering the present global volatile atmosphere. He then explored methods for overcoming these challenges". http://www.servetus.org/en/news-events/articulos/200308291.htm

MIM: The pre- conference press release also adds an unintentional note of perverse humour and proclaimed that:

"Extremism and terrorism is a universal problem. No single religion, group, or nation should be blamed exclusively for extremism. The war on terrorism and extremism cannot be fought with guns and tanks alone. The peace loving people of the world, no matter what faith they belong to, must be united to combat extremism before it becomes out of control, resulting in destruction of humanity.

To understand and explore the ways to combat extremism, the Association of Muslim Social Scientists, a branch of Islamic Society of North America (I.S.N.A.) is holding its 3rd Regional Conference on Saturday, August 23, 2003 between 9 am and 4 pm at the University of Texas at Arlington - Students Center, Blue Bonnet Hall, titled 'Extremism: A Threat to Global Peace.'"

Among the planned panels in which Stratfor Intelligence analyst Bokhari participated was one called :Theories of the Psychology of Violence, the Future of World Peace, and "If interfaith ideals are sufficient tools to counter terrorism." The program is set up to guide those in attendance through problems, and then the viable solutions to the said problems.

(For the complete text press releases scroll to the bottom of the page).

MIM:In addition to his work as a Stratfor intelligence analyst, Kamran Bokhari is also the secretary and interim treasurer of the Association of American Social Scientists, which organised this event. The AMSS is a Saudi funded organisation directly linked to the Wahabist International Institute of Islamic Thought, which is currently under investigation for it's ties to terrorism funding.

The AMSS's former president and current in officio board member, Louay Safi, was the head of the research department of the IIIT when it was raided by the FBI in 2003.

http://www.worldnetdaily.com/news/article.asp?ARTICLE_ID=27199

http://www.militantislammonitor.org/article/id/214

MIM:It is also worth noting that the AMSS conference was organised by the former Pakistani ambassador Syed Ahsani, which implies Pakistani official involvement in the event. Kamran Bokhari, who was born in Islamabad, is also the son of a Pakistani government official who came with his family to New York 33 years ago and became an employee of the Pakistani permanent mission to the United Nations. In an ironic twist, Bokhari's group, Al Muhajiroun, issued a press release after the bombing of the UN building in Iraq, which lauded the attack, rhetorically entitled: "The UN: A Legitimate Target"? When I asked Bokhari how his fathers employment at the UN and his groups declaration of war against the organisation might present a personal conflict of interests, he abruptly changed the subject: http://www.freerepublic.com/focus/f-news/971064/posts

-----------------------------------------------------

MIM:In 2003 Bokhari, who is not a US citizen and has been in this country for 20 years, went to the INS alien registration in Texas where he was student: The article relates how "Kamran Bokhari said goodbye to his wife and child,wondering if his next call to them would be from an INS detention center." Bokhari is quoted as saying:"I was expecting to be deported for something I never know what I did. I had told everybody here, I'm going, so goodbye if I don't see you"

He then revealingly added: "Are they going to say what did you do that was so awful that they deported you?"

MIM: Which begs the question if "they" refers also to his colleagues at the Stratfor office in Austin, Texas.

The article then relates Bokhari's experiences at the INS office where the Al Muhajiroun spokesman and Stratfor intelligence analyst made the assessment that:"The INS is severely ill equipped to handle the special registration procedure...The process is in the making,I see that the INS are overworked. They are not properly trained to do this. I felt as if I and the other students were guinea pigs for the new system".

"He also observed that the software didn't work and the computers crashed."

(for complete text of the article scroll to the bottom of the page).

MIM:Bokhari also disingenuously commented that he was considering going back to Pakistan, which is odd, in light of the fact that he is in completing his studies at Howard University, working as an intelligence analyst at Stratfor, and 'secretary and interim treasurer of the Association of Muslim Social Scientists.

"Though always intending to return to Pakistan, the situation discouraged Bokhari from staying in the United States".

"Having lived here so long I feel part of the community over here,this is like a second home, but I'm reconsidering the idea of a second home."

--------------------------------------------------------------------------

MIM: Let's hope that the INS gets their act together and reconsiders Bokhari's resident status so that he can be sent back to his first home in Pakistan.

--------------------------------------------------------------------

Note: Kareem Shoura ,the legal advisor to the Arab American Anti Discrimination Committee, which monitored Bokhari's visit, is one of many American Islamist organisations using the guise of civil rights to protect terrorist rights, and facilitate their entrance into the US, is one of several groups filing a class action lawsuit against the INS arguing that arrest of foreign nationals resulting after the registration of special registration is unlawful.

According the ADC's Shoura: " Terrorists are not limited to the countries identified and that a terrorist, from Britain for example, would not be required to undergo special INS registration."

MIM: In light of Bokhari's own assumption that the registration could lead to his deportation, one can only surmise that the ADC's legal advisor had Bokhari in mind with the filing of a lawsuit which claims that the "arrest of foreign nationals after registration is unlawful"

.It is noteworthy that Shoura specifically mentions that terrorists coming from a country such as Britain would not have to register with the INS.

In 2000 Bokhari invited the head of Al Muhahijiroun, Anjem Choudary, to speak at his then alma mater Southwest Missouri State University, where Choudary was billed as the head of the Muslim Lawyers Association in the UK. One of the charges against the recently jailed Al Muhajiroun founder Abu Hamza Al Masri,whose case for extradition from the UK to the US is pending, was planning on setting up Jihad training camps in several US states, including Missouri at the time Bokhari was a student at SMSU.

http://www.southweststandard.com/93-22/spotlight.html

----------------------------------------------------

MIM: INn 1999, while a student at SMSU, and head of the Muslim Student Association, Bokhari helped to found the Islamic Center of Central Missouri . The Center was closed by the US Treasury Department after it's funder was said to be Saudi business Soliman Albuthi, who had invested in property as a front for Al Qaeda funding. SMSU Islamic history professor, Ahmed Ibrahim, was the MSA faculty advisor who also helped to run the center .

In 2004 Professor Ahmed Ibrahim professed ignorance at the source of thefunding stating :

"Nobody here had the resources to develop a mosque, he recalled. "I was told that someone — I don't know from where — donated the money to purchase the building here in Springfield.

"Unfortunately, all these activities have become essentially suspected by the federal government, but many are legitimate," said Ibrahim. "I know those people personally (who attend) and they're basically ordinary American citizens of Arab descent…long trusted and known in the community."

-------------------------------------------------------

http://64.233.167.104/search?q=cache:dskaRizyTy0J:www.ohio.com/mld/kansascity/news/nation/7994466.htm+soliman+albuthe+missouri+&hl=en

Excerpt from : Charity Assets Blocked- Including Missouri Mosque

According to tax records examined in September by The Washington Times, the Oregon group claimed to have $663,000 in assets in 2001 with prayer houses in Springfield and Ashland.

Attorney Matasar said the Springfield mosque was worth about $400,000. Court records indicate the foundation purchased the building in June 2000 shortly after Albuthe brought $275,000 from Saudi Arabia to deposit in an Oregon bank.

The Springfield facility has sometimes drawn more than 100 area Muslims during holy periods, said Ahmed Ibrahim, faculty advisor to the Muslim Student Association at Southwest Missouri State University. The student group has mostly dissolved since the terrorist strikes of Sept. 11, 2001.

According to tax records examined in September by The Washington Times, the Oregon group claimed to have $663,000 in assets in 2001 with prayer houses in Springfield and Ashland.

Attorney Matasar said the Springfield mosque was worth about $400,000. Court records indicate the foundation purchased the building in June 2000 shortly after Albuthe brought $275,000 from Saudi Arabia to deposit in an Oregon bank.

The Springfield facility has sometimes drawn more than 100 area Muslims during holy periods, said Ahmed Ibrahim, faculty advisor to the Muslim Student Association at Southwest Missouri State University. The student group has mostly dissolved since the terrorist strikes of Sept. 11, 2001.

The Islamic Center of Springfield filed state incorporation papers in 1999 and has maintained its nonprofit status "in good standing," according to the Missouri Secretary of State's Web site.

MIM Note:

The Springfield Islamic Center was incorporated the same time that Kamran Bokhari the spokeman for Al Muhajiroun, and the head of the Muslim Student Association, at SMSU, whose advisor was Ahmed Ibrahim. Bokhari was also a student of political science studying with Dr. Hageyeghi, who organised two "terrorism forums" at SMSU between the years 1999 and 2004. Last April, his former student Bokhari, newly morphed into a Stratfor intelligence analyst. was invited to speak at the forum on the subject of "anti Americanism in the Muslim world".

-------------------------------------------

Which begs the question as to why Springfield, Missouri ,with a transient Muslim population of between 100 and 150, was chosen to benefit from Albuthi's largesse.Members of the Muslim Student Association, run by Al Muhajiroun spokesman Kamran Bokhari, comprised a large part of the Muslim community, and had other facilities in which to meet and pray.

Soliman Albuthe, a Saudi national accused of Al Qaeda funding, is also the web registrar of Islamtoday.net which showed "snuff films" of attacks on American forces in Iraq.

http://64.233.167.104/search?q=cache:cKPauaLLqmQJ:haganah.org.il/harchives/001218.html+soliman+albuthi+&hl=en

-------------------------------

MIM: The latest news about the Islamic Center of Springfield and their ties to Al Qaeda funding quotes SMSU professor Ahmed Ibrahim asserting that : "Many people are angry and upset that they are seen as contributing to terrorism". For their part the worshippers hope that their mosque "will be cleared of any terror link" which begs the question as to why they took money from Al Haramain in the first place,never questioning the nearly half million dollar 'contribution' from a known Saudi Wahabist group whose financer, Soliman Albuthe,had been named in a terror funding investigation.

Mosque linked to Saudi charity tries to clear name
Associated Press Posted on Sun, Oct. 03, 2004 http://www.kansascity.com/mld/kansascity/news/local/9827085.htm
SPRINGFIELD, Mo. - Local Muslims are fighting to keep their mosque as the federal government probes a link between the Islamic Center of Springfield and a benefactor accused of financing terrorism around the world.
The center is owned - on paper at least - by the Saudi-based Al-Haramain Islamic Foundation, which U.S. authorities accused of diverting donations to support a web of terrorist activities. The Saudi government dissolved the foundation last summer.
But supporters of the center claim the Saudi charity was simply a one-time donor whose name ended up on its property title.
"There isn't any evidence that the center was used to solicit funds or to contribute funds to terrorism," said Ahmed Ibrahim, an associate history professor at Southwest Missouri State University. "Many people are angry and upset that they are seen as contributing to terrorism."
Last month, the Bush administration formally designated Al-Haramain as a group suspected of supporting terrorism through its Springfield mosque and its main location in Ashland, Ore., saying the charity "shows direct links between the U.S. branch and Osama bin Laden."
Assets of the two properties have been frozen since February.
The foundation has denied its U.S. branch funded terrorism.
Greene County real estate records show the East Division Street prayer house was deeded to the U.S. branch of Al-Haramain in June 2000.
The Internal Revenue Service says the property was purchased for $378,291, though Al-Haramain claimed it paid $461,542. The federal probe suggests the Islamic Center was a front that enabled the laundering of money to terrorists overseas.
An attorney representing members of the mosque has asked Al-Haramain to acknowledge its one-time donation was a gift and to correct the alleged titling error.
"It's not going to be an easy situation," said Merrill Talpers, the attorney for mosque members. "We've got to get them to renounce any interest they have."
The Islamic Center's opening was a boon for Muslims here, who for years set up makeshift mosques at locations ranging from the basement of a doctor's office to various spots on the Southern Missouri State University campus.
Many international students that once frequented the center returned to their home countries after the Sept. 11 attacks, and backers say the mosque's finances are so tight it can barely pay its utility bills.
Worshippers hope their mosque's name will be cleared of any terror link. Regardless, many say they'll continue to come.
"As long as this building is here, I'll be coming," said Ibrahima Barry, who previously managed the center. "It is a second home for me."
Dr. M. Hasan Choudhury, a Springfield physician, also expressed hope that any link to jihad would be erased.
"We do feel kind of on the spot, but we don't have anything to hide. We believe the law will absolve us," he said. "It's tough to be Muslim these days."


----------------------------------------------------------------------------------

MIM: Listing from SMSU professor Ahmed Ibrahim CV showing his role as translater for WTC bomb plotter Sheik Omar Abdel Rahman.

Ibrahim was also the coordinator of the Muslim Student Association at SMSU the time Bokhari was it's leader and spokesman for Al Muhajiroun .

Under the heading 'Academic Service' on Dr.Ibrahim's CV we read the following:

--------------------

1996_ Faculty Advisor, Muslim Students Association

1996 Volunteer For the Medical Center For Federal Prisoners, Springfield, Missouri. Acted As An Interpreter For Shaykh Umar Abd Al-Rahman.



http://courses.smsu.edu/ahi058f/CV.htm.

------------------------------------

Abel Rahman's lawyer, Lynn Stuart, and three other individuals including paralegals and translators were indicted for smuggling out notes from Omar Abdel Rahman to members of his 'Islamist Group' which directly resulted in terror attacks claiming the lives of tourists in Egypt .

Indictment by John Ashcroft stating that Stuart and others helped Abdel Rahman direct terrorism from his prison cell.

http://usinfo.org/wf-archive/2002/020410/epf305.htm

------------------------------------------------------------------------------

A recent news report said that Abdel Rahman, a diabetic, was deliberately OD'ing on black and white M&M's in order to trigger his diabetes and become a martyr to his followers (!)

http://www.jihadwatch.org/archives/002374.php

http://www.foxnews.com/story/0,2933,124360,00.html
MIM:' Diabolical Diabetic' aka Sheik Omar Abdel Rahman
Posts in response to "M&M Jihad" on the Jihad Watch website:
------------------------
"What's his address? I'll send him a case of Frosted Flakes".
Bob
-------------------------------
"Since that blind inmate Abdel-Rahman has a real penchant for M&M's, why doesn't the warden at the prison order up a plate of rocky-mountain oysters (from piglets), get'em candy coated and give them to him after telling him he's getting a big treat for good behaviour? He's blind so just tell him that these extra large M&M's were special ordered just for him..
After he's done wolfing them down whole, let it slip what they really were."
Mahdi
--------------------------------------------------
For more comments click on the 'Jihad Watch' URL
---------------------------------------------------------------
Militant Islamist as Stratfor Intelligence analyst :
MIM: This is an excerpt from a terror threat analysis on the Stratfor website:
http://www.stratfor.com/coms2/page_home
Washington as Target: D.C. Through Al Qaeda's Eyes

"The nation's capital remains a key target for an al Qaeda strike. Speculation on what could be hit, and how, typically fails to take into account al Qaeda's own targeting criteria and objectives. The good news is that most of the scenarios that excite public concern are unlikely to happen because they would not serve the group's broader interests. The bad news is, other factors argue in favor of a spectacular strike in the Washington, D.C. area that will likely involve another attack by aircraft, a car bomb, or a "dirty bomb" involving medical-grade radioactive material."
--------------------------------------------------------------------------------
MIM: This is another view of a potential strike on the Washington, D.C. as seen by Stratfor geo political analyst Kamran Bokhari's Al Muhajiroun group on their website: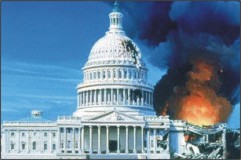 Picture from the AM website :
The Capitol building in flames
http://www.talonnews.com/news/2004/march/0318_radical_islamic.shtml
"USA is not only the enemy because they disbelieve in Allah; more than that they are actively fighting against Islam and Muslims.
Without any doubt, terrorism against them is obligatory"
http://www.muhajiroun.com/Deen/jihaad1/terrorism.htm
-------------------------------------------
http://home.businesswire.com/portal/site/google/index.jsp?ndmViewId=news_view&newsId=20040803006028&newsLang=en
August 03, 2004 06:10 PM US Eastern Timezone

Stratfor Launches New Terrorism Intelligence Service

WASHINGTON--(BUSINESS WIRE)--Aug. 3, 2004--Stratfor, the leading private intelligence organization, today announced a new daily terrorism information service to keep clients informed on key developments in the US and abroad.



The email service will include alerts on breaking developments, analyses and forecasts, based on Stratfor's worldwide intelligence network and its analytical team headed by geopolitical expert Dr. George Friedman and former State Department counterterrorism specialist Fred Burton, Stratfor's Vice President of Protective Intelligence.

"The more people know, the safer they will be," said Friedman. "This applies to corporations as well as individuals. Our view is that the public is not receiving enough quality information on a timely basis to make the decisions they need to make to adequately protect themselves, their families and their workplaces. It is not enough to just get color-coded alerts. They need to know more, and Stratfor can provide that new level and quality of information."

Corporations, too, are not receiving enough information to adequately protect their employees and their business, Friedman said. "Our new service is intended to fill a gap by explaining the news behind the news, including information on terrorist strategies, operational methods and techniques, their most likely targets, and the economic impacts of terrorism, so companies have time to plan and put appropriate defenses in place."

Stratfor also provides "protective intelligence" consulting and executive briefings, and produces custom reports such as "Islamist Threats to Corporations and Industries."

For more information or to subscribe to the daily Stratfor Terrorism Intelligence Brief, visit www.stratfor.com/terrorismintelligence, or call 202-429-1800.

Media contact: John Adams Associates 202-737-8400
Contacts
Stratfor
by
John Adams Associates
Francie Israeli, 202-737-8400
Stratfor describes this service to their subscribers :
"In addition to receiving Stratfor's daily commentary on key events and insight into major terrorist threats and trends around the world, subscribers will also receive Stratfor's weekly Terrorism Intelligence Report, written by Stratfor's Vice President of Protective Intelligence. Prior to joining Stratfor, Burton was a counterterrorism special agent with the U.S. State Department, where he was instrumental in many high-profile operations -- including orchestrating the arrest of Ramzi Yousef, mastermind of the 1993 World Trade Center bombing."
http://web2.stratfor.com/news/2004TERAD2/Info.neo?P=RAF&pid=F
--------------------------------------
MIM: Recent photograph of Anas Malik (left) Kamran Bokhari (middle) phony moderate Muqtedar Khan aka Khanman .This photo was taken on October 19th 2004 with Al Muhajiroun spokesman Bokhari standing in front of the groups intended target.
MIM: What many of Stratfor's subscribers may not know is that Kamran Bokhari, who is now one of Stratfor's geo political analysts, is the spokesman for a group called Al Muhajiroun and as such is himself an associate people who support Sheik Abdel Rahman and the 1993 WTC Center bombing .Al Muhajiroun is notorious for celebrating the 9/11 attacks as a "towering day in history" and having a picture of the Capitol building in flames on their website .Al Muhajiroun is fighting for the establishment of a global Islamic state, sends recruits to train at Al Qaeda camps, and recently, two of it's members involved in suicide bombings in Israel.
In 1998 Kamran Bokhari was named as the North American spokesman of the extremist group Al Muhajiroun.In 1997 Bokhari was the introductory speaker at a rally in London in the presence of Al Muhajiroun's leaders Omar Bakri Muhammed and Anjem Choudary.
In 2000 while a student of political science at South West Missouri State University Bokhari invited Choudary to speak at a symposium cynically entitled "Islam and Democracy", where Choudary was billed as the 'Chairman of the Muslims Lawyers Association in the UK "
A recent exchange on the "Hootinan" website between Bokhari and an individual named Aybars who claimed to know him in his pre 'post Islamist' days as a student in Missouri, when Bokhari was the spokeman for Al Muhajiroun, elicted some comments which indicate that one doesnt need to subscribe to Statfor's terrorism forecasting bulletin to read that a possible terror threat could be lurking in the guise of one of the contributors to a terror threat analysis bulletin (!)
In his last posting on Hootinan Aybar states that :
.Kamran Bokhari is a clear and present danger to humanity and a terrorist cell hiding in the U.S."
http://www.militantislammonitor.org/article/id/95
---------------------------------------------------------------------------
http://web2.stratfor.com/news/2004TERAD2/Info.neo?P=RAF&pid=F
"Stratfor Terrorism Intelligence Brief is an online newsletter dedicated to monitoring and providing insight into major terrorist threats and trends around the world. Stratfor's award-winning and acclaimed analytical team, in-house terrorism experts and global network of human intelligence sources will deliver unparalleled and unbiased global coverage in this daily newsletter focused exclusively on terrorism.
Get daily insight into the major terrorist threats and trends around the world, as well as developments in counterterrorism.
Learn what's really going on in the battle against terrorism that often goes unreported by mainstream media.
Give yourself a better ability to put risks in perspective based on new insight into what really matters and how it may impact the future."
------------------------------------------------------------------------------------------------------------
MIM:In the latest news from Stratfor Al Muhajiroun spokeman Kamran Bokhari" is affectionately referred to be colleagues as their resident Jihadist".
Austin Company is Leader in Global Intelligence
Stratfor Accesses Risks ,predicts events by scouring internet, paying sources around the world
http://jobs.statesman.com/wl/Content.jsp?Content=/careercenter/articles/20041010_stratfor.html
By Mark Lisheron
AMERICAN-STATESMAN STAFF
Sunday, October 10, 2004
George Friedman is feeling expansive.
A world crabbed and cowed by fanatics, insurgents, paladins and rogues is a business opportunity for Friedman and for Stratfor, the company he founded in Austin in 1996.
"We are growing," Friedman says as he sits in a soft black conference chair looking out at a sunny Austin from his ninth-floor headquarters at the Chase Building downtown.
Stratfor, short for Strategic Forecasting, has more than 100,000 customers, according to Friedman. Most are subscribers to the Stratfor Web site, where, for just $79 a year, they can be briefed weekly on when and where the world will be unsafe next. For upwards of $100,000 a month, he says, at least 100 companies receive far more detailed forecasts.
Risk assessment can be a risky business, says Friedman, who admits he's not always right.
"Intelligence is a very lonely place where you stand with your own views without any need for approval," he says.
Despite the hazards, Stratfor's role as a provider of global intelligence has become well-known among people in that field. Among them is Bob Inman, who served as both National Security Agency director and deputy CIA director.
"Stratfor's value outside of its value to its customers is as an alternative view of events from the information gathering being done by the government," says Inman, a faculty member at the University of Texas LBJ School of Public Affairs.
Last week, Stratfor's counterterrorism expert, Fred Burton, offered an assessment of the potential for a terrorist attack in the United States before the election. His short list of targets included Houston, a petrochemical center Stratfor believes may be home to one of the last terrorist sleeper cells in the country, and Austin, because of its symbolic connection to George W. Bush. How imminent is an attack, Burton cannot say.
Friedman is more specific.
"Do I think there will be an attack in the U.S.? Yes," he says. "Do I think it will be in Austin? No."
Clients are eager to pay for this kind of certainty, but they aren't the only ones paying attention to Friedman's pugnacious geopolitical forecasts. In 1999, after Friedman correctly and precisely predicted the war in Kosovo, Stratfor's dispatches on the region suddenly made their way into the Early Bird, the early morning briefing at the Pentagon, according to Clark Murdock, a senior national security and defense analyst for the Center for Strategic & International Studies in Washington.
Stratfor's client list is growing, and the company is hiring. More than 70 people work for Stratfor in Austin and in its newly opened Washington offices, half of them in intelligence gathering and analysis and half in sales and marketing. Stratfor is a leading private intelligence firm in a market where $50 billion will be spent on intelligence and security this year, according to Fortune Magazine. (Friedman won't discuss corporate revenue numbers or divulge the names of clients.)
Riding the momentum, Friedman last week set off on a tour to promote his new book, "America's Secret War -- Inside the Hidden Worldwide Struggle Between America and Its Enemies" (Doubleday, $25.95). As of Saturday night, the book was No. 92 on Amazon's best-seller list. It offers a detailed critique of the Bush administration's handling of the war in Iraq and on worldwide terror that leaves room for hope.
"I can't escape the conclusion, the remarkable conclusion, that we're actually winning this war," Friedman, 55, says during two lengthy interviews before the book tour. "I conclude that Osama bin Laden was a very smart man who took a very big risk and failed. On the broadest level, his goal of an uprising in the Islamic world, of altering Islamic governments and transforming them, has failed."
'The Shadow CIA'
Stratfor was once called "The Shadow CIA" in a Barron's headline that conjures a world of skulkers in trench coats coming in from the cold. There are tantalizing hints of this within Stratfor. The company's director of intelligence, Victor Gubareff, is a former Russian colonel who is able to tell you almost nothing about his background in several languages. Burton spent 15 years with the U.S. State Department. He was the deputy chief of global counterterrorism who headed the American investigation of the assassination of Israeli Prime Minister Yitzhak Rabin and whose office posted the $25 million bounty on bin Laden.
Even Friedman hews to an official history as an academic specializing in international affairs.
"Am I a spook?" he says, repeating a reporter's question, without confirmation. "I've been interviewed many times recently and, do you know, you're the first to ask."
Stratfor does indeed rely on an international cadre of sources who are paid for providing timely information on elections, uprisings and foreign and domestic policy shifts. "Yes, I do have somebody in Amsterdam sitting in a cafe sipping coffee," Friedman says slyly.
The company's view of the world is crafted by analysts of varied backgrounds with intellectual curiosity in common assembled by Friedman to scour the Internet for news, information and arcana. The environment is competitive, the analysts say, a jostling to draw attention to their particular point of view or region.
Analysts spend hours on the Internet reading newspapers, work the CIA once paid operatives posted throughout the world to do. A Stratfor analyst is looking for disclosures that challenge the current accepted wisdom, anything that might reveal a turn in the politics or the economy of any place in which a client might be interested.
Kamran Bokhari, who is affectionately referred to by colleagues as Stratfor's jihadist, had been teaching at Austin Community College after getting a master's degree in international affairs from Southwest Missouri State University. Peter Zeihan is a self-described adopted, gay Eagle Scout from Marshalltown, Iowa, who knocked around three different colleges before working at the Center For Political and Strategic Studies in Washington. Friedman hired Zeihan, whose specialty is Russia, five years ago after Zeihan contacted him to point out a flaw in one of Friedman's Web analyses.
Stratfor also hires interns of varying backgrounds from the University of Texas to gather intelligence on the Internet.
"Common background? There is no common background here except for the quality of mind and a passion for knowing what is going on everywhere," says Rodger Baker, the director of geopolitical analysis, sitting in front of maps of Korea studded with handwritten stickies. "When you come here, you basically apprentice. There is a way of doing things here at Stratfor."
This way is the Friedman way. Talk to enough of his colleagues, and a fierce loyalty to Friedman's methods and some of his swagger emerges.
"What you do is work your butt off to prove yourself wrong, to find the anomalies that don't make sense, to find what you're not looking for," Baker says.
Lifelong obsession
Friedman packages this brand of intellectual skepticism with an air of confidence that suggests an intimate connection to the world and a passion that is personal as well as academic.
He was born in 1949 to Hungarian Jewish parents who survived separate concentration camps only to be driven from their home country by the Communists, Friedman says. While his mother made her way with her newborn to New York from Vienna, Austria, Friedman's father stayed behind in Eastern Europe for two years, a period he never discussed with his family. Although he has no proof, Friedman fancies that his father was involved with U.S. intelligence.
After earning a bachelor's degree in political science from New York's City College and a doctorate in government from Cornell University, Friedman taught for 20 years at Dickinson College, American University and the Army War College in Carlisle, Pa. Increasingly, he focused on military strategy, defense and security, making himself available to brief the military, government and political think tanks.
"Growing up, I was obsessed with international affairs because to me it was life and death," Friedman says. "During the revolution in Hungary (1956) our family discussed casualty figures at the table the way some families discuss baseball scores."
In 1994, Friedman headed the Center for Geopolitical Studies, which was started that year with $1 million in Pew Foundation money at Louisiana State University. After two years, Friedman says, he concluded he could profit just as well from his work as had the school for which he toiled. He took more than a dozen scholars and analysts from the center with him when he moved to Austin. He could have started Stratfor anywhere, but he and his wife, Meredith, a public relations specialist, chose Austin for its climate and the research advantages of the University of Texas library system.
Friedman's timing could not have been better. The end of the Cold War was changing the nature of government intelligence gathering. The geopolitical focus no longer centered on the Soviet Union but on unrest in some of the remotest places on Earth. Technology would make getting to those places cheap.
"What I realized in 1996 was that the Internet was going to change the entire architecture of gathering information," Friedman says. "I came from the classical world of intelligence, where information was scarce and expensive."
Looking back, ahead
For all of his expertise, Friedman has been glaringly and publicly wrong.
In the early 1990s, in a book he wrote with his wife, Friedman predicted the inevitable economic clash of the United States and Japan, shortly before Japan's economy began a long and slow decline. In 1995 he forecast a collapse of the economic network in East Asia that did not materialize. One can only imagine the wealth Friedman would have amassed had he imagined early in 2001 what bin Laden would do to draw the United States into a war in the Islamic world.
"The thing that I was most wrong about was my forecast in 2000 that the Middle East would become a geopolitical backwater," Friedman says. "I failed completely to understand how far al Qaeda was willing to go."
Friedman believes in owning up, adjusting the world view and proceeding. For the foreseeable future, Stratfor's money is on terrorism. Three years without another attack in this country is proof of the damage done to al Qaeda, but the organization is far from finished, he says.
Friedman brought on Burton within the past year as a vice president to head its division of counterterrorism and corporate security.
Burton says he will be watching the presidential election carefully, but "I personally think either one of them will have no choice but to go down the road to prevent another 9/11."
Friedman says he could be happy with either President Bush or John Kerry. Both, he says, are decent men with the best interests of the country at heart. Both will be subject to the Stratfor analysis, the kind that doesn't exist to satisfy a presumption or a policy.
"Honest to God, I couldn't care less what anyone thinks of my positions. If I did, I couldn't do what I do," Friedman says.
[email protected]; 445-3663
----------------------
MIM: Al Muhajiroun spokesman Kamran Bokhari could never could have predicted that he would go from Militant Islamist singing the praises of Osama Bin Laden and calling for the establishment of an Islamic state, to 'establishment' geo political intelligence analyst for an American company iwhich has been called a "quasi private CIA.."
----------------------------------------------------------------------------------------
MIM: On September 4th 2004 Bokhari presented his field of expertise :" Jihad and Jihadism" as part of an online internet forum ironically entitled : "International Terrorism and the Middle East"
He gave his email address at Statfor.com.

Jihad and Jihadism: A Rendition of Transnational Militant Non-State Actors
Kamran Asghar Bokhari, bokhari@stratfor.com, Howard University
http://www.apsanet.org/mtgs/program/program.cfm?event=1428668


-------------------------------------------------------------------------------------------
http://www.southweststandard.com/93-22/spotlight.html
Southwest Missouri State University 1999
Before : Bokhari explaining his Islamo facist 'weltaanshauung' as spokeman of Al Muhajiroun spokesman
Excerpts from the article : "Kamran Bokhari Advocating Change in the Muslim World"
by Jennifer Kline
"Bokhari devotes his life to his Islamic faith and reuniting the Muslim world under one government, an Islamic government supported by its people. at the panel presentation "Iraq in Crisis" Feb. 2. His message was clear: the Muslim world must be reunited under one government. An Islamic government supported by its people. This ideology is Bokhari's life work.
Bokhari, a senior majoring in political science, is far from an ordinary undergraduate student at SMSU. At age 30, he is the official spokesperson for the Al-Muhajiroun in North America, which in Arabic means "The Immigrants." It is an organization that is active in many Muslim countries. Al-Muhajiroun actively advocates social, economic and political change within the Muslim world. Bokhari said the word Muhajiroun is used 76 times in the Qur'an, the holy book of Islam."
"Bokhari was born in Islamabad, Pakistan, the country's capital city. He lived there until he was 3 years old and then his family moved to New York City. Since then he has fluidly shifted between Pakistan and New York, and for a few years lived in India. Bokhari's father works for the Ministry of Foreign Affairs in Pakistan and throughout his career he has been posted in various countries and embassies. Bokhari said he was lucky to have a father who worked in that area of government. Because of it, he has been afforded the rare opportunity to see the world. Bokhari's father is now employed in the Permanent Mission of Pakistan to the United Nations in New York City. Bokhari's mother was a schoolteacher and he has two younger sisters."
-----------------------------
This is an excerpt from furture Stratfor analyst Bokhari's analysis of Osama Bin Laden which he wrote for the SMSU student paper in 1999:
His concern that the US government is "trying to distort and obscure reality" indicates why an official of the US State Department happily shared the podium with him at a forum on "anti Americanism" at Bokhari's old alma mater SMSU.
---------------------------------------------------------------------
"I am quite amazed at how fighting occupation forces can be conveniently and arbitrarily dubbed as "terrorism." If this is the case, then Thomas Jefferson, George Washington, and Ben Franklin could also be considered terrorists by the British government. Bin Ladin is no more than a suspect in the bombings of the U.S. Embassies in East Africa. But the media, dancing to the tune of the federal agencies, has already indicted him.
The general principle of a person being innocent until proven guilty is conveniently and arbitrarily suspended in the case of Muslims–who have become the "usual suspects."
The U.S. government has yet to provide a shred of concrete evidence that proves Bin Ladin's involvement in the bombings. He is being attacked for the alleged acquisition of nuclear weapons by those who themselves maintain the largest arsenal of such horrible weapons, and happen to be the only ones who have used them to date.
As a Muslim, I am concerned that through this "Get Ussamah Bin Ladin" campaign, the U.S. government is trying to distort and obscure reality. Those who oppose Western (in particular United States) hegemony and neo-colonialism are declared "terrorists." It is no secret that the intelligence apparatus of hegemonic nations like the United States and the United Kingdom, through their embassies, conduct operations under the cloak of diplomatic immunity. Puppet regimes in the Muslim world are kept in power through these diplomatic conduits. It is ironic that the on one hand the United States is the champion of human rights, while on the other hand it openly and hypocritically supports petty tyrants, well known for brutally oppressing their citizens."
---------------------------------------------------------------------
MIM: In 2000 Al Muhajiroun's UK leader Anjem Choudary was invited by Kamran Bokhari to speak at South West Missouri State University.
SMSU's public affairs program contributed $800 for the event.
Note that Anjem Choudary was billed as the ' Chairman for the Society of Muslim Lawyers in the United Kingdom, which is one of the 'front groups' for Al Muhajiroun.
http://cicero.smsu.edu/how/pagrant/PAexamples.html
Kamran Bokhari, Muslim Students Association, $800. Symposium on "Islam and the West." Speeches by Anjem Choudary, Chairman of the Society of Muslin Lawyers in the United Kingdom, on "Islam and Democracy" and Faiza Noor, Muslim activist, on "Universal Human Rights," April 12, 2000
--------------------------------------------
MIM:Bokhari was a student of political science at the time he was a spokeman for Al Muhajiroun, leader of the Muslim Student Association and founder of the Islamic Center of Springfield which was closed in 2004 due to being linked to the Saudi Al Haramain foundation and funding for Al Qaeda.
Ironically, Bokhari's professor at the time was none other then professor Meghydad Hageyaghi who recalled Bokhari " as one of his best students" in recent radio interview. At the same time that 'star student' Bokhari was inviting the leader of Al Muhajiroun to speak at SMSU Hagayeghi was organising a 'Lecture Series About Terrorism' which received $4,0000 dollars in SMSU funding . One of the speakers was none other then the former FBI head of counter terrrorism Oliver "Buck" Revell.
http://cicero.smsu.edu/how/pagrant/PAexamples.html
1998-1999 Public Affairs Funded Grants
Mehrdad Haghayeghi, Political Science Department, $4,000. Lecture Series on Terrorism, Gideon Rose, Columbia University professor and member of National Security Council 1994-1995; Robert Spiegle, State Department, Office of CounterTerrorism; Richard Falkenrath, Professor of National Security Studies, Harvard; Oliver Revell, former Deputy Director of Intelligence and CounterTerrorism, FBI, January – April 1999.

In 2004 Mehdad Hagayehi organised another Public Affairs forum at SMSU entitled "The Root Causes of Anti Americanism in the Muslim World " and invited his former student Kamran Bokhari, who had since morphed from militant Islamist to geo political analyst at Stratfor, together with David Ballard , the director of the foreign media relations at the US State Department.(see pictures and event listing below)

Info on Kamran Bokhari :

http://www.southweststandard.com/93-22/spotlight.html

MIM :Kamran Bokhari in 1999 as the spokesman of Al Muhajiroun at the Southwest Missouri State University.

He was also the leader of the SMSU Muslim Student Association and founder of the Islamic Center of Springfield.

The Islamic Center was closed in 2004 by the Treasury Department due to links with Al Qaeda and Al Haramain terrorist funding.

Bokhari is currently working on a degree at Howard University and works as a geopolitcal analyst for Stratfor,Strategic Forecasting Incorporated . http://web2.stratfor.com/corporate/index.neo?page=center&storyId=233530

Stratfor is run by George Friedman and the company is described as a "private quasi CIA".

Next to his intelligence work at Stratfor Bokhari is presently the interim treasurer and secretary of the Islamist ' Association of Muslim Social Scientists.

He is also a fellow at the' Center for the Study of Islam and Democracy' . Their inclusion of Kamran Bokhari in their organisation is ample proof of their Islamist agenda which is cloaked in the word Democracy'

http://www.militantislammonitor.org/article/id/214

.http://www.danielpipes.org/article/1659 http://www.insightmag.com/news/2004/03/30/National/Pipes.Objects.To.Fox.In.The.Henhouse-636946.shtml

Kamran Bokhari's position at Stratfor has enabled him to morph form militant Islamist to intelligence analyst . He returned to his Alma Mater at SMSU in 2004

Instead of spokesman for Al Muhajiroun, Bokhari was listed as a Stratfor intelligence analyst" at an event called "Public Affairs Lectures on Terrorism."

The forum was co sponsored by his former political science professor ,Mehrdad Hagayeghi, under the auspices of the United Nations Association, Springfield.

Bokhari was billed together with David Ballard from the State Department, and the subject was one with which Al Muhajiroun spokesman Kamran Bokhari was personally aquainted..

"The Root Causes of the Rising Tide of Anti Americanism in the Muslim World".

MIM put out a press release to protest this travesty and urged David Ballard and the sponsors to withdraw from the event .

http://www.militantislammonitor.org/article/id/31

-----------------------------------------------------------------------------

http://associations.smsu.edu/unausa/

Public Affairs Lecture Series on Terrorism
What:

David Ballard, Director Department of State, Office of Foreign Press, and Kamran Bokhari, an Intelligence Analyst for Stratfor.com, will present on the "Root Causes of the Rising Tide of Anti-Americanism in the Muslim World."

Where:

When:

Friday, April 02, 2004 at 6:30:00 PM
Springfield Chapter, UNA-USA
2323 E. Rosebrier
Springfield, MO 65804
417-886-7199
-------------------------------------------------------------------------------------------------------------------
Springfield Missouri 2004
After: Bokhari as Stratfor analyst and friend of the US State Department speaking on the ' Root causes of anti Americanism' (!)
Kamran Bokhari: From militant Islamist to Stratfor intelligence analyst ...(see picture above)
Kamran Bokhari -David Ballard US State Dept.- SMSU political science professor Hagayeghi
http://www.psgsa.net/4.02.04_Event.htm
------------------------------------------------------------------------
David Ballard , Kamran Bokhari, and Dr.Hagayeghi (standing) at SMSU "terrorism" forum

http://www.psgsa.net/4.02.04_Event.htm

------------------------------------------------------------------------------

MIM:: Al Muhajiroun spokeman Bokhari's present employment as geopolitical analyst for Strategic Forecasting is the Islamist version of the how one man's American dream can become America's counter terrorism nightmare..George Friedman the CEO of Stratfor who hired Bokhari appears to believe that Bokhari's experience as an Islamist 'activist' is a valuable asset to his terrorism threat analysis and political prediction strategy.

One can only wonder if Bokhari's old friends in London, such as Omar Bakri and Anjem Choudary, are still in contact with him today.

Maybe they too have seen the "post Islamist" light and could find a position at Stratfor...

----------------------------------------------------------------------------------------------

MIM:Kamran Bokhari's addressed the objections raised by Dr.Daniel Pipes to his the participation of the CSID in a United States Institute of Peace sponsored event and a press release objecting to his appearence at a ' terrorism forum' at his alma mater, Southwest Missouri State University. The forum was organised by his former political science professor, Dr. Mehrdad Haghayeghi. Dr. Haghayeghi was fully aware of Bokhari's role as spokesman of Al Muhajiroun and head of the Muslim Students Association while he was his student at SMSU.

At around the same time that Bokhari organised a symposium featuring Anjem Choudary, head of Al Muhajiroun in the U.K., Dr. Haghayeghi organised a 'terror forum' in 1999 which included former deputy director of FBI Counter Intelligence Buck Revell. This was the same year in which his prized student, Kamran Bokhari, in his capacity as Al Muhajiroun spokesman, had written an article for the SMSU student paper defending Bin Laden entitled "Freedom Fighters Now Called Terrorists".http://www.southweststandard.com/93-21/f2.html
. http://cicero.smsu.edu/how/pagrant/PAexamples.html

( see full text of Bokhari's letter below response).

http://www.joplinindependent.com/display_article.php/dr-h1080489637

Dr. Pipes's article detailed Bokhari's background as the leader of Al Muhajiroun and explained why the Center for Islam and Democracy (the CSID) has shown further proof of their Islamist agenda by accepting Kamran Bokhari as one of it's fellows. Bokhari is also the secretary and interim treasurer of the Association of Muslim Social Scientists a Saudi funded organisation directly linked to the IIIT which was raided by the FBI in 2003 on charges of terror funding.

Journalist Kenneth Timmerman also expounded on Kamran Bokhari's role in Al Muhajiroun in his article :"Pipes Objects to the Fox in the Henhouse" . http://www.insightmag.com/news/2004/03/30/National/Pipes.Objects.To.Fox.In.The.Henhouse-636946.shtml

While a student of political science at Southwest Missouri State University Bokhari was active as spokeman for Al Muhajiroun and also lead the Muslim Student Association. He helped to found the Islamic Center of Springfield, which was closed in 2004 by the U.S. Treasury Department for funding Al Qaeda.

All of Bokhari statments regarding his role as North American leader for Al Muhajiroun is either dissemblance or lies depending on one's semantical preference.

Which begs two questions:

If Bokhari is unable to tell the truth about any aspect of his personal involvement with Al Muhajiroun. as proven below, how credible can his analyses as a Stratfor geo political forecaster ?

Despite,or rather because of, his extensive history of Jihadist connections, Bokhari currently works as a defense analyst for Strategic Forecasting Corporation, commonly known as Stratfor.

"Stratfor is the world's leading private intelligence firm providing corporations, governments and individuals with geopolitical analysis and forecasts that enable them to manage risk and to anticipate political, economic and security issues vital to their interests."

http://stratfor.com/corp/Corporate.neo?s=ABO

If professional "post Islamist" is someone who can parlay their militancy working as a Stratfor intelligence analyst , what job description could be provided for a suicide bomber who decided not to detonate themselves ? Would they apply for work under the category of a " pre post Islamist" ?

----------------------------------------------------------------------

MIM:Bokhari's response to Dr.Pipe's article was posted on several websites, including Hootinan.

His response generated several replies from someone who claimed to know him during his time as a student of political science at Southwest Missouri State University.

The poster made several comments which indicate that his claims of knowing Bokhari are indeed valid (see full posting below): The poster who called himself 'Aybars' stated that :

. http://www.hootinan.com/?entry=2438_The_U.S._Institute_of_Peace_Stumbles

"Kamran Bokhari is a clear and present danger to humanity and a terrorist cell hiding in the U.S."

."By the way, he loves to tell that he has a red diplomatic passport and that nobody can touch him!"

"Mr Bokhari (sic) in 1995 said that they were going to break the hands of the U.S. government".and was used to threaten the Muslims whom did not take his side. Mr. Bokhari is a clear and present danger to both Muslims and US citizen... to the attention of the authorities!"

(see below for complete posting of Aybar's comments and Bokhari's response on the Hootinan website).

Bokhari appears to have become "PISD'ed off "(showing symptoms of ' Post Islamist Stress Disorder') at Aybar and posted this unintentionally ironic reply:

"Again whoever you are, and whatever your objectives may be, I see that you have chosen to continue with your private little jihad against me."

-------------------------------------------------------

MIM Note: Bokhari's father was an official of the Pakistani government and worked at the Pakistani Permanent Mission to the U.N. at the same time Bokhari was head of Al Muhajiroun.

One wonders how William ' Fred ' Burton, Stratfor's newly hired vice president for "Counter terrorism and Corporate Security... who will advise corporate, institutional and government clients on how to develop the most effective security techniques, how to assess threats and potential deficiencies...", would analyse 'Aybar's' information regarding his Stratfor colleague, Kamran Bokhari.

http://releases.usnewswire.com/GetRelease.asp?id=134-05142004

Below Dr. Daniel Pipes article about Kamran Bokhari called "The United States Institute of Peace Stumbles'

Bokhari's response is below :

The comments of someone named Aybar who claims to have been a fellow student of Bokhari and Bokhari's response are printed in their entirety.

http://www.hootinan.com/?entry=2438_The_U.S._Institute_of_Peace_Stumbles

A point by point refutation of Bokhari's claims can be read at :

http://www.militantislammonitor.org/article/id/95

Last week Daniel Pipes blew the whistle on the USIP, U.S. Institute of Peace, in Washington, D.C. when the Washington-based Center for the Study of Islam and Democracy held a workshop. Problem is most of the Muslim personnel in the CISD are radicals. Pipes explains.
Most of CSID's Muslim personnel are radicals. I brought one such person in particular, Kamran Bokhari, to the attention of USIP's leadership. Mr. Bokhari is a fellow at CSID; as such, he is someone CSID's board of directors deems an expert "with high integrity and a good reputation." As a fellow, Mr. Bokhari may participate in the election of CSID's board of directors. He is, in short, integral to the CSID.

Mr. Bokhari also happens to have served for years as the North American spokesman for Al-Muhajiroun, perhaps the most extreme Islamist group operating in the West. For example, it celebrated the first anniversary of 9/11 with a conference titled," Towering Day in History." It celebrated the second anniversary by hailing "The Magnificent 19." Its Web site currently features a picture of the U.S. Capitol building exploding.

Nor is Al-Muhajiroun's evil restricted to words and pictures. Its London-based leader, Omar bin Bakri Muhammad, has acknowledged recruiting jihadists to fight in such hotspots as Kashmir, Afghanistan, and Chechnya. At least one Al-Muhajiroun member went to Israel to engage in suicide terrorism. Al-Muhajiroun appears to be connected to one of the 9/11 hijackers, Hani Hanjour.
Posted by tom at: 5:33 PM EST | email this article | aim this article
Replies: 8
All comments here are open and for the most part unmoderated. However, comments that are off topic or offensive will be summarily deleted at my discretion. The ideas and views expressed below do not necessarily express the views hootinan.com
1
Kamran A. Bokhari
Sat, 03/27/2004 10:06am
I apologize for the length of the message, but at the same time, I feel it is important that you all be made aware of the reality with regards to these accusations.

Anyway, there are several serious problems with Pipes' allegations regarding my past association with al-Muhajiroun (ALM). Those of you who know me personally will be able to understand the ahistorical, decontextualized, and exaggerated narrative spun by Pipes. Three issues stand out in this regard. First, I have not had any ties to this group for five years now as opposed to Pipes' claims that I left last year. Second, my relationship to ALM was marginal in nature. Third, the ALM of today is not the same group that it used to be back when I was affiliated with it.

I take it that Pipes has disregarded that I have on multiple occasions condemned ALM. What's more is that my views on radical Islamism and jihadism are open for public scrutiny in my articles. Moreover, the archives of the Political Islam Discussion List (PIDL), based out of The University of Texas server, which I founded in June 2000, and continue to moderate, are replete with my views for everyone to see whether I am a radical Islamist supporting al-Qaeda (as per Pipes' gross mischaracterization) or an aspiring Muslim scholar of political Islam. What is really ironic is that Campus Watch, a project founded by Pipes expressed appreciation for a panel entitled 'Rescuing Islamic Political Theory from the Jihadist Ideology', which I organized at last year's Middle East Studies Association annual meeting in Anchorage, Alaska. I presented a paper 'Jihad & Jihadism: A Rendition of Transnational Militant Non-State Actors' as part of this panel, and will be presenting this paper again at this year's American Political Science Association annual meeting in Chicago in August.

My thesis for my first Masters in Int'l Affairs & Administration (from Southwest Missouri State University) was entitled 'Islam and Democracy in the Context of Contemporary Islamic Resurgence'. So, being a Muslim with an interest in democratization and democratic consolidation led me to become a fellow with CSID. In this regard, I presented papers at the last three annual conferences of CSID. As a matter of fact, the U.S. State Department carried a report on my panel from last year's conference, specifically quoting me. This is now posted on the websites of many U.S. embassies all over the world, and that too in multiple languages. What I find really odd is why Pipes never wrote about me until now, i.e., many years after my brief connection with ALM. More importantly, why would a Muslim calling for democracy be part of an organization that considers democracy to be antithetical to Islam! Meanwhile, what is both ironic and interesting is that on one hand we have individuals like Pipes accusing people like myself of being militant Islamists, while the real radicals & militants accuse people like me of being U.S. lackeys.

Anyway, my brief and limited affiliation with ALM was not in the capacity of the typical member or leader, as Pipes has inaccurately portrayed. Instead, I was interested in the initial ideas of the group, at the time of its formation. ALM began as a forum for promoting debate and cooperation amongst various Islamic organizations, and fighting partisan politics among Muslims interested in the establishment of an Islamic polity via peaceful means. I have always strongly stood against the use of violence as a means to effecting political change. One of the reasons behind my interest in ALM, in fact, was its advocacy of socio-political change through intellectual/ideological/political means. I disassociated myself from the group when it became clear to me that ALM had reduced itself to being a cheerleading club for jihadists.

With the exception of myself, all of the other U.S. based ex-affiliates of ALM (a London based group) lived in New York. Since I resided in Springfield, MO, I was never part of the group's meetings, planning, decision-making, etc. My relationship with the group was unidirectional in that I kept up with the group's literature and activities on my own initiative mostly via the web. I never had any formal membership with the party, which is why when I left there was no formal disassociation either. Moreover, I was also not involved in the formation of the group's U.S. chapter (if one can call it that), and only decided to become part of the group much later as some of my close friends were part of it, but was always a long-distance affiliate. In reality, I was far more active as part of the Muslim Students' Association on my campus and in the local mosque than in ALM.

Then as I mentioned earlier, the ALM of today is very different from the group it began as in 1996. It started off as a group seeking to bridge the differences amongst the many Islamic movements worldwide. It also called for healthy dialogue amongst people of different faiths. In mid-1998, however, and to the shock of those of us here in the U.S., the group began assuming pro-jihadist stances. This was quite paradoxical as the leader of the group Omar Bakri earlier had written a detailed paper in an effort to refute militant Islamists who were claiming that jihad was a valid modus operandi to establish an Islamic state. Nevertheless, this was the point when those of us here in the U.S. began having second thoughts, and one after the other, almost all of us eventually left.

As for my role as ALM "spokesperson", it was by no means a serious undertaking as the group only consisted of a few friends. I guess I was asked to take up the position due to my communicational skills, and abilities. Since ALM as an organization had no structure in the U.S., it was proposed that a spokesperson would be the best point of reference for the group. I was never given any directions from Bakri or anyone else as regards my duties. On quite a few occasions, I recall voicing my deep frustration with the folks in London that even though I had no input in the decision-making process, yet I ended up having to defend their statements, many of which I found myself strongly disagreeing with. My protestations, however, only fell on deaf ears. The occasion to represent the group in the media never arose, but I did write a handful of messages on a host of Muslim email discussion/distribution lists, trying to explain the group's take on miscellaneous matters. In essence, I was a spokesperson only in cyberspace and that too briefly. I guess this is perhaps how my relationship with the group may have become public knowledge.

In any case, it is most unfortunate that a scholar of Dr. Pipes' stature would choose to cast me in such a negative light based on superficial information, and without even bothering to ascertain the precise nature of my limited association with ALM. Such reckless and misleading characterizations can ruin the lives of many innocent people. His determination to protect people from dangerous individuals and organizations is both understandable and admirable, however, is the good doctor willing to live with the guilt that his irresponsible attitude caused unnecessary grief to individuals and their families?

Regards,

-------
Kamran A. Bokhari
Doctoral Student
Department of Political Science
Howard University
2441, Sixth Street
Washington, DC 20059
2
aybars
Tue, 03/30/2004 03:33am
Mr. Bokhari has certainly ties with the mentioned group. In Springfield Missouri, he used to bring in fatwas from his leader based in London, for the killing of the regular Muslims. Mr. Bokhari in 1995 said that "they were going to break the hands of the US government" and was used to threaten the Muslims whom did not take his side. Mr. Bokhari is a clear and present danger to both Muslims and US citizend... to the attention of the authorities!
3
Kamran A Bokhari
Wed, 03/31/2004 09:10pm
I do not know who you are, why you didn't bother to identify yourself, or leave an email contact, and what is your agenda behind these malicious accusations.

Indeed, I, like any other human being have my disagreements with others, however, I have never called for the use of violence against any individual, group, or state. Moreover, for the record, I didn't move to Springfield, MO until late 95. The group in question didn't exist until 96 and my affiliation didn't take place until Jan 97.

Regarding my positions on matters political and Islamic, they are well known to my professors, fellow students, co-workers, friends, colleagues.

As for you sir, who ever you are, whatever your problem is, I can only request that you desist from hurling false accusations. But then again the nature of the internet is as such that anyone can say anything at anytime. No wonder academia, despite years of efforts to standardize citation of material found on the web, remains skeptical about the veracity of information available on this medium.
4
aybars
Wed, 04/14/2004 04:35am
When he first comes to Springfield MO, Mr. Bokhari calls us, "The Muslim Students Association" and asks for help. Now it's interesting that he doesn't remember me!.... Aybars..... The guy who took him around, the guy who opened up his house for him and his family and the guy for whom he issued death sentences from London. Along with another couple of my friends, Bokhari tried to show us as enemies of Islam although we were Muslims. The reason? Because we were too liberal! According to Bokhari, we had to fight with the government of USA and American people. When we refused this and kicked him out from our lives; he started to attack more. Maybe he was getting his tactics from his visits to the federal prison in Springfield... when he used to visit the guy who tried to knock down the World Trade Center with a bomb before 9/11.
Kamran Bokhari! After seeing waht you have done, I made an oath to fight with the likes of you. As a Muslim, this is my responsibility. I already threw down your mask, but you do not know it yet.

I repeat: Kamran Bokhari, is a clear and present danger not just for US citizens and Muslims, but for all the humanity. Where do you think terrorist bomb cells come from? From people like Kamran Bokhari, who hide behind the big old masks they wear, till they get a chance to ruin the lifes of American people....
5
Kamran A. Bokhari
Mon, 04/19/2004 06:34pm
Again whoever you are, and whatever your objectives may be, I see that you have chosen to continue with your private little "jihad" against me. What I don't understand though is the purpose behind your crude and unsubstantiated comments.

Nonetheless, I have, decided that this will be my last response to you. Any further attempts on my part at a dialogue with someone who hides behind single word pseudonyms, lies, and is only interested in maligning, would only be sheer foolishness. Moreover, I neither have the time nor the energy for such immature exchanges.

Each of your allegations can easily be demonstarted with incontrovertible evidence as being false, but I do not deem that exercise as necessary. I will, however, leave you with two points to consider - assuming that you will.

First, had any of your assertions been true, then my alma mater Southwest Missouri State University, Springfield, MO would not have invited me this past April 2 to come back as a guest speaker to address the issue of 'Anti-Americanism in the Muslim World' from a scholarly perspective. Also, the U.S. State Department would never have allowed its Director of Public Affairs David Ballard to be my co-panelist at this well-attended event.

Second, and more importantly, the United States Institute of Peace (USIP), a federal government agency on April 1, following its extensive investigation of the charges made by Dr. Daniel Pipes (whose article prompted you, whoever you are, to emerge out of nowhere and start attacking me) against myself and the organization I belong to - the Center for the Study of Islam and Democracy (CSID), issued an official statement declaring his claims as being without merit.

Think about this before you embarrass yourself any further. Good bye and best wishes.
6
aybars
Sun, 04/25/2004 10:17pm
Keep on lying man! God will take care of you! And for the hereafter, be ready; for you will be shaken by the eternal justice.

I repeat: Kamran Bokhari is a clear and present danger for all humanity and he is definitely a terrorist cell hiding in USA. By the way, he loves to tell that he has a red diplomatic passport and that nobody can touch him!
7
sabr
Sun, 06/27/2004 04:15pm
-------------------------------------------------------
http://www.servetus.org/en/news-events/articulos/200308291.htm
Full text of press release of the Islamist conference "Islamic Extremism and featuring Kamran Bokhari Al Muhajiroun spokesman and Stratfor analyst as speaker.
AMSS event in Texas blazes new trail: Jamal Badawi reinterprets misunderstood Quranic terms
Ambassador Syed A. Ashani
Press Release August 29,2003
At their landmark 3rd Regional Conference the Association of Muslim Social Scientists broke new ground by dispelling the popular image that Muslims are extremists and that Islam is engaged in Holy War against the West.
In his welcome Dr. Robert Cluck, Arlington's Mayor, appreciated the AMSS teaching about the Muslim contributions to civilization, vehemently condemning the dastardly September 11th attacks, and informing Americans sabout Islam in general through its quarterly newsletter, website, quarterly journal and annual conventions and regional conferences. He assured Muslims equal access to his office.
He welcomed the concept of a Muslim candidate for a City Council seat in Arlington, foreseeing that Muslims will hold an elected office in Arlington in the future.
Muslim Student Association President, Laith Albataineh, welcomed the guests on behalf of the U.T.A. students
Introducing the program, Dr. Basheer Ahmed, Chairman of the 3rd Regional conference stated that extremism and terrorism were a universal problem with no single religion having monopoly. He exhorted the peace-loving people of the world to unite to rein in extremism lest it become a controlling force over all social institutions, with grave peril to humanity. He welcomed the scholars and audience, and outlined the program.
Former Pakistani Ambassador, Syed Ahsani, and Lico Reyes introduced Congressman Martin Frost (D-Texas), the Guest of Honor, at lunch.
The Honorable Congressman referred to his post 9/11 statements, encouraging every Texan to join him in resisting intolerance and bigotry in desire to ascribe blame for this tragedy.
While condemning terrorism in the Middle East, Congressman Frost welcomed the "Roadmap to Peace" and supported a Palestine State.
Moazam Syed, President Elect, American Muslim Alliance Tarrant County thanked the Congressman and read out Congressman's statement referred to above "The terror we witnessed last Tuesday were the acts of madmen. Their actions hadnothing to do with religion, just as the Oklahoma City bombing had nothing to do with Timothy McVeigh's religion. There can be no worse response to this crisis, and nothing less American, than acting with the same hatred and prejudice that motivates terrorists.
"The world can learn by Texas and America's example - we are not a country of bigotry and hatred. America will remain just and tolerant, even when confronted with terror and adversity. Threats and discrimination against Arabs, Muslims, and other American ethnic groups are inexcusable." The audience gave Congressman Frost a standing ovation.
The Congressman is known for his support of civil rights, greater immigrant employment in the US military, constituent service, upholding the Bill of Rights, economic development of his district, and the students career development.
Bob Ray Sanders, Staff Writer and Columnist of Star Telegram moderated the Q & A session at lunch
Dr. Jamal Badawi, the well-known Islamic scholar from Saint Mary's University, Halifax, Canada made a convincing case, based on textual and historical background, from the Quran and Traditions, that the term "Holy War" is non existent in the Quran; "Kufr" does not mean "infidel"; and Allah is Lord of all "beings". Islam, according to Badawi, is thus pluralistic. That if killing "Kafir" is permitted, does one kill ones' wife for being Kafir -as Muslims are allowed to marry ladies who are "People of the Book". He also decried the notion that Islam sanctioned "Holy War", "killing of non-believers wherever found" and "subjugating followers of all other religions." as often presented by some antagonists...
He affirmed that the argument of some scholars on the basis of Muslim history and practice, or juristic opinions could not replace the Quran
and Hadith-the two primary sources of Sharia. He advocated an integrated contextual approach in understanding these texts, pointing out common pitfalls in their interpretation.
These remarks made a great impact, especially among non-Muslims. To Muslims, he emerged as a moderate Islamic scholar, well attuned to the realities of modern global environment - pluralism, diversity and tolerance, reviving the Prophetic tradition of interfaith dialogue with Najran Christian delegation; they not only spoke about their faith, but were allowed to pray in the mosque at the time of their prayer.
In his introduction, President AMSS, Dr. Lousy Safi contrasted the present extremism in Muslims, based on distortions in interpretation of scripture and lack of free debate on historical Islam's practice over centuries. Ethnic and religious minorities lived in peace and harmony, occupying high positions in the administration in Muslim lands. He averred that US Muslims should reenact the historic Islamic traditions of pluralism,diversity, freedom and justice to the minorities.
Marc Ellis, Prof. Jewish Studies, Baylor University, insightfully pointed out to global instability, caused within the current political discourse of the Israel-Palestine problem where extremists were blamed for the spiral of violence is a case in point. In their Diaspora, Jews and Muslims will struggle for identity, status, and empowerment, especially after 9/11. He wondered whether there would be in the 21st Century militancy and violence or a Jewish-Muslim movement towards justice and compassion?
In his Theories of the Psychology of Violence, Charles Ballinger of the Brite Divinity School at Texas Christian University explained the behavior of Palestinians, and Osama bin Laden, who is engaged in rivalry with America. In Dr. Bellinger's view, the 9/11 terrorists rebelled against God/Allah who favored a loving, ethical existence, forbidding
intentional killing of civilians.
Kamran Bokhari of the University of Texas at Austin examined how neo-conservatives and right-wing Christian fundamentalists influenced the Bush Administration's policies. He underscored the threat they posed to inter-civilizational dialogue and harmony, endangering the present global volatile atmosphere. He explored methods for overcoming these challenges.
Michael Provence, Assistant Professor of Modern Middle East History at Southern Methodist University, spoke on "Moderates and Extremists in the Middle East under Colonial Rule." He examined secret intelligence documents of French and British colonial rule over the Islamic Middle East, and argued that in the 1920s and 30s the European agenda in the Middle East represented an extremist position. He asked if imposing foreign rule by violence on a weakened population can ever be a "moderate" goal?
Explaining the acceptance by Islam of the faith traditions of Judaism and Christianity, Asma Afasaruddin, a Notre Dame Professor, outlined in her paper, "Combating Extremism: Tapping Into Islam's Pluralistic Resources", that political and historical events had tarnished Islam's tolerant image, painting Muslims as ontologically intolerant. She cited Quran's inclusivist approach to other faiths and exhorted Muslims to revert to the pluralistic discourse in the midst of current paranoia,
both among Muslims and no-Muslims.
Merve Kavakci, the Mason Fellow at Harvard, outlined a new perspective from a feminine viewpoint. She stated that women's lives were largely influenced by extremism, reverberating in different societies with different impulses, not Islamic or religious in origin. Underlining extremism's impact on women, she proposed a pragmatic solution to this important problem.
In the Banquet, after the outstanding Keynote presentation by Dr. Jamal Badawi, the copious summing up of all sessions' proceedings by Dr. Dilnawaz Siddiqui, former Professor, Clarion University rounded of the event. Earlier in the afternoon, he presented the "Arlington Declaration."
A lively Q & A Session fielded by Dr. Basheer Ahmed followed with all the panelists present on the podium to answer the questions, which continued till midnight.
The 800-strong audience in the two sessions was drawn from the entire Metroplex, both Muslims and non-Muslims. National and Texas scholars of three faiths gave erudite presentations on the subjects of topical interest.The event was widely covered by the media.
Following two preceding Regional Conferences by AMSS Southwest Chapter-the first on Muslim Contribution to Civilization, and the second, on the Role of Religion to Promote World Peace-the present event was a great success, heralding a new chapter of interfaith dialogue.
-------------------------------------------
The press release announcing the conference :"Extremism A Threat to Global Peace":
Note the militant Islamists on the speakers list and the contention that "The war on terror cannot be fought with guns and tanks alone.' One of the subjects covered in the panel discussion which included Stratfor intelligence analyst Bokhari was the question "if interfaith ideals are sufficient tools to counter terrorism".
http://www.forrelease.com/D20030819/datu035.P2.08192003121334.19857.html
ARLINGTON, Texas, Aug. 19 /PRNewswire/ --
Extremism and terrorism is a universal problem. No single religion, group, or nation should be blamed exclusively for extremism. The war on terrorism and extremism cannot be fought with guns and tanks alone. The peace loving people of the world, no matter what faith they belong to, must be united to combat extremism before it becomes out of control, resulting in destruction of humanity.
To understand and explore the ways to combat extremism, the Association of Muslim Social Scientists, a branch of Islamic Society of North America (I.S.N.A.) is holding its 3rd Regional Conference on Saturday, August 23, 2003 between 9 am and 4 pm at the University of Texas at Arlington - Students Center, Blue Bonnet Hall, titled 'Extremism: A Threat to Global Peace.'
Honorable Congressman Martin Frost, Honorable State Representative Lon Burnam, and Honorable Mayor Robert Cluck will make the opening remarks. Prominent Texan and national leaders and scholars will address the conference. They include Professor Marc Ellis of Baylor University, Dr. Louay Safi, President of AMSS, Dr. Charles Bellinger of Texas Christian University, Dr. Asma Afsaruddin of Notre Dame University, Dr. Michael Provence of Southern Methodist University, Mrs. Merve Kavakci, Fellow, Harvard University, Kamran Bokhari, University of Texas at Austin, Professor Dilnawaz Siddiqui of Clarion University, Pennsylvania, and a noted Muslim scholar, Dr. Jamal Badawi of St. Mary's University, Nova Scotia, Canada. The panel discussion will revolve around such topics as Islamic, Christian, Jewish extremists, fundamentalists, and how it relates to the moderate aspects within their respective religions; Theories of the Psychology of Violence, the Future of World Peace, and "If interfaith ideals are sufficient tools to counter terrorism." The program is set up to guide those in attendance through problems, and then the viable solutions to the said problems.
A banquet will be held at 8 pm in Blue Bonnet Hall, University of Texas, Arlington, where Dr. Badawi will be making a keynote speech followed by interaction with audience. All the speakers mentioned above will be on the panel responding to the questions.
Complimentary tickets for the media personnel will be provided at the venue, which includes lunch at the conference and dinner at the banquet. For further information, please contact: M. Basheer Ahmed, M.D., Chairman, 3rd Regional Conference of AMSS at 817-572-4981, 817-907-6080, and at [email protected] . Or Call Azhar Azeez @ Cell # 214-769-0922 and e-mail at [email protected] .
CONTACT: M. Basheer Ahmed, M.D., Chairman, 3rd Regional Conference of
Association of Muslim Social Scientists, +1-817-572-4981, or +1-817-907-6080,
or [email protected] ; or Azhar Azeez, cell, +1-214-769-0922, or [email protected] , for Association of Muslim Social Scientists
-------------------------------------
MIM: Below an account of Bokhari's visit to the INS alien registration.
INS initiative affects UT Students