Militant Islam Monitor > Satire > A Madrassah in Bridgeview Ilinois -Muslim girls basketball team demands banning men from matches played at public schools
A Madrassah in Bridgeview Ilinois -Muslim girls basketball team demands banning men from matches played at public schools
March 12, 2006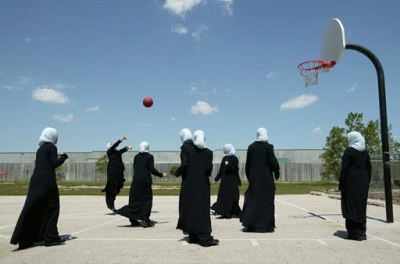 MIM: Dr.Daniel Pipes wrote an article entitled "A Madrassah in Bridgeview Illinois", in which he showed how the deceptively named Universal School adheres to a fundamental Islamic agenda.
The school is presently in the news, because their girls basketball team wants to play other teams, and approached public schools in the area about scheduling competitions. There is one caveat however, the Universal School stipulates that no men be present at the matches.. Not surprisingly this has caused some hesitation on the part of some schools approached, while some say they may attempt to accomodate them. It does not appear that anyone has outright rejected the idea, most likely out of fear of being labelled anti Muslim.
The Universal School is not just attempting to set up a basketball match - they are using the idea of a basktball matchas a Da'wa ploy. (Attempt to spread the religion of Islam). It should be noted that while other religious groups such as orthodox Jews, also implement a strict separation between genders and women adhere to a modest code of dress, which includes headscarves and wigs, it is only Muslims who demand that their rules be accomodated in the public domain.
The Da'wa ploy (introduction to Islam) in the case of the basketball matches works as follows:
The Universal school staff approaches the administrators of a public school with a request for a match.
They then explain that no men would be allowed in the match because it is against Islamic religious law.
This is used as an opportunity to explain about Islam to anyone who is involved in this matter
Anyone from the Bridgeview school attempting to set up a match will go into a lengthy discussion as to the reasons why Muslim women cannot play in front of men - which will include an explanation of religious practices and an offer to provide further information (in the form of a Koran and pamphlets usually supplied by Saudi Arabia or the UAE).
Even if the school does not schedule a match- the Universal Academy will have laid the groundwork with another public school for a discussion of Islam, in this case under the guise of "making them understand the reasons for Islamic modesty".No doubt they will offer to have someone come in to the school to explain Islam and issue an invitation for the public school students to visit the Universal School. The Universal School has said they would 'invite' the girls to theirs - and pay the expenses- (courtesy of their Saudi backers) which is the first step towards 'immersion' Da'wa.
"...Abusafa has contemplated the possibility of inviting the schools to play at Universal - even paying the transportation and referee costs - to avoid forcing those schools to comply with segregation rules. Bochnak, for one, said she would consider that possibility
------------------------
http://www.courant.com/features/lifestyle/hc-saturdaybasketball.artmar11,0,2848439,print.story?coll=hc-headlines-life
Bridging The Divide Of Two Cultures
Muslim Girl Basketball Players Seek Way To Be More Competitive
By DEBORAH HORAN
Chicago Tribune
March 11 2006
Duaa Hamoud holds a basketball to her hip. She is standing in a long blue gown in a gym at Universal School in Bridgeview, Ill. Her head is covered in a white scarf pulled tightly around her neck. Not a wisp of hair is showing.
Around her, other high school girls dressed in similar flowing robes shoot a few casual baskets while they wait for practice to begin. There are no men in the gym - no male coaches, no boys from school, no dads or brothers in the bleachers.
So when the coach arrives and the real training starts, they can peel off their Islamic dress, exposing their sweat pants and short-sleeved T-shirts underneath.
"We'd run if we noticed a man peeking in the window," says Hamoud, 16. "We're not allowed to be seen by guys without [Islamic dress]. We've all learned to accept that."
But the girls can't accept that they have only been allowed to compete against girls' basketball teams from other Muslims schools. There are only four in the Chicago area, they complain, and their competition isn't exactly tough.
Since last year, they've been beseeching coach Farida Abusafa, a 26-year-old English teacher who also coaches sports, to ask public schools and non-Muslim private schools if their girls teams would be willing to compete against girls from the Universal School.
The problem is that the schools would have to agree to bar men and boys above the age of puberty from watching the games.
"It's not like it's a sin to play a public school," Abusafa said. "The problem is the males coming to the game."
The dilemma underscores the balancing act many Muslims perform as they toggle between American and Middle Eastern culture. Many of these young girls straddle the divide with ease, yapping on their cellphones at the mall one minute, observing the school's strict gender segregation the next. But the girls are also mindful of the challenges they face.
"It's something you have to decide you want to do," said Shaylin Najeeullah, 16, a member of the varsity basketball team. "You can stay true to what you believe in, or you can conform to everybody else and get lost."
The Universal School's principal, Farhat Siddiqi, said there was no reason the girls wouldn't be allowed to play teams from public schools or other private schools as long as the prohibition barring men were strictly observed. But she worried that parents from other schools might object.
"I don't want to have to impose our religious requirements on anyone else," Siddiqi said.
The Universal School, a coed private school next to the Mosque Foundation near 93rd Street and Harlem Avenue, is already a member of the Illinois High School Association. So nothing would prevent the girls from playing other public or private schools, said Beth Sauser, assistant executive director of the association responsible for girls basketball.
"They would have to contact whatever schools they want to play and work it out through the athletic directors," Sauser said.
Rich Piatchek, athletic director at Andrew High School in Tinley Park, Ill., said he wouldn't outright rule against a chance for his girls teams to play against Universal, but acknowledged that setting up games that excluded men might prove difficult.
"That could be an issue," Piatchek said. "I can't imagine that the parents aren't going to want to come and watch their children play. Most schools would probably have the same problem."
Christine Bochnak, the varsity girls basketball coach at Sandburg High School in Orland Park, Ill., said complying with the ban on males could be a little tricky - her assistant coach, for instance, is a man - but she thought the girls from both schools could benefit from the experience.
"The diversity would be good," Bochnak said. "I think it's always good when there's exposure to other cultures and ideas. It's a life lesson, and that's what we're supposed to be teaching when we're coaching basketball - teaching about life."
Conceivably, the Muslim girls could play in headscarves, sweat pants and long sleeves. But the bulky attire might make playing difficult, they said.
"It would probably be hot," said Shetha Hamoud, 12, Duaa's sister, a lanky, doe-eyed girl who plays on the junior varsity team. Playing in the long gown, called a jilbab, would be worse, Duaa Hamoud said.
"It would be like trying to play in a dress," she said.
Abusafa has contemplated the possibility of inviting the schools to play at Universal - even paying the transportation and referee costs - to avoid forcing those schools to comply with segregation rules. Bochnak, for one, said she would consider that possibility.
"I wouldn't have a problem with it," she said.
The girls at Universal say they won't be upset if the other schools turn them down.
"If other schools have a problem with this, it's OK," Duaa Hamoud said.
But they look forward to the possibility.
"We just get sick of playing the same schools," said Rana Othman, 14, a ninth-grader in braces who plays on the junior varsity team. "It would be more challenging to play the public schools."
-----------------
http://www.danielpipes.org/article/2696
A Madrassah in Bridgeview, Illinois
by Daniel Pipes
FrontPageMagazine.com
June 20, 2005
Islamic schools constitute perhaps the least known area of Muslim institutional life in the United States, acting largely out of public view but with many signs suggesting their radicalization. When a reporter has the rare chance to interview faculty and students, especially with a photographer in tow, it's an important opportunity.
Marguerite Michaels of Time Magazine got "an unusual degree of access" to the inside of the Universal School in Bridgeview, Illinois, sixteen miles southwest of downtown Chicago, with 638 students in pre-K through 12th grades. She wrote up her impressions at "The Model School, Islamic Style" and Robert A. Davis took some striking pictures.
Unfortunately, Michaels proved clueless about the real nature of the Universal School. She portrays it as a moderate institution, but the information she herself provides points to its being a school imparting an extreme version of Islam.
Several examples concern sexuality:
"Casual conversation between girls and boys is discouraged at all times," she reports. "They can't socialize," so any communication between the sexes is limited to writing.

"Older girls must wear the hijab (light blue for middle schoolers, gray or white for high schoolers) and a calf-length navy top that resembles a raincoat." The astonishing photograph of eight covered girls playing basketball brings to mind the female Islamist revolutionaries who rose against the shah of Iran in the late 1970s. Students realize how off-putting most Americans find this apparel; a freshman, Gulrana Syed, points out how "It's kind of impossible to blend in wearing a head scarf."

When a high school senior, Ali Fadhli, tells about his "problems" dealing with America outside the school environment, he mostly means sexual temptation. This 18-year-old male will likely have difficulties adjusting to the mainstream of American life; he could end up isolated and perhaps violently rejecting the society around him.
Other attitudes concern the place of Muslims in the United States:
Until 9/11, says Safaa Zarzour, vice chairman of the school's board and its former principal, Muslims, like other immigrants, experienced a "little discrimination." Since 9/11, however, "people don't think there is any such thing as a good Muslim." One school family actually fled the United States after 9/11 for the United Arab Emirates, saying it did not feel "welcome here as Muslims." This siege mentality furthers the Islamist agenda of grievance and demanding special privileges.

So too does a comment of Universal's principal, Farhat Siddiqui. "We're telling our kids they're American. But the doors of opportunity have been shut since 9/11. What's the password to open them?" This is nonsense, for all evidence indicates that Muslims are flourishing socio-economically in the United States, no less after 9/11 than before it.

The high school senior quoted above also believes that "America" sees Muslims as the "new enemy." A student named Ryan Ahmad observes that "Americans seem to have more fun. Muslims try to be American, but we don't know how. The cultures are so different." Seeing Americans and Muslims, or more accurately, non-Muslims and Muslims, as separate populations is a key component of the Islamist project.
A preoccupation with foreign policy rounds out the picture:
"They are obsessed with foreign politics," says Steve Landek, the mayor of Bridgeview. "I come to talk to them about better sidewalks. They want to know how to run for Congress so they can change America's Israeli policy."

Assigned in English class to write about his American Dream, a 15-year-old wrote that the territories under Israeli control should be returned to the Palestinians and "the Jews should be left to suffer."
I finished Marguerite Michaels's article doubly dismayed. First, that a veteran Time journalist cannot see an American madrassah before her very eyes, replete with the alienation, resentment, supremacism, and isolation that feed the Islamist temperament. Secondly, that this "model school" quietly and openly churns out graduates hoping they will create an Islamic States of America.
From www.danielpipes.org | Original article available at: www.danielpipes.org/article/2696