Militant Islam Monitor > Articles > Civil Front Group Demands Death Penalty For Terrorists - Sets Up Giant Noose Display In Dizengoff Square
Civil Front Group Demands Death Penalty For Terrorists - Sets Up Giant Noose Display In Dizengoff Square
Death Penalty For Islamonazis Is Now A Necessity To Assure Our Existence And Survival
November 17, 2023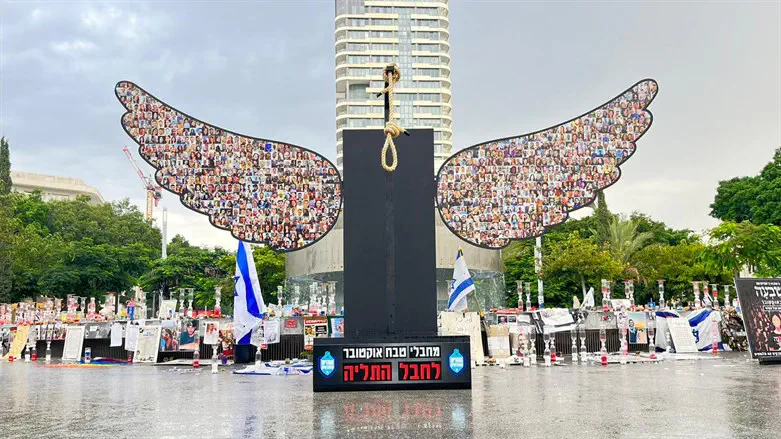 Death penalty for terroristsRosenbaum Communications
Display with noose set up in Dizengoff Square calls for death penalty for terrorists
Large display in Dizengoff Sq. in Tel Aviv, demands death penalty for the terrorists who carried out the October 7th massacre.
Arutz Sheva - Israel National News
November 12, 2023
A large display with a hanging rope was set up this morning (Sunday) in Dizengoff Square in Tel Aviv, demanding the death penalty for the terrorists who carried out the massacre on October 7th.
The display was set up in the early hours of the morning by volunteers of the "Civil Front" movement after the Tel Aviv municipality announced last week that it did not approve the display, which caused great outrage in the movement and ultimately led to the decision to set up the display anyway, even without approval, due to the importance of the message it conveys.
The movement was founded after the October 7th massacre and, within a short period of time, accrued tens of thousands of members on social networks, among others, thanks to a series of videos it created in Arabic, which addressed Hamas members and residents of Gaza, while directing severe psychological warfare against them, and resulted in hundreds of of millions of views, many of which were from the Arab world.
Movement representatives said that they regard the display as an initial central anchor in leading organizational goals that were defined upon its establishment, including a promise that Israel would act during fighting in Gaza solely in accordance with its security and strategic needs and without consideration of foreign factors, alongside a demand for the death penalty for the terrorists who participated in the massacre.
Ofer Rosenbaum, chairman of the Civil Front movement, said: "We came here this morning to the center of Tel Aviv to present a large and all-inclusive public demand."
He added, "The death penalty for terrorists is no longer a matter of right or left; it is a matter of existence and survival in the face of the new reality that we all woke up to five weeks ago. The biggest shock for me was when the Tel Aviv municipality refused to allow us to set up the essential display to commemorate the memory of the murdered and demand that their deaths should not be in vain. In the coming days, we plan to hold additional events throughout the country as part of the movement's process of growth."
https://www.israelnationalnews.com/news/380173