Militant Islam Monitor > Satire > ISIS/Hamas Supporter Linda Sarsour & Tarek El-Messidi Exploit Cemetary Vandalism To Show Support For Dead Jews
ISIS/Hamas Supporter Linda Sarsour & Tarek El-Messidi Exploit Cemetary Vandalism To Show Support For Dead Jews
Jew Hating Muslims Attempting PR Makeover Cynically Using Dead Jews And Gullible Press
February 24, 2017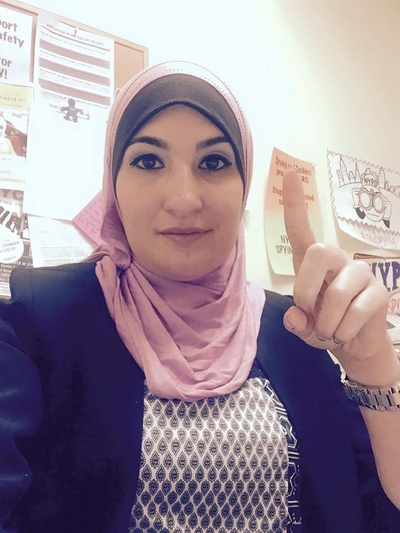 Linda Sarsour signals support for jihad warfare by making the pointed index finger gesture, its symbol
"...I learned about Sarsour's vicious attacks on Israel. She encouraged stoning the Israel Defense Forces. She posed for a photograph with Salah Sarsour, a Hamas operative jailed by the Israeli authorities in the 1990s. She acknowledges having many male relatives in Israeli prisons..."
MIM: For more see: Linda Sarsour,The Left's Latest Star
http://www.danielpipes.org/17223/linda-sarsour-the-left-latest-star
Muslim Fundraiser to Repair Jewish Cemetery Raises $100k
In just over 24 hours, an online fundraiser encouraging Muslims to donate to repair vandalism at a Jewish cemetery has raised over $100,000.
The LaunchGood.com fundraising page set up by Linda Sarsour of MPower Change and Celebrate Mercy's Tarek El-Messidi — garnered $20,000 in donations in its first three hours alone, shortly after being launched on Tuesday.
"People in a cemetery should be able to rest in peace," Sarsour said on MSNBC Wednesday, telling Andrea Mitchell that she "expected nothing less from my community, who has always been a generous community."
We are almost there. Help repair the St. Louis Jewish cemetery. Donate what you can. https://t.co/T7IFEfEKSD pic.twitter.com/ujxTlnB4Ql

— Linda Sarsour (@lsarsour) February 21, 2017
They launched the campaign after 180 gravestones were toppled, some broken, at the Chesed Shel Emeth Cemetery just outside of St. Louis, Missouri over the weekend.

...El-Messidi, whose Philadelphia-based organization Celebrate Mercy creates interactive webcasts and videos that teach about the Prophet Muhammad, told NBC News that about two-thirds of those donating appear to be Muslim, while the remainder are largely Jewish...

...The fundraiser isn't just bringing in dollars. El-Messidi told NBC News that over 100 messages have been received through the webpage — many from American Jews moved by the Muslim community's support...

...He said that the Trump administration appears to mistakenly conflate radical Islamist terror groups like ISIS with peaceful American Muslims — and that such a comparison leads to more hate...http://www.nbcnews.com/news/us-news/muslim-fundraiser-repair-jewish-cemetery-raises-100k-n724221

MIM: Arutz Sheva appears to have unquestioningly picked up this staged kumbaya "feel good" story ignoring the terror ties and Islamist agenda of Linda Sarsour and El-Messidi and appearing starstruck by J.K. Rowling.

J.K. Rowling donates to Muslim fund to repair Jewish cemetery Muslim-American activists raise thousands of dollars to repair tombstones in Jewish cemetery damaged in anti-semitic incident

A fundraiser started by a pair of Muslim-American activists got a boost from famed Harry Potter author J.K. Rowling, raising tens of thousands of dollars to aid a Jewish cemetery that was vandalized over the weekend.

Approximately 180 tombstones were knocked over at the Chesed Shel Emeth Society cemetery in the University City suburb of St. Louis, Missouri, according to police, who told AFP on Wednesday that they were still investigating the case and had no suspects.

The act of vandalism occurred amidst a spate of anti-Semitic threats against Jewish groups across America.

In response, Muslim-American activists Linda Sarsour and Tarek El-Messidi started an online campaign to raise funds for the cemetery's recovery and to "send a united message from the Jewish and Muslim communities."

Rowling tweeted a link to a news article about the campaign on Tuesday night, adding simply: "This is such a beautiful thing."

Within hours, the fundraiser appeared to have more than tripled its haul to over $70,000. Their initial goal was $20,000.

Sarsour and El-Messidi planned to continue the fundraiser until March 20, and to send the proceeds to help the cemetery's recovery. Leftover funds would be donated to other Jewish groups.

"There is no place for this type of hate, desecration and violence in America," the activists wrote on their fundraiser webpage.

"We pray that this restores a sense of security and peace to the Jewish-American community who has undoubtedly been shaken by this event."

The cemetery has received an outpouring of support, with Missouri Governor Eric Greitens announcing that he will lead a group of clean-up volunteers on Wednesday afternoon.

"Anyone who would seek to divide us through an act of desecration will find instead that they unite us in shared determination," Greitens said in a written statement.

Since the start of the year, the Jewish Community Center Association of North America has recorded 69 bomb threat incidents at dozens of centers in 27 US states and one Canadian province.

On Monday alone, nearly a dozen Jewish community centers received bomb threats that prompted evacuations. All of the threats turned out to be hoaxes.

After remaining silent on the subject for several days, President Donald Trump on Tuesday called for an end to "hatred in all of its very ugly forms."

"The anti-Semitic threats targeting our Jewish community and community centers are horrible, and are painful -- and a very sad reminder of the work that still must be done to root out hate and prejudice and evil," Trump said

http://www.israelnationalnews.com/News/News.aspx/225503#!

"...The people spotlighting Muslim attempts to repair desecrated cemeteries may think they're rebutting negative stereotypes. But they aren't. Sorry to say it, but Americans who fear or hate Muslims don't do so because they think Muslims tolerate vandalism. They do so because they think Muslims tolerate terrorism. These stories will not dent that perception.




Americans are rightly proud of the way its citizens of many groups came together to help one group among them recover in a time of distress – and Muslims should be part of that celebration. But breathless reports that American Muslims aren't jackasses after all help nobody…"

https://www.jihadwatch.org/2017/03/a-call-to-stop-celebrating-muslim-decency


Ahmadiyya Muslims Lending Dead Jews A Helping Hand In Philadelphia (Note: Ahmadiyya Muslims are considered to be heretics by other Muslims)
--------------------------------------------------------------------------------------------------
MIM:More perverse kumbaya on the part of Jews who are helping to rebuild a radical mosque.
Jews supporting torched Tampa mosque $18 at a time
Jews in Tampa helping repair mosque damaged in arson by making donations in multiples of 18.
JTA, ג' באדר תשע"ז, 3/1/2017

The Muslim man who started a crowdfunding page to help repair a mosque in Tampa damaged in an arson attack realized that many of the donors were Jewish after noticing the gifts came in multiples of 18.
Adeel Karim set up the Stand With New Tampa Muslims Against Hate crowdfunding page on the Launchgood website on Feb. 24, the day of the attack in the wee hours of the morning. The fire was put out quickly, but the sprinkler system caused a great deal of water damage.
Karim's campaign raised nearly $60,000 in less than a week, surpassing its $40,000 goal.
"I couldn't understand why people were donating in what seemed like weird amounts to the cause. There are sums of 18, 36, 72.00 dollars etc. then I figured out after clicking on the names Avi, Cohen, Gold-stein, Rubin, Fisher.... Jews donate in multiples of 18 as a form of what is called "Chai". It wishes the recipient a long life," Karim wrote Monday in a Facebook post.
"You learn something new every day. The Jewish faith has shown up in force to support our New Tampa Islamic community. I'm floored," the post continued. It concluded with the hashtag #chaidelieverd.
The Islamic Society of New Tampa mosque hosts interfaith events.
A quote on its website reads: "Let us not forget that we are all members of the same human fraternity; our differences are meant to be embraced; our diversity should become our strength if we wholeheartedly commit ourselves to get to know each other because, as Allah has made clear, we are all descendants of one man and one woman."
Earlier this month, a crowdfunding campaign launched by two Muslim Americans raised over $100,000 for a vandalized Jewish cemetery outside of St. Louis.
http://www.israelnationalnews.com/News/News.aspx/225878