Militant Islam Monitor > Articles > Muslims Viciously Beat Elderly Jewish Pair In Home In Holland - Both Now Confined To Wheelchairs - Reward Offered For Capture
Muslims Viciously Beat Elderly Jewish Pair In Home In Holland - Both Now Confined To Wheelchairs - Reward Offered For Capture
September 8, 2015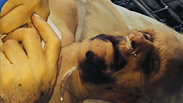 Diana Blog after the attack
Elderly Jewish Couple Brutally Attacked in Holland

Holocaust survivors Samuel and Diana are confined to wheelchairs after being viciously beaten by anti-Semites in their own apartment. Cynthia Blank
Samuel (87) and Diana (86) Blug, two elderly Holocaust survivors, fell victim to a vicious and violent anti-Semitic attack at their home in Holland a month ago.
According to a Yedioth Ahronoth report on Sunday, the couple were only able to come forward now and recount what happened to them.
The Blugs say two men, who looked to be of Moroccan descent, knocked on the door to their apartment, claiming to be the police and demanding entrance.
As soon as Samuel opened the door, the nightmare began. Two men dressed in black barged into the apartment and started severely beating the couple.
The assailants threw the couple on the floor, kicked them repeatedly and shouted: "Dirty Jews - from now on your property is ours."
After tying up the badly injured couple, the thieves ripped Diana's jewelry off her body. At gunpoint, they forced the couple to tell them where the rest of the valuables in the apartment were located.
Samuel was blinded in the assault and suffered a broken femur. Both he and Diana, who were living independently before the attack, are now confined to wheelchairs at a rehabilitation center in Amsterdam.
"Those bastards have destroyed our lives," Samuel said in tears to Yedioth Ahronoth. "I have severe pain. I'm completely broken inside," Diana added.
Emmanuel, the couple's son, has offered a prize of ten thousand euros to anyone who can provide information that will lead to the arrest of the assailants.
He also circulated pictures of the beaten Diana and Samuel, urging "the world to see what they did to my parents."
The Dutch Embassy in Israel called the attack "a shocking incident, a brutal robbery that had a profound effect on its victims."
"Dutch police are seriously investigating the case, and the investigation is ongoing," the embassy continued. "Until now, no suspects have been detained, so it's hard to make unequivocal conclusions about the motive."
"In general, it is important to emphasize that everyone should feel safe in the Netherlands. We will not accept any cases of discrimination or anti-Semitism."
http://www.israelnationalnews.com/News/News.aspx/200344