Militant Islam Monitor > Articles > Dearborn Hezbollah Jihadis busted in Ohio with airline passenger list had airport employee mom -Extra scrutiny needed of Muslim airline workers
Dearborn Hezbollah Jihadis busted in Ohio with airline passenger list had airport employee mom -Extra scrutiny needed of Muslim airline workers
August 11, 2006
( 2006)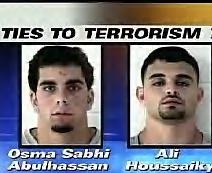 Terrorist Arrests a shock to Marietta
Friday, August 11, 2006 Christopher Evans and Amanda Garrett
Plain Dealer Reporters http://www.cleveland.com/news/plaindealer/index.ssf?/base/news/115529600312100.xml&coll=2
The sleepy river town of Marietta in southeast Ohio got a nasty wake-up this week when two Dearborn, Mich., men were arrested there on terror charges.
"It's certainly another reminder that nearly five years after Sept. 11, the threat still exists, and even in Marietta, population 15,000, we need to keep our eyes and ears peeled for these sort of things," noted longtime resident and blogger Matt Dole.
Osama Sabhi Abulhassan and Ali Houssaiky, two 20-year-old American-born college students with no criminal record, were being held in the Washington County jail on $200,000 bonds. They were charged with money laundering on behalf of Hezbollah.
On Tuesday, local Radio Shack employees became suspicious of the two men after they bought nine pay-as-you-go cellular phones. The employees notified sheriff's deputies who pulled Abulhassan and Houssaiky over for a traffic violation.
A search of their car turned up 12 cell phones, $11,000 cash and airline passenger lists as well as airport security information.
Ray Smith, the Washington County public defender who represents Abulhassan, pooh-poohed the significance of the flight documents.
"The car belonged to [Houssaiky's] mother," Smith said. "She works for the airport, I think."
Marietta attorney Rolf Baumgartel, who represents Houssaiky, did not return a call.
Abulhassan and Houssaiky, both former outstanding high school athletes, told sheriff's deputies that they had bought some 600 TracFones recently in southeast Ohio to sell to a buyer in Dearborn. The buyer was not identified, but he is being investigated by the FBI for marketing cell phones overseas for possible use in terrorist activities, according to the Sheriff's Office.
"It is not a federal case at this time," said Fred Alverson, spokesman for the U.S. attorney's office in southern Ohio. Alverson added that an FBI agent is helping Washington County officials with the investigation.
A preliminary hearing is scheduled for Tuesday afternoon.
To reach these Plain Dealer reporters:
[email protected], 216-999-6139
[email protected], 216-999-4814