Militant Islam Monitor > Articles > Muslim Pakistani immigrant convicted in plot to blow up New York subway- similarities to1997 plot
Muslim Pakistani immigrant convicted in plot to blow up New York subway- similarities to1997 plot
May 24, 2006
In this surveillance photo released by the Brooklyn U.S. Attorney's Office, an unidentified police informant, right, is shown with alleged bomb plotter Shahawar Matin Siraj, center, and his alleged co-conspirator James Elshafay in New York, Aug. 21, 2004. Siraj, 23, was arrested on the eve of the 2004 Republican National Convention in New York on charges he wanted to attack a subway station in Herald Square, a dense shopping district in the city that includes Macy's flagship department store. If convicted, he could face up to 20 years in prison. (AP Photo/Brooklyn US)
http://www.chron.com/disp/story.mpl/ap/nation/3886196.html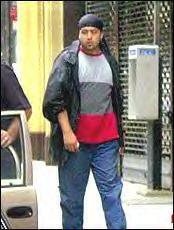 Shahawar Matin Siraj
May 24, 2006
Pakistani Immigrant Convicted in NYC Plot

By TOM HAYS Associated Press Writer
The Associated Press
NEW YORK — A Pakistani immigrant was convicted Wednesday of charges he plotted to blow up one of Manhattan's busiest subway stations in retaliation for the Abu Ghraib prison scandal.
A federal jury in Brooklyn deliberated two days before convicting Shahawar Matin Siraj of conspiracy and other charges. He faces up to life in prison.
The defense had sought to portray Siraj, 23, as an impressionable simpleton who was lured into a phony plot by a paid informant eager to earn his keep. Prosecutors disputed that claim, arguing that even if it was not the defendant's idea to bomb a subway station, no law-abiding citizen would have gone along with it.
U.S. Attorney Todd Harrison suggested to jurors that "normal people" like them would have responded, "Excuse me, are you crazy? Thanks, but no thanks."
Siraj and another man suspected in the plot, James Elshafay, were arrested on the eve of the 2004 Republican National Convention carrying crude diagrams of their target _ the subway station in Herald Square, a dense shopping district that includes Macy's flagship department store. Elshafay immediately agreed to cooperate with the government.
Authorities said Siraj had no affiliation with known terrorist organizations. Instead, he caught the attention of the informant, Osama Eldawoody, and an undercover police officer with his anti-American rants at an Islamic bookstore where he worked.
Eldawoody, a naturalized U.S. citizen from Egypt, and the Bangladesh-born undercover officer both testified for the government. Elwoody had been assigned by the New York Police Department to identify and monitor Islamic extremists in the city's Muslim neighborhoods following the Sept. 11 terrorist attacks.
The undercover officer, who testified using an alias, described being plucked straight out of the police academy in 2003 and given orders to become a "walking camera" among Muslims. He recalled a conversation on the second anniversary of the 2001 destruction of the World Trade Center in which Siraj "complimented" Osama bin Laden.
"He said he was a talented brother and a great planner and that he hoped bin Laden planned something big for America," the officer said.
Inside the bookstore, Eldawoody wore a wire and chatted up Siraj. When the topic turned to the war in Iraq, the defendant recounted rumors among radicals that U.S. soldiers were sexually abusing Iraqi girls.
"That was enough for me," he said in one of series of secretly recorded conversations played for the jury. "I'm ready to do anything. I don't care about my life."
Eldawoody, assuming the role of an accomplice, assured Siraj that any plan he concocted would have the backing of a fictitious faction called The Brotherhood. On tape, Siraj was heard musing about possibly destroying the Verrazano-Narrows and three other bridges serving Staten Island or killing Microsoft founder Bill Gates.
Testifying in his own defense last week, Siraj said he never had a violent thought before he fell under the spell of the 50-year-old Eldawoody. He said the older man became a mentor and instructed him that there was a fatwa, or religious edict, permitting the killing of U.S. soldiers and law enforcement agents.
Eldawoody had himself talked about "blowing up the buildings and blowing up the Wall Street places," the defendant said. He admitted taking steps to attack the subway station, but only after the informant inflamed him by showing him photos of prisoners being abused at Abu Ghraib prison in Iraq.
"I used to just listen to him, but I never said 'Yes, I was going to do it,' or 'no' until the Abu Ghraib thing came up," he said.
------------
MIM:As Dr.Daniel Pipes pointed out, this 1997subway bombing plot was thwarted and barely made the news. The similarities between Siraj and Abu Maizar show that profiling is based both on ethnicity and precedent. Both Siraj and Abu Maizar were immigrants who came to the United States voluntarily as 23 year old single men. They each joined a mosque andin the case of Abu Maizar, his extremist views were vented in a rambling letter he wrote which he planned to leave behind. His roomate alerted police who arrested him. (see below)
Siraj espoused radical views to the informant . He became enraged over being told of 'atrocities' being committed against Muslims and expressed a willingness to attack Americans.
http://www.danielpipes.org/article/308
American Muslims vs. American Jews
by Daniel Pipes
Commentary
May 1999
On March 1, 1999, a federal district court in Brooklyn sentenced one Ghazi Ibrahim Abu Maizar, late of Hebron, to life imprisonment. His crime: conspiring to use a weapon of mass destruction, threatening to do so, and carrying the device itself. Although Abu Maizar had not actually harmed anyone, when the police raided his apartment on July 31, 1997 they found plenty of evidence that the 23-year-old was on the verge of setting off a pipe bomb later that same day. Oddly, the verdict attracted almost no attention. In the New York Times, it was reported on page 5 of the second section, below the fold. No editorials were written, no politicians spoke for the record, no ads appeared to express relief that justice had been done. A foiled attempt at mass murder by an Arab in New York was, it would seem, less than newsworthy.
This is very puzzling, and very disturbing. For Abu Maizar's intended crime was, in fact, no isolated phenomenon; nor was it the product of a merely personal derangement, the act of a lone individual frustrated with his lot and lashing out at "the world." Here, complete with errors of spelling and grammar, are excerpts from the typewritten letter the police found in his apartment. Captioned "In the name of the Gade [God]," it was addressed to "the united states of america and U.S.A. citizens":
no podey [nobody] can wein [win] the ware [war] against Islam and we are warring . . . We are ready by our soul-blood boombes [bombs] to deines [for whoever denies] our gouls [goals] . . . we are going to buarn [burn] the ground under the america and Jewish stat[e]. . . . Our request shoud [should] be done on our mujjahiddeenis [warriors] ready to hit every where by they [the] suuisid [suicide] boomb [bomb].
The letter was signed "Alljeihd [the jihad] for all agssa [al-Aqsa] movement."
Nor was this all. After his arrest, Abu Maizar told an FBI agent that he had decided to detonate the bomb on a subway line that runs from the northern tip of Manhattan to Coney Island at the very south of Brooklyn "because there are a lot of Jews that ride that train." At the trial itself, Abu Maizar informed the court that he wanted to harm this country "because I feel that the United States is supporting the Jewish state and the United States should be punished for supporting Israel." He spoke openly of his hopes to kill "as many [Jews] as I could take . . . I always dreamed to be a martyr"; acknowledged supporting Hamas, the Palestinian extremist group; and in his error-filled letter demanded the release of several fundamentalists imprisoned in the United States. When the guilty verdict was read in court, he jumped to his feet, held an open copy of the Qur'an over his head, and shouted "Allahu Akbar!"--God is great. In other words, far from being a solitary crackpot, Abu Maizar represents a very large movement--fundamentalist Islam--in whose name Muslims like him are ready to commit the most heinous acts of violence, and even to give up their own lives, in an effort to "punish" America and, especially, to kill American Jews.