Militant Islam Monitor > Articles > Al Muhajiroun in New York: Pakistani American wanted to "kill Americans" and plotted attacks with AM in London
Al Muhajiroun in New York: Pakistani American wanted to "kill Americans" and plotted attacks with AM in London
New York resident Junaid Babar admits to equipping and financing Al Qaeda training camp
June 21, 2004
Al Muhajiroun's ambitions in the United States.
------------------------------------------------
Instead of being shut down by the government, rallies are being planned in London and North America .
conference
How the Khilaafah will be restored
& Man-made law destroyed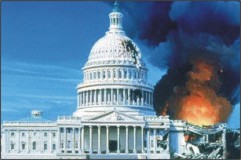 ...80 years on from the destruction of
the Islamic state - 3rd of March 1924...
Wednesday 3rd of March 2004,
From 7pm to 9pm, Central London.
Sahabah. Please contact

[email protected]

for more information of events that are taking place near you.

RALLY FOR ISLAM IX
ISLAM THE FUTURE FOR BRITAIN ...

From 1PM - 6PM Sunday 25th July 2004
Trafalgar Square, London

Do not miss the annual Rally for Islam this year, which will once again witness many non-Muslims: previously Jews, Christians, Sikhs, Hindus, Atheists, Socialists etc…giving up their beliefs and ideologies in order to embrace Islam openly and publicly.

Debates and Discussions on the inimitability of the Qur'an and the finality of the Message (of Islam) from God through the Messenger Muhammad (saw) will be held, with an invitation for all present to either refute Islam or accept its superiority.

The Square will also host a number of Marquees presenting various aspects of Islam such as its unique economic system able to solve the problems of inflation, the hoarding of wealth and the fair distribution of resources - Islam's unique social system which eradicates the exploitation of the sexes and eliminates promiscuity, pornography and sexual deviancy and Islam's ruling system based upon the concept of sovereignty for Allah alone, where man is not a dictator (like Bush or Blair) but rather God's trustee on Earth managing mankind's affairs according to God's infallible law...etc...

If there are any non-Muslims or Recent converts to Islam interested in declaring their Shahadah [Declaration of Islamic Faith] publicly before thousands of witnesses, then please contact 07956 600 569.

style4">Media Enquiries: 07956 600 569 or 07956 920 006

style4">

Nationalism - Upcoming Event in Northern USA
Allah (swt) says, "O mankind, We have created you from a male and a female, and made you into nations and tribes that you may know one another. Verily the most honourable among you is the one with Taqwa (the believers who fear Allah, i.e. Al Muttaqun)." [EMQ Hujurat: 13]

This conference will look to the prohibition of nationalism in Islam and explain the concept of brotherhood in Islam..

style4">From 1:15 PM - Saturday July 31st 2004

style4">General Enquiries: Abu Yousef (347) 210 0919
or Email: [email protected]

style4">Sisters should call: Umm Abdur Rahman (646) 361 - 3746
or Email: [email protected]

style4">

For venue, please phone on the day of
conference: 07939 737 727. For media
enquiries call: 07956 600 569
http://www.muhajiroun.com/
Note that their website shut down shortly after Abu Hamza Al Masri's arrest in May 2004 but appears to be back up again.
Abu Hamza Al Masri aka Captain Hook ,was a founder of Hizb ut Tahrir and Al Muhajiroun, and is known for leading the Finsbury Park Mosque in London which launched thrwarted terrorists like shoe bomber Richard Reid, and terrorist wanabees James Ujaama and Zacharias Moussaoui who are imprisoned and on trial in the United States.
---------------------------------------------------------------------------------------------------------------
http://www.cnn.com/2004/LAW/08/11/ny.terror.suspect/
N.Y. man admits he aided al Qaeda, set up jihad camp
Mohammed Babar agrees to cooperate with investigation
By Jonathan Wald
CNN


NEW YORK (CNN) -- A New York man has admitted to smuggling money and military supplies to a senior member of al Qaeda in Pakistan, setting up a jihad training camp and assisting in a bombing plot in the United Kingdom.
Mohammed Junaid Babar, a naturalized American originally from Pakistan, pleaded guilty June 2 to five counts of conspiring to provide material support to terrorists, as well as providing the support, according to a court transcript recently released.
Babar is being held without bail and faces up to 70 years in prison, but Federal Judge Victor Marrero indicated Babar will serve less jail time under a plea deal.
Babar has agreed to cooperate fully with any investigation or prosecution by the U.S. Attorney's Office and he may apply to the witness security program, which would relocate his family under a new identity.
Babar told Marrero he provided night-vision goggles, sleeping bags, waterproof socks, waterproof ponchos and money to a high-ranking al Qaeda official in South Waziristan, a Pakistani region near the Afghan border.
Babar said he delivered the supplies personally in January and February 2004 and someone else transported the items in the summer of 2003.
"I understood that the money and supplies that I had given to al Qaeda was supposed to be used in Afghanistan ... against U.S. or ... international forces or against the Northern Alliance," Babar said.
The Northern Alliance helped remove the Taliban from power in Afghanistan by joining forces with U.S. and British soldiers.
"I set up a jihad training camp," Babar told the court, "where those who wanted to go into Afghanistan where they could learn how to use weapons, and also, you know, any explosive devices that they wanted to test out over there."
Babar, 29, confessed he supplied people who attended the training camp with aluminum powder and attempted to buy ammonium nitrate for them "with the knowledge that it was going to be used for a plot somewhere in the U.K."
Assistant U.S. Attorney Lisa Baroni said in court that Babar's training camp lasted for three to four weeks in July 2003 and he was involved in planning a bomb plot in Britain from around December 2002 until about March 2004.
Baroni said prosecutors had witnesses, documents and other physical evidence to prove the case against Babar.
Babar, who grew up in the New York borough of Queens, was arrested after he returned from Pakistan in April.
One senior law enforcement source said Babar had been "on the radar screen" before he was taken into custody.
Babar is believed to have been associated with a group in London known as al Muhajiroun, which includes Pakistani terrorists, according to law enforcement sources.
Al Muhajiroun was under British surveillance and members of the group purchased nearly a ton of ammonium nitrate, a raw material used to make bombs, the source said.
British police foiled an apparent bomb plot March 30 when they arrested eight men and seized about 1,320 pounds (600 kg) of ammonium nitrate from a self-storage warehouse in west London.
Six of the men -- five of Pakistani descent -- were charged with conspiracy to cause explosions and possessing ammonium nitrate for possible use in terrorism.
Ammonium nitrate was a key ingredient in the bomb that destroyed the Alfred P. Murrah Federal Building in Oklahoma City, Oklahoma, in 1995, killing 168 people, as well as a bomb that destroyed a nightclub in Bali, Indonesia, in 2002, killing more than 200.
Queens Man arrested for ties to 9 people arrested in London for planning massive terror attack.

http://www.reuters.com/newsArticle.jhtml?type=topNews&storyID=5449512

NEW YORK, June 17 (Reuters) - A Pakistani-American man pleaded guilty in a closed U.S. court hearing to helping Islamic militants in a plot to blow up London train stations and pubs, law enforcement sources said on Thursday.

The man, identified as Mohammed Junaid Babar, 29, was arrested in April in New York and no specific charges have been made public. Babar, a Pakistani-American who grew up in the New York borough of Queens, pleaded guilty in Manhattan federal court sometime after his arrest, but the hearing was sealed, a law enforcement source said. The U.S. attorney's office in Manhattan declined comment. British authorities told U.S. officials they believed Babar was involved in a plot by a London group known as al Muhajiroun to bomb pubs and train stations in London, a law enforcement source said. British authorities said they broke up the plot in March and arrested eight men.

Babar was being held in New York and was cooperating with officials in the investigation, a law enforcement source said.

--------------------------------------------------------------------------------------------------

http://breakingnews.iol.ie/news/story.asp?j=16363938&p=y6364x45

http://internet-haganah.co.il/haganah/us.html

'London bomb plot' suspect admits to terrorism
18/06/2004 - 11:46:03

An American, who admits being part an alleged plot to blow up London pubs, rail stations and restaurants, faces 30 years to life in prison under an agreement with federal prosecutors in New York.

Mohammed Junaid Babar, who quit a €61,000-a-year computer job in the hope of joining the fight against US troops in Afghanistan, has admitted terrorism charges.

He has provided information about a Pakistani group's alleged London terror plot, said officials in New York last night.

He was arrested in New York by the Joint Terrorism Task Force in April as a material witness – a person whose testimony is required in a criminal investigation before a grand jury or in a trial – and has been in custody ever since.

Babar, 29, the grandson of Pakistani immigrants, has not been publicly charged.

Megan Gaffney, a spokeswoman for the US attorney's office in Manhattan, declined to comment on any aspect of the case, and there were no details of the charges because the indictment was sealed.

But law enforcement officials said late last night that Babar pleaded guilty and had been co-operating with terrorism investigators.

The alleged London plot was foiled in March when eight suspects were arrested in London and 1,000lbs of ammonium nitrate fertiliser – which can be used to make explosives – was seized from a storage locker.

Three US law enforcement officials said there was no indication that Mr Babar was involved in any planned attacks in the United States, or that he had information about any.

"It wasn't an attack in the US," one said, "but it was a serious plot to be launched in England, and this guy was supporting it from this country and other places."

Investigators, whose attention was drawn to Mr. Babar when they learned of an interview he gave to Canadian TV, later developed information linking him to the alleged London plot.

US authorities said Babar, who grew up in the Queens district of New York, was put on a terror watch list when they learned he made inflammatory remarks to a Canadian reporter in Pakistan after the September 11 2001 attacks.

In the televised interview, Babar said that despite the fact his mother had escaped from the ninth floor of one of the World Trade Centre's towers, his loyalty was "to the Muslims, not the Americans".

He also announced his intention to join the Taliban and "kill Americans" in Afghanistan.

"I can't stand by and live in America while my Muslims are being bombed in Afghanistan," he said then. "You know, I say my loyalty is toward them. Now it's time to prove my loyalty to the Muslims of Afghanistan."

It was unclear whether Babar made it to Afghanistan. But in early March, he returned to New York, where a team of police investigators and FBI agents put him under surveillance, the officials said.

Babar was arrested about a month later on his way to a school for taxi drivers in Long Island City.

The FBI and the New York Police Department declined to comment.

-------------------------------------

Click on link for to see videotape on website:

http://abclocal.go.com/wabc/news/print_wabc_061704_babartape.html

Mohammed Junaid Babar talks about his hatred for the U.S., and how he wants to kill American soldiers in Afghanistan, and in Pakistan.

Marcus Solis, in Hillside.

Mohammed Junaid Babar had vowed never to step foot in America again. He was arrested in Queens about a year-and-a half after making those comments. In a televised interview, he vowed to kill Americans, because he said, "My loyalty is to the Muslims, not to the Americans."

Mohammed Junaid Babar, Terrorism Suspect: "There is no negotiation with the Americans. They are coming in with the mindset to kill my Muslim brothers and sisters, I will do the same on the front line."

It is those statements in a televised report that earned Babar a spot on a terrorist watch list. The American citizen was interviewed by British network ITN in Pakistan, a month after the World Trade Center attack. He says he left behind a $70,000 a year computer job so he could fight with the Taliban been against Americans.

Mohammed Junaid Babar: "I will kill every American that I see in Afghanistan and while I am in Pakistan, if I see them in Pakistan, I will kill every American soldier I can in Pakistan."

Babar grew up in Queens. In the report he said he never planned to return to the U.S., but he did this April. That's when the NYPD/FBI Joint Terrorism Task Force arrested him on his way to a taxi driving school in Long Island City.

Marcus Solis: "Can we ask you a couple of questions?"
Family Member (Inside House): "No, I don't want to give no answer. That's it."

Babar is being held at the Manhattan Detention Center. Charges haven't been announced, but sources say he has plead guilty to conspiracy. The 29-year-old was allegedly involved in a fatal plot to blow up pubs, restaurants, and train stations in London. In March, eight people were arrested and authorities recovered over 1,000 pounds of aluminum nitrate, a common bomb-making material.

As for Babar, his arrest has cut short his plans. On the tape, he said he is in it for the long haul. That may translate into a long prison sentence. The details of the case against him, and the guilty plea, are expected to be unsealed


-------------------------------------------------------

This is an interview given by Mohammed Junaid Babar in 2001 when he was training for Jihad in Pakistan.

This could be the interview that put law enforcement on the alert.

He was with the Al Muhajiroun recruiter from London, Hassan Butt.

http://groups.google.co.uk/groups?q=al+muhajiroun+new+york&start=10&hl=en&lr=&ie=UTF-8&selm=594ab8c9.0111082127.1e43fb10%40posting.google.com&rnum=18

CALL TO FIGHT

Muslim warrior says NYC is home


By Anne Barnard, Globe Staff, 11/6/2001

SLAMABAD, Pakistan - He grew up in New York, he says, listening to
Whitney Houston, riding the roller coasters at Great Adventure, and,
until recently, working as a Java programmer at a dot-com company in
midtown Manhattan.


But sometime after Sept. 11, Mohammad Junaid says, he decided to leave
his $70,000-a-year job and join the Taliban's holy war against the
United States in hopes that he can someday help establish a new state
based on Islamic law.


Junaid, 26, who says he's the grandson of Pakistani immigrants, has a
teddy-bear face and a ready smile. He can't help grinning when he
thinks about the New York Yankees' come-from-behind victories last
week in the World Series, which, he said, he followed with great
interest as he awaited a call from Mullah Mohammed Omar to cross the
border and join in the Taliban's battle.


But his loyalties, he says, are clear; if he runs into an American
soldier in Afghanistan, even a fellow New Yorker from his old high
school in the Bronx, he will not hesitate to shoot him. "No
problem," he says, "because why is he there? To negotiate? Or to
kill Muslims?"


Junaid's mission is made more notable by what he says is one
additional fact: that his mother, a secretary, was on the 9th floor of
the World Trade Center when it was attacked. She escaped.


Much of Junaid's story is impossible to confirm, because - fearful, he
says, that he'd endanger family and friends - he refuses to give out
details of his life, such as where he went to school and worked, or
his address. He even declined to say whether the name he gave was his
legal one (and checks of various New York City public records for a
Mohammad Junaid produced no verifying information).


All that was certain was that the young man who goes by Mohammad
Junaid was in Islamabad last week awaiting the call to join the
Taliban. With him were two Britons who identified themselves as Hassan
Butt, 21, and Abdul Monim, 25.


All said they were members of Al-Muhajiroun, a London-based
international Islamic organization that claims to have recruited
hundreds of foreigners to help overthrow Pakistan's pro-US military
government and, if called, fight alongside the Taliban. Muslim groups,
such as the Muslim Parliament in Britain, have condemned the
organization and said it is exaggerating its number of recruits. One
Londoner, Abu Mindar, 26, told the Times of London last week that
Muhajiroun brought him first to Lahore, then to Afghanistan, and that
he ended up in a firefight with no training and shortly thereafter
deserted.


But Junaid was game nonetheless.


"I'm not against the American people. But there is hatred toward the
US government and the US military because their policies are killing
Muslims," Junaid said, citing US military support of Israel,
sanctions against Iraq, and now, civilian casualties in Afghanistan.


Wearing metal-rimmed glasses and the white tunic and pants favored by
Pakistani workers, Junaid refused to say whether he had any military
training or whether he had been involved in any fighting. "That has
no relevance," he said.


He and his companions were cautious about interview conditions. The
three insisted they were being followed by Pakistani intelligence
agents, at one point fleeing down a back stairway and through a hotel
kitchen. They were not forthcoming on details - though Junaid's
outer-borough accent did make him a passable New Yorker.


He described what he said was his education at a New York college and
his work as an Islamic organizer in Bay Ridge, Brooklyn, and Jamaica,
Queens. Particularly when out of Butt's earshot, he spoke articulately
about Islam, about Muslim issues around the world, and about his own
political transformation.


"I'm not a New Yorker," he said. "I'm a Muslim."


In high school in the Bronx, he said, some students called him
"towelhead" and "Hindu." But it wasn't until college that his life
began to center on injustices against Muslims. He joined Islamic
student organizations and started following a stricter interpretation
of the religion.


On the morning of Sept. 11, he says, he was at home when someone
called him to say a plane had hit the World Trade Center. He waited a
few nervous hours to hear from his mother. Once he knew she was safe,
he said, "I knew what was going to be next." He says he bought a
one-way ticket to Lahore. He claims his family knows and approves of
his plan.


For now, he says, he is organizing a political cell in Peshawar, and
planning to support protests against General Pervez Musharraf's
government. After that, he will do whatever the Taliban need.


"If Mullah Omar calls," he said, "I'm ready."


This story ran on page A12 of the Boston Globe on 11/6/2001.

----------------------------------------------------------------------------


Jihad Unspun, the Islamist propaganda website claims that Junaid has not associated with their group since 2001.

The fact that the group is issuing a "disclaimer" regarding their association with Junaid is proof that the opposite of what they say is true .

As you can see from MIM response to Al Muhajiroun spokesman Kamran Bokhari on the website, he attempted to deny that he played any "significant " role in the group, despite being named as their spokeman in an AM 1998 press release and having spoken at a 1997 rally in London.

http://www.militantislammonitor.org/article/id/95

They also refer to "trumped up" charges against Abu Hamza Al Masri, the London Imam being extradited from the UK to the US,on charges of being linked to Al Qaeda terrorist attacks,



Jun 19, 2004
http://www.jihadunspun.com/intheatre_internal.php?article=6581&list=/home.php&
Abu Yousuf, Al-Muhajiroun North America
CNN and other news sources confirm that Muhammad Junaid Babar is under FBI custody (and has been since April) as a material witness for ongoing investigations. The point of concern is the link drawn between Muhammad Junaid and Al-Muhajiroun. As well as the claim that members of Al-Muhajiroun in London recently purchased a ton of ammonium nitrate. Such allegations are careless on behalf of the media and need not be given any consideration. This however is the expected course of action that the corporate media so often seems to take when it comes to Islam.

Al-Muhajiroun North America as well as Al-Muhajiroun U.K denies any relationship to Muhammad Junaid Babar. Although he was studying with Al-Muhajiroun until late 2001, he was never actually an affiliated member of the organization and indeed he made a decision to leave the organization and subsequently all ties have been broken. Al-Muhajiroun has not retained contact with him since 2001 nor is Al-Muhajiroun aware of any links between Muhammad Junaid and Al-Qaeda nor are there any links between Al-Muhajiroun and any "Pakistani terrorists" in London attempting to "carry out operations" as falsely indicated by a number of news organizations.

Al-Muhajiroun has a very clear and explicit call which does not include its members engaging in military operations in western countries. Never has this been the agenda nor has there ever been any substantial proof to indicate anything of the sort. This is merely propaganda as is common with the media and is an inevitable outcome in the war on Islam. Members of Al-Muhajiroun engage in writing articles, press releases, giving lectures in various mosques and other public venues and any allegations of Al-Muhajiroun engaging in any sort of military operations has been refuted on numerous occasions.

Despite our disassociation with Muhammad Junaid we do call for his release and ask that Allah (s.w.t) be merciful upon him and his family as well as the thousands of Muslims that have been unjustly imprisoned. This is the nature of the clash between Tawheed and Shirk. We call upon Muslims to be patient and as well to be aware of their surroundings, since it is unequivocal that the war on Islam needs no evidence nor justification to oppress Muslims. It is clear that following the trumped up charges leveled against sheikh Abu Hamza to have him extradited to the US, the FBI are up to their old tricks again.

Al-Muhajiroun
Followers of Ahl ul Sunnah Wa Al-Jamma
www.muhajiroun.com