The terrorist targeted the Shwarma Rosh Ha'ir fast food restaurant on the busy pedestrian mall located at the intersection of Neve Shaanan and Solomon Streets, near the old Central Bus Station. The location for the attack was carefully chosen, as it is especially crowded on Thursday afternoons. Many foreign workers, Russians, and Arabs frequent the area.

The restaurant owner, Aryeh Sharon, said that the terrorist took two or three steps inside and blew himself up. He said that the bomber was dressed as a street peddler selling razor blades, and other small items which he was carrying.

Site of attack, one hour later


Magen David Adom emergency medical service administered first aid on the site and then evacuated the injured to the following hospitals: Ichilov in Tel Aviv, Wolfson in Holon, and Sheba. According to initial reports, one person is in moderate-to-serious condition, with what were described as "penetrative" wounds, and two were injured moderately.

Initial reports from the site of the attack indicate that the charge the terrorist was carrying was a relatively small one. Though the restaurant was destroyed, the windows and display counters of the neighboring stores remain intact.

Witnesses reported that a Savannah vehicle transported the terrorist. Police, with the assistance of a helicopter, are searching for the car.



The area of the pedestrian mall has suffered from three terrorist attacks in the past.

Emergency numbers at the hospitals are:
Wolfson 1255135
Ichilov 1255133

The Ministry of Absorption opened an emergency call-in number providing information in all languages: 1255081010.

--------------------

http://www.chinadaily.com.cn/english/doc/2006-01/20/content_513979.htm

Tel Aviv bombing comes a week before vote
(AP)
Updated: 2006-01-20 08:43

A Palestinian suicide bomber posing as a peddler blew himself up in a Tel Aviv fast-food restaurant Thursday and wounded 20 people in an apparent attempt to destabilize the region a week before Palestinian elections.

Islamic Jihad, the only Palestinian faction boycotting the vote, claimed responsibility. Palestinian leader Mahmoud Abbas accused the group of trying to sabotage the Jan. 25 election.

The Israeli response will be a key test for acting Prime Minister Ehud Olmert, who took over after Ariel Sharon suffered a massive stroke earlier this month. The bombing came two days after Olmert said he is ready to resume peace talks following Israel's March election, provided Abbas disarms militants.

The bomber, who witnesses said posed as a peddler selling disposable razors, walked into the restaurant and blew himself up even though most of the customers were sitting relatively far away at sidewalk tables, police spokesman Mickey Rosenfeld said.

The explosion wrecked "The Mayor's Shwarma," a fast-food restaurant specializing in grilled meat sandwiches. It is located in a rundown area of downtown Tel Aviv that has been hit repeatedly by Palestinian attackers.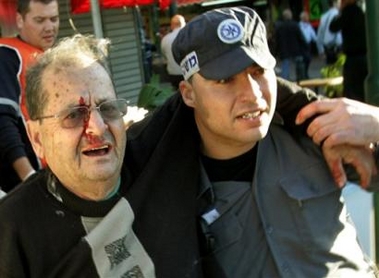 An Israel police officer helps a wounded man at the site of a suicide bombing in Tel Aviv,Israel, Thursday Jan. 19, 2006.[AP]

Twenty people were wounded, one of them seriously, and the 22-year-old bomber was killed.

"I ran and saw the terrorist in two pieces," said Shlomo Eliav, 49, who owns a kiosk around the corner and has experienced several attacks. "I'm sick of this. I'm thinking of moving" to another part of town, he said.

Blood, shattered glass and debris covered the ground near shops, as helmeted security forces cordoned off the area. A crowd gathered outside the restaurant, surrounding a weeping elderly man in a fur hat who shouted out the name, "Pini, Pini."

This was the seventh suicide bombing aimed at Israelis since Palestinian militants declared an unofficial truce in February 2005. Islamic Jihad claimed responsibility for all ¡ª six in Israel and one at a West Bank army checkpoint.

Islamic Jihad identified the assailant as 22-year-old Sami Abdel Hafez Antar from the West Bank city of Nablus.

The militant group released a video made by the bomber before the attack. He said he was "offering himself to avenge the blood of martyrs."

Brandishing a rifle and posing before a black Islamic Jihad flag, he said he carried out the bombing in response to Israeli attacks on civilians and militants.

At the family home, a four-story building in Nablus, Antar's mother was crying hysterically and could not talk. His brother, Sameh, 32, appeared puzzled.

"I can't say anything about those who sent him," Sameh told the AP. "All I can say is that my brother had everything. It seemed he wanted martyrdom, and he got what he wanted."

Israeli officials tried to link the bombing to Iran, which backs Islamic Jihad. Public Security Minister Gideon Ezra said Iranian TV was the first to broadcast the Islamic Jihad claim of responsibility.

"There is a trail to Iran and to Syria where the extremist organizations are," Ezra told Israel TV.

Israeli defense officials huddled late Thursday to discuss a response, but Olmert's options appeared limited. Harsh retaliation might backfire among moderate Israeli voters, Olmert's key constituency.

On Tuesday, Olmert said he was interested in talks toward a peace treaty with the Palestinians on condition they dismantle violent groups as stipulated in the internationally backed "road map" peace plan.

Sharon is believed to have favored a long-term interim arrangement to test Palestinian intentions, and has been skeptical of Abbas' ability to rein in militants.

Olmert is running for prime minister in March 28 elections as Sharon's successor. Sharon, felled by a massive stroke Jan. 4, remains in a coma.

Several times in past years, Palestinian bombing attacks have helped decide Israeli elections, pushing voters to hard-line parties that pledge to punish the Palestinians at the expense of parties promoting the peace process.

Sharon founded his centrist party, Kadima, in November, bolting Likud because of its opposition to his peace moves. Likud reinforced its hawkish stand by choosing Benjamin Netanyahu, a hard-line former premier, as its leader.

Polls show Olmert and Kadima far ahead, with Likud losing most of its strength.

Sharon aide Raanan Gissin said Israelis have moved solidly to the moderate center now, advocating withdrawal from much of the West Bank. "One terrorist attack or two terrorist attacks are not going to sway them," Gissin said.

He blamed inaction by Abbas' security forces for the Tel Aviv attack, charging that militant groups have "moved into the void."

Abbas harshly condemned the bombing, which countered his efforts to control the militants by bringing them into the power structure. Hamas, the larger of the two Islamic groups, is running candidates for parliament and has mostly stopped attacks against Israel over the past year, but Islamic Jihad persists.

"This is sabotage and aimed at sabotaging the elections, not only the elections, but also the security of Palestinians," Abbas told reporters at his office in the West Bank city of Ramallah. "The culprits must be punished."


-------------------------------------------------

http://www.latimes.com/news/nationworld/world/la-011906mideast_lat,0,4251007.story?coll=la-home-headlines&track=morenews

Islamic Jihad Claims Responsibility for Tel Aviv Explosion

By Ken Ellingwood
Times Staff Writer

12:18 PM PST, January 19, 2006

JERUSALEM — A suicide bomber blew himself up at a fast-food restaurant in Tel Aviv today, injuring at least 16 people, Israeli police said.

The militant Islamic Jihad group claimed responsibility for the midafternoon explosion, which took place near a former main bus station hit previously by Palestinian bombers.

Authorities said the bomber set off the explosives inside a restaurant specializing in shawarma, a roasted-meat dish, and falafel. Police said the restaurant, in a working-class neighborhood, did not have a security guard at the door, as many Israeli business establishments do. Witnesses said the man carried a large black duffel and pretended to sell razors.

Danny Mevorah, 36, who works at a shop next door, said he ran into the restaurant after the blast and pulled out stunned and injured employees. After the attack, the ceiling dangled in pieces, flecked with blood.

It was the first Palestinian attack inside Israel since a Dec. 5 suicide bombing that killed five Israelis outside a shopping mall in the coastal city of Netanya. Islamic Jihad also claimed responsibility for that attack and for all four other bombings inside Israel last year.

The latest bombing came less than a week before Palestinians are to go to the polls to elect a new parliament, the first such vote since 1996. The ruling Fatah movement led by Palestinian Authority President Mahmoud Abbas faces a stiff challenge in next Wednesday's balloting from Hamas, the radical Islamic group making its first run for legislative seats.

Abbas has been under pressure from Israel and the United States to take firm action against armed militias. Instead, the Palestinian leader has sought to persuade the fighters to hold their fire against Israel.

Last year, Abbas brokered a tentative cease-fire observed by most of the militant groups, including Hamas. But that agreement expired Dec. 31 and none of the groups has formally renewed the earlier pledge. Islamic Jihad did not observe the calm declared by other militants.

David Baker, an official in the Israeli prime minister's office, said the bombing was "once again a vivid reminder of the Palestinian Authority's utter refusal to take any step to prevent terror against Israel We saw the results of this on the streets of Tel Aviv today."

Palestinian officials accused the attack's planners of seeking to undermine next week's elections.

"Its timing is dangerous and undermines Palestinian interests to a large extent," said Cabinet Secretary Samir Huleileh. "It also undermines the democratic process that will take place in a few days."

As the bombing occurred, Israeli Prime Minister Ariel Sharon remained comatose in a Jerusalem hospital, where officials have listed him in critical but stable condition after a massive stroke two weeks ago.

His leadership duties have been handed to Vice Premier Ehud Olmert, who may be carefully watched by Israeli voters for his responses to Palestinian violence during the weeks before Israeli national elections on March 28.

Olmert has taken over as acting leader of the centrist Kadima movement that Sharon formed in November after defecting from the conservative Likud Party. Sharon was joined in the upstart movement by more than a dozen Likud ministers and lawmakers and by some key members of the left-leaning Labor Party.

Kadima is widely favored to win.

A poll published today in the Yediot Aharonot newspaper showed that Kadima would capture 43 of the 120 seats in the Israeli parliament, or Knesset. Labor was shown trailing with 21 and Likud with 12.

---------------------------