"It's hard to imagine a more triumphant return home than Ali had last week. Days after being awarded this country's highest civilian honor, the Presidential Medal of Freedom, by President Bush in Washington, D.C., some of the most famous people in the world, almost none of them athletes, turned up here to serenade Ali's life and times, and the ways he changed the world..."
MIM: Among those helping to whitewash Ali's evil legacy by lauding Ali and the new centers was Bryan Gumbel who:
" lauded Ali for his stance against the Vietnam War. The boxer was stripped of his heavyweight title for refusing to serve in the military during the war. Gumbel said "it took bravery to get into the ring and risk his pretty face; it took real guts to step out of the ring and risk everything."
For his part veteran broadcaster Sir David Frost gushed"...Some people are overwhelmed by their dreams, but Ali's dreams made him bolder and stronger and fearless".... "His strength and his tenacity as a fighter captured the world's attention, but it was his insistence on his own value that made him a hero."
Former President Clinton outdid Bush in "fawning,giddyness" when he proclaimed at the Center's opening that "the world is a better place because of you".You thrilled us as a fighter and you inspired us even more as a force for peace and reconciliation, understanding and respect. No one was ever more beautiful or brash or bright or powerful or fast in the ring. It was breathtaking."
Clinton's praise was one of many example of how -' it takes one to know one'. More insidiously, it shows how 'chumps for the champ' which include the present and past presidents of the United States are helping Ali and his handlers perpetrate a radical Islamist agenda under the guise of "peace and reconciliation".
"...ADC is a grassroots civil rights organization which welcomes people of all backgrounds, faiths and ethnicities as members.
MIM: The real views of the ADC were expressed by Hassoun Mahmood, the chairman of the media committee of their New Jersey chapter, who blamed terror attacks in Madrid,.London Turkey and Egypt on American foreign policy.

"...The deadly criminal rash of terrorism in Madrid, London, Turkey and Egypt is mainly the result of the misadventure of the neo-conservatives who exploited President Bush's inexperience in foreign policy and persuaded him to invade Iraq to achieve their own agenda in the Middle East.." http://www.adcnj.us/Letters_to_the_editor/Hassan08-08-2005-HomeNewsTribune.htm

MIM: According to their website:
http://www.alicenter.org/heart/islamic_life.shtml
Muhammad Ali Center
Participates in U.S. Department of State Grant
"ISLAMIC LIFE IN THE UNITED STATES"
Louisville, KY (April 12, 2004) The Muhammad Ali Center is priviliged to collaborate in a mutually beneficial program with the University of Louisville that promotes mutual understanding among cultures. Fifteen Muslim religious scholars, teachers and preachers from South Asia are visiting Louisville and other cities as part of a $343,785 U.S. Department of State grant awarded by the College of Arts and Sciences, University of Louisville, in December 2002. The program is entitled "Islamic Life in the United States."
The University of Louisville was the only university in the nation to receive the State Department grant under a program that was developed after the September 11, 2001 attacks carried out by terrorists of Arab/Muslim origin. The State Department was so impressed by the proposal submitted by the College of Arts and Sciences that it changed its original plans, according to Dr. Thomas Johnston, Senior Exchange Specialist at the Bureau of Educational and Cultural Affairs at the State Department.
Even though the original plan was to distribute smaller grants to more schools, the proposal submitted by the College of Arts and Sciences was so compelling that the State Department allocated all of the funding to one university. According to Dr. Johnston, "It was an extraordinarily good proposal that clearly understood what we were looking for."
"Islamic Life in the United States" has two Phases, each with two parts. In the first part of Phase I, South Asian Muslim religious scholars, teachers and preachers are visiting the U.S. and in the second part of Phase I some American scholars will visit South Asia. Phase II would be a repeat of Phase I.
At the start of Phase I of the program, Dr. Riffat Hassan, Director of "Islamic Life in the U.S." visited Afghanistan, Bangladesh, India and Pakistan, to meet with the concerned cultural specialists of the U.S. embassies/consulates/post in the selected countries. In consultation with them and other experts, Dr. Riffat Hassan identified a number of scholars, teachers and preachers from the selected countries to visit the United States in Spring 2004 for a month long, intensive program.
The program is designed to make the visitors aware of how Islamic Studies is taught in the U.S. and how diverse Muslim communities live in the context of the multi-cultural environment of this country. While "Islamic Life in the United States" program proposes to give the visitors an opportunity to meet and interact with a variety of Americans in public settings as well as in their homes, it also aims at giving Americans a better understanding of mainstream Islam and Muslims.
The expected outcome of the program is to enhance participants' understanding about the place of Islam in U.S. society and culture. It is also expected to increase their awareness of, and appreciation for, the serious study of Islam that is conducted in the United States. Furthermore, it is expected to provide a forum for serious discussion about such issues as the compatibility of Islam and democratic structures, and the social vitality that grows from mutually respectful co-existence among diverse religious communities in the U.S. and in the world.
For two and a half weeks the visitors are meeting and interacting with faculty, student and staff of the University of Louisville and other institutions in the Kentuckia area. They are participating in a number of academic, interfaith and cultural programs and events. They are also attending social events arranged by local Muslim and other communities.
The visitors are traveling to other cities and locations including Cincinnati (April 6), Frankfort, Kentucky (April 7), Southern California (April 10-15), Chicago (April 21-23), Indianapolis (April 23), and Washington D.C. (April 24-27).
Dr. Riffat Hassan, Professor of Humanities and Religious Studies at the University of Louisville, who is an internationally-known scholar of Islam, is the Director of the "Islamic Life in the U.S." program. Dr. Thomas Byers, Professor of English and Director of the Commonwealth Center for the Humanities and Society in which the "Islamic Life in the U.S" grant is housed, will assist with this program.
Guest speakers from other cities will be making presentations at the University of Louisville or participating in interfaith dialogues sponsored by our community partners. The Muhammad Ali Center is particularly grateful to sponsor events that enhance the visitors' experience in order to embellish their learning experience and to offer exchange opportunities for Americans. Among the events sponsored by the Ali Center are:

♣ A videoconference in conjunction with Jefferson County Public Schools entitled, Understanding Cultural Differences: A Dialogue Between Islamic Scholars and U.S. Students. The program originated from Louisville's Central High School, and included eight other interactive sites: Ballard, Pendleton County, Waggener, Campbell County High Schools and Winburn Middle School (in Kentucky); and Scottsburg, North Harrison, and Austin High Schools (in Indiana).
♣ Schools from the Louisville Metro area and surrounding counties in Indiana and Kentucky were recent guests of the Muhammad Ali Center and the Kentucky Center at the student matinee performance of Brown Butterfly at the Brown Theatre. As an added treat, Islamic scholars spoke to students on teenage life in their countries and the experiences they've had in the United States.
♣ The Muhammad Ali Center in conjunction with the Universtiy of Louisville will be hosting a roundtable discussion on the Bellarmine campus between Islamic and American Islamic scholars. Observing and participating in the open discussion will be Muhammad Ali Center staff, representatives from Bellarmine University's staff and students, selected high school students from the metro Louisville area, and invited guest and friends. Virginia Gray Henry, Director of Fons Vitae Publishing and Distribution, along with Dr. Riffat Hassan from the University of Louisville will also participate.

Other partners of this grant include Catholic, Protestant, and Jewish Americans. Topical areas of learning include ongoing research on Islam at universities and Islamic Research Centers; culture, daily life, social and political issues, and other aspects of U.S. Islamic communities; interfaith dialogues; interactions of Muslim Americans with U.S. democratic structures, including electoral politics and representative government; freedoms of speech, the press, and religion; academic freedom and faculty governance. Short-and-long-term results will include enhanced mutual understanding; scholarly relationships and projects including potential collaboration among U.S. and foreign Muslim scholars; establishment of ongoing relationships between foreign Muslim intellectuals and U.S. scholars and citizens, and between foreign Muslim and U.S. institutions such as universities, Islamic Centers, and interfaith groups; further citizen exchanges; and distance learning projects.
The names of the visiting Muslim scholars, teachers and preachers, and their countries of origin are as follows:
Afghanistan : Mr. Abdul Rauf, Mr. Hayatullah, Mr. Momin Shah;
Bangladesh : Professor Dr. A. N.M. Wahidur Rahman, Professor Dr. Azizun Nahar Islam, Professor Dr. Kazi Nur ul Islam;
India: Professor Dr. Rukhsana Nikhat Lari, Dr. Shehnaz Shaikh, Dr. Syed Zafar Mahmood, Mr. Zaheer Abbas Rizvi; and
Pakistan : Ms. Farhat Naz Rahman, Mr. Hanif Jallandhari, Professor Sharif Al-Mujahid and Syed Muhammad Zakir Hussain Shah.
The four women in the group are Dr. Azizun Nahar Islam, Dr. Rukhsana Nikhat Lari, Dr. Shehnaz Shaikh and Ms. Farhat Naz Rahman.

Read more at the Courier-Journal's website

http://www.alicenter.org/heart/islam_pics/index.html
ISLAMIC LIFE IN THE UNITED STATES
| | | |
| --- | --- | --- |
| | | |
| | | |
| | | |
| ----------------------------------------------- | | |
Muhammad Ali v. George W. Bush
by Daniel Pipes
New York Sun
November 29, 2005
George W. Bush honored the boxer, Muhammad Ali, and 13 others with the Presidential Medal of Freedom, called "the nation's highest civilian award," on November 9 at the White House. The president praised Ali for his sports accomplishments and called him "The Greatest of All Time."
Fine, but he then proceeded to laud Ali's character: "The real mystery, I guess, is how he stayed so pretty. It probably had to do with his beautiful soul. He was a fierce fighter and he's a man of peace. … Across the world, billions of people know Muhammad Ali as a brave, compassionate, and charming man, and the American people are proud to call Muhammad Ali one of our own."
In this giddy, fawning statement, Mr. Bush did not, the Washington Post astringently noted, "mention Ali's very public opposition to the Vietnam War, which led the prizefighter to lose his boxing license for three years when he refused to serve in the Army." Worse, his refusal to fight was not because he was "a man of peace" but rather because his allegiance was to the stridently anti-American, anti-white organization known as the Nation of Islam, headed by the malign Elijah Muhammad.
Forty years ago, Ali explained his draft evasion: "War is against the teachings of the Holy Koran. I'm not trying to dodge the draft. We are supposed to take part in no wars unless declared by Allah or The Messenger [i.e., Elijah Muhammad]. We don't take part in Christian wars or wars of any unbelievers." A draft evader, incidentally, is particularly ill-suited to receive the Medal of Freedom, which was created in 1945 to recognize "notable service" in World War II.
The president also did not touch on Ali's religious side, but Mark Kram did in his 2001 book, Ghosts of Manila: The Fateful Blood Feud between Muhammad Ali and Joe Frazier: "Ali broke every tenet of real Muslim law, from whoring to being truant at Temple service; he was a religious fake who abdicated his personal worth to the Black Muslims for their expediency and draft evasion, [and was] therefore, counterfeit down to his socks."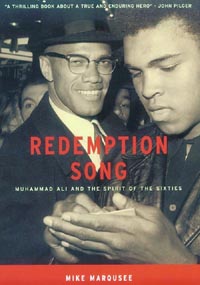 As he aged, Ali did become more devout, but in unfortunate directions. He declared himself against "the entire power structure" in America, which he declared was run by Zionists who "are really against the Islam religion." He became so radical a Muslim that the notorious Council on American-Islamic Relations, North America's most powerful Islamist group, also honored him with an award in June 2004. As its press release stated: "Ilyasah Shabazz, the daughter of Malcolm X, presented the first Malcolm X award to Muhammad Ali."
(Ali was spectacularly ill-suited for this award too. Malcolm X had served as his role model until 1964, but when Elijah Muhammad ejected Malcolm X from the Nation of Islam, Ali ignored Malcolm X's entreaties and turned viciously against him. He threw Malcolm X away, in the words of journalist Sunni Khalid, "like a pork chop.")
Mr. Bush's praise for Ali's compassion, charm, and beautiful soul are horribly misplaced (as were large donations from General Electric and Ford to the hagiographic "Ali Center" that opened days later in Louisville, Ky.). Ali's unvarnished legacy is an exploitative personality, sordid career, vicious politics, and extremist religion.
Mr. Bush himself got an unexpected glimpse of the real Ali during their brief White House encounter. I'll let the Washington Post describe the incident:
Bush, who appeared almost playful, fastened the heavy medal around Muhammad Ali's neck and whispered something in the heavyweight champion's ear. Then, as if to say "bring it on," the president put up his dukes in a mock challenge.

Ali, 63, who has Parkinson's disease and moves slowly, looked the president in the eye—and, finger to head, did the "crazy" twirl for a couple of seconds. The room of about 200, including Cabinet secretaries, tittered with laughter. Ali, who was then escorted back to his chair, made the twirl again while sitting down.

And the president looked visibly taken aback, laughing nervously. Was Ali making a political statement?
Awarding of the Presidential Medal of Freedom to Muhammad Ali gratuitously celebrated a man profoundly opposed to Mr. Bush's own, his party's, and the country's principles. It represents, I submit, the nadir of his presidency.
From www.danielpipes.org |
Original article available at: www.danielpipes.org/article/3153
By Michael Wilbon
http://www.mercedsun-star.com/sports/story/11520860p-12257937c.html
MIM: Another chump for the champ was a sportswriter who called Ali "a sporting icon" and called him "probably the most internationllay famous man in America has produced in a great while, and the times that fashioned him and us"
Wilbon's comment inadvertently vindicates Dr.Pipe's contention that giving the Presidential Medal of Freedom to Ali was "The nadir of his presidency".
LOUISVILLE, Ky. -- I gave thanks for Muhammad Ali on Thursday, not just for him actually, but for the shrine of a center named after him that opened here this week and for the formal celebration of a courageous life once widely reviled. I gave thanks that Ali appeared the other night to be in better health than was recently reported, that despite the shaking brought on by Parkinson's syndrome he was capable of receiving two U.S. presidents within a week, capable of walking the 24,000 square feet of exhibits and displays that put into context not just a sporting icon but probably the most internationally famous man America has produced in a great while, and the times that fashioned him and us.
It's hard to imagine a more triumphant return home than Ali had last week. Days after being awarded this country's highest civilian honor, the Presidential Medal of Freedom, by President Bush in Washington, D.C., some of the most famous people in the world, almost none of them athletes, turned up here to serenade Ali's life and times, and the ways he changed the world.
The group included singers Kris Kristofferson, James Taylor, Darius Rucker and Kathleen Battle; actress Angelina Jolie, who made a fairly massive donation of an artistic nature to the Ali Center; and former President Clinton, who said to Ali at the end of the black-tie gala that glittered like nothing Louisville had ever seen, "The world is a better place because of you. You thrilled us as a fighter and you inspired us even more as a force for peace and reconciliation, understanding and respect. No one was ever more beautiful or brash or bright or powerful or fast in the ring. It was breathtaking."
And of course, the totality of it is why we've been fascinated with Cassius Marcellus Clay and then Muhammad Ali for more than 40 years now. It's why folks who initially loathed Ali and would have given anything to see him get whupped, as comedian Jim Carrey admitted while introducing Ali, came to almost universally respect and then adore him over time. And it's why people will flock to the Ali Center, a big chunk of history housed in a futuristic building of six stories that has a section meant to look like the Olympic torch Ali carried to open the 1996 Olympics.
Only Ali, in all his supreme confidence, would have a museum with exhibits critical of him. Don't get me wrong, the overall tone of the center is pretty fawning, as one would expect. But in the "Respect" exhibit, a film takes Ali to task for his womanizing, for behavior most reasonable folks agree was sexist and bigoted. (You think Barry Bonds, for example, would sign off on a detailed criticism of his alleged steroid use?)
There's an exhibit that deals with Ali's conversion to Islam, his name change from Clay to Ali in 1964. The center shies away from nothing, really, which is considerable given Ali's willingness to mix it up. The room that celebrates Ali's most famous fights includes the historic loss to Joe Frazier.
There are consoles where you can view every Ali fight, any fight. But there is also a room devoted to his poetry and predictions, much of it oft-repeated but much of it also pointed and at the time offensive to people on the wrong end of Ali's youthful and sometimes nasty wit.
There are the photographic offerings of Ali's best friend Howard Bingham, which collectively ought to visit the nation's most prominent portrait gallery. And there are dozens of offerings from the iconic artist Leroy Neiman, who in his unique ways captured so much more than the big fights we see so frequently.
There's an area designed to look like the Deer Lake, Pa.. site where Ali trained for years and years.
There are panoramas, projections, educational showcases, boxing rings and interactive displays. One section of the roof is made to look like little butterflies ("Float Like a butterfly, sting like a bee ... aaaaah! Rumble young man rumble ... aaaaah!). There's a collage by children from 141 countries. In fact, when the building is finished in the coming months there will be more resources dedicated to child development, which in and of itself speaks to Ali's staying power, since nobody under 30 could possibly remember him as a boxer.
Who else has this in America?
The stated hope is that the theaters and meeting rooms in the center will be places where leaders and plain folk will attend seminars that deal with peaceful solutions and conflict resolution. It's ambitious, to say the least. But that's what we've come, over time, to expect from Ali. Ali's wife, Lonnie, talked about the center being, "a living, breathing center to share his ideals, to teach and inspire."
The center will have to do Ali's talking now. The thing that struck me most, from watching a young Ali spar verbally with Howard Cosell or any number of fighters, is how much I miss Ali's voice. If you're of a certain age, say, 46 or older, and have a memory that goes all the way back to the first Sonny Liston fight, you presumed that voice would live with you always. At 63, Ali looked surprisingly slender the other night. When he was noticeably active and animated on stage, swinging and swaying with an oversized "torch" at the end of the gala, Lonnie tried unsuccessfully to get her husband to cool it, to take it easy. Of course, he wasn't heeding her advice. But the point is, given the Parkinson's syndrome, we don't know how many more glimpses we're going to have of the man.
What I wouldn't have given to hear one more riff from Ali, just one good, long paragraph on any topic he pleased. Angelo Dundee, who was in Ali's corner as his trainer the entire run, reminded me to stop fretting because, "He gets more out of a blink than others from a whole recitation."
President Clinton noted Ali has been there all Clinton's life and that got an 'amen' from everybody of a certain age. More than any politician, more than any statesman or athlete or entertainer, Ali has been there, in noise or silence, for better or for worse, in sickness and in health. And what's become even more evident than ever over the last past month, as Ali has been honored by three presidents (Jimmy Carter videotaped a tribute) and some of the most famous people on the planet, is that nobody, regardless of stature, wants to let go of Ali. And with this center bringing us 360 degrees of Ali, mortality aside, we might not have to.
Wilbon is a sports columnist for the Washington Post.
-----------------------------------