Joseph Farah of WND cites a book written by a former Romanian intelligience agent who was following Arafat
" In Red Horizons" by Lt. Gen. Ion Mihai Pacepa, the former head of Romanian intelligence. H... relates a conversation with Constantin Munteaunu, a general assigned to teach Arafat and the Palestinian Liberation Organization operations in deception and influence designed to fool the West into granting the organization recognition.
"I just called the microphone monitoring center to ask about the 'Fedayee,'" Arafat's code name, explained Munteaunu. "After the meeting with the Comrade, he went directly to the guest house and had dinner. At this very moment, the 'Fedayee' is in his bedroom making love to his bodyguard. The one I knew was his latest lover. He's playing tiger again. The officer monitoring his microphones connected me live with the bedroom, and the squawling almost broke my eardrums. Arafat was roaring like a tiger, and his lover yelping like a hyena." http://www.wnd.com/news/article.asp?ARTICLE_ID=34717
Arafat was known to have had a proclivity for Germanic types and always hired young blonde bodyguards. This would explain his abject terror at being offered a human shield in the form of Gretta van Duisenberg the wife of the now deceased World Bank president, Wim, which was recounted in "Human Shield in Ramallah".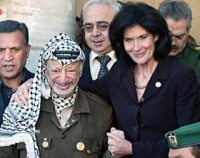 Arafat and Duisenberg
"...Suddenly the cot creaks and shakes and he feels the blankets being ripped from him.
Oh, Allah, help me, thinks Arafat, while Gretta's thighs hold him in their merciless grip.
This is the most horrific ordeal of my life. This is far worse then any Israeli retaliatory strike..." http://www.militantislammonitor.org/article/id/8
"...According to Papacea and other authors, it was widely believed that he was a homosexual. Among other evidence, the Romanians claim they took survelliance videos of Arafat engaged in orgies with his male bodyguards.
Moveover, internationally famous Italian journalist Oriana Fallaci, who has interviewed many foreign leaders including Arafat, revealed with evident disgust in a 1981 Playboy interview that Arafat had a marked preference for young boys. Perhaps this is the blackmail Arafat's wife, Sufa, with whom
he hadn't lived for years, used to garner herself a multi-million-dollar annual "death benefit." The proceeds of course, flow from his billions in ill-gotten gains.
Many speculate that the cause of his death was AIDS. Arafat's symptoms included blotchy skin, dementia, a depressed immune system and massive weight loss. The only other disease indicated by these symptoms, leukemia, was ruled out. The only ones who can release Arafat's medical records are his family, and they aren't talking.
The official line went from the ludicrous "he was poisoned by the Israelis" to the absurd: "A poor diet and gastrointestinal complications due to his long confinement in PLO headquarters imposed by the Israelis caused his health to deteriorate." Of course, it was the Israelis fault, one way or the other.
I vote AIDS.

Cause of Arafat death unknown
http://news.bbc.co.uk/2/hi/middle_east/4225332.stm
Cause of Arafat death 'unknown'