Militant Islam Monitor > Articles > Terror recruiter "Mohammed bin London" convicted in the UK
Terror recruiter "Mohammed bin London" convicted in the UK
February 26, 2008
Top terror recruiter found guilty Tuesday, 26 February 2008
A man said to be one of the most important recruiters for Islamist extremism in the UK has been convicted at the end of a major trial.
Mohammed Hamid, 50, of east London, was found guilty of training men in secret camps in the Lake District and New Forest to prepare them to fight abroad.
Among those to have passed through Hamid's camps were the four failed suicide bombers of 21 July 2005.
All four of the men responsible for the failed bombings were friends of Hamid.
The conviction marks a major success for counter-terrorism policing with Hamid regarded as a key figure in extremist networks.
Police say Hamid played a crucial role in grooming young men for terrorism and possible training overseas.
Hamid's training came in the form of camping trips around the UK and late night talks in the living room of his home.
HAMID'S CO-ACCUSED Clockwise from top-left: Atilla Ahmet, 43: Guilty of soliciting to murder Kibley Da Costa, 24: Guilty of attending terrorism training, providing training, holding terrorist articles Kader Ahmed, 20: guilty of attending two training camps. Cleared on third charge Mohammed Al-Figari, 42: Guilty of attending camps and holding terrorist articles

Not pictured:

Hassan Mutegombwa, 20: Guilty of seeking cash for terrorism overseas Mohammed Kyriacou, 19: Admitted attending training camps Yassin Mutegombwa, 23: Admitted attending training camps
Prosecutors said he sought to groom impressionable young men, a process that had only intensified after the July 2005 suicide bombings.
Hamid, 50, was found guilty of three counts of soliciting to murder and three counts of providing terrorism training. The jury at Woolwich Crown Court found him not guilty of providing weapons training at camps.
The jury cleared him of two further counts of soliciting to murder, relating to speeches, and a further charge of possessing terrorist articles.
Seven other men have been convicted in connection with his camps in a series of linked trials that have been under a partial reporting black-out.
Another man, Mousa Brown, was cleared of providing or receiving training.
During the trial, the jury heard that Hamid had close links to the leader of the 21/7 bombings, Muktar Ibrahim.
The lead bomber and four of his conspirators had joined one of Hamid's camps in the Lake District in the spring of 2004, the trial heard.
MOHAMMED HAMID Born 1957, Tanzania, to Indian family Grew up Batley, Yorkshire Moved to London aged 12 Various manual jobs Sent to borstal Jailed for robbery Two marriages, five children Reformed crack addict Found religion in 1990s
The radicaliser and the bombers
He and Hamid had also worked the same preaching stall in central London in 2004, leading to their arrest after a row with a police officer. Hamid told the arresting officer he was "Osama bin London" and armed with a bomb.
On the evening after the 7/7 suicide attacks Hamid had texted one of the men who would two weeks later try to blow himself up.
The trial heard that Hamid had been preaching for up to 12 years around London, including at Speakers' Corner in Hyde Park, his east London home and in his Islamic bookshop.
An undercover police officer codenamed Dawood later infiltrated Hamid's gatherings and recorded him and Ahmet encouraging young Muslims to fight.
Hamid had denied radicalising young men and claims he was running a "drop-in club" for al-Qaeda. He said that while hundreds of young men had come into contact with him over the years, he was trying to offer them support because Muslims were vulnerable in the wake of 9/11.
Acting Assistant Commissioner Peter Clarke of the Metropolitan Police praised the jury for seeing through Hamid's jokey personality.
"If you want to judge how serious Hamid, Ahmet and the others were, you just have to look at the group," he said.
"The group included the people responsible for the attacks in London on 21 July 2005. You have to look at the fact that they celebrated the deaths that occurred on 7 July.
"And in fact what they were doing accelerated and intensified to try to mount attacks both here and overseas.
"You can only possibly conclude that these were serious determined terrorists." http://news.bbc.co.uk/2/hi/uk_news/7256859.stm
------------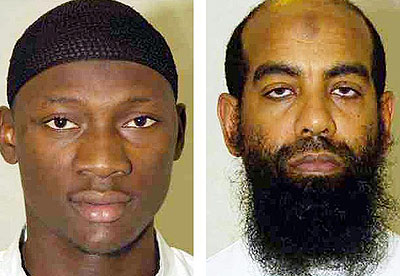 Kibley da Costa, 25, (left) and Mohammed al-Figari, 45. Photograph: Metropolitan Police/PA

Profiles: Mohammed Hamid and his followers
About this article

Close http://www.guardian.co.uk/uk/2008/feb/26/uksecurity.july7 This article was first published on guardian.co.uk on Tuesday February 26 2008. It was last updated at 13:58 on February 26 2008. Mohammed Hamid attracted a disparate group of Muslim radicals to his Friday evening meetings at Almack Road in Hackney. Among them were a student, a builder and an ex-bus-driver. Of the six men charged, three were converts from Christianity and four had been born overseas.

Mohammed Hamid, 50, from Hackney, east London

A preacher and reformed drug addict, the man who described himself as "Osama bin London" was the main organiser of training camps and paintball fights.

A father of six, Hamid was born into an Indian Muslim family in Tanzania. He arrived in the UK as a child.

Initially the family lived in Heckmondwike and Batley, in Yorkshire. Hamid moved in with an older brother in London at the age of 12. He first got into trouble for shoplifting fishfingers and a tin of sweetcorn.

By the age of 19 he was in borstal; jail terms for robbery followed. Hamid separated from his first wife, Linda, in his early 30s and looked after their two children.

Shortly afterwards he met a woman who introduced him to drugs. "I became very addicted to [crack]," he admitted in court. "I could not keep my life together. I had to [send] my daughter and my son away from the house.

"There was not even a spoon left in the house because I sold everything to keep my habit, my addiction. I just had one blanket and that was it. I was living like a squatter, like a tramp."

A chance trip to a mosque with his brother saved him, he maintained. He decided to leave the country for India.

There he met his second wife, an observant Muslim, and she eventually moved into his council house in Almack Road, Clapton.

The couple went on to have four children. Hamid became ever more devout, adopting traditional Islamic dress and growing a beard.

He opened the Islamic bookshop al-Koran in Chatsworth Road, Clapton. At the same time, around 1996, he was a volunteer youth worker and managed a Sunday football team.

He began attending rallies at Speaker's Corner in Hyde Park, central London, after becoming increasingly radicalised in the wake of the 9/11 attacks. He also raised money for refugees from the war in Afghanistan.

Hamid travelled to Karachi in January 2002 and stayed in Pakistan for three months. He had shipped out seven 12-metre (40ft) containers of hospital equipment, which he took across Pakistan in a convoy. He visited refugee camps over the Afghan border near the town of Chaman.

He first met the 21/7 bombers among other young radicals during rallies at Speaker's Corner in 2003.

He also became embroiled in the crisis at Finsbury Park mosque in North London, where the radical cleric Abu Hamza held open-air prayer meetings after being evicted by the mosque trustees.

Hamid helped negotiate an end to the standoff in October 2004, his involvement putting him in contact with Hamza's righthand man, Atilla Ahmet.

In court Hamid wore traditional Muslim garb, a white cap and long robe. He was recorded telling recruits he wanted to see "six or seven" atrocities before the 2012 Olympics and hailing the September 11 hijackers as the "magnificent 15".

In his testimony, however, the preacher insisted: "I have never, ever taught anyone to do any terrorist activities."

He explained that he was a keen camper, who often went backpacking in Europe and had taken his tent to Glastonbury and Reading music festivals.

Asked why he sent texts to several of the 21/7 bombers after their abortive attack, Hamid replied: "That proves I had no idea that these guys had done anything … If these guys are doing something, would I have been the first person … phoning them?"

On his arrest DVDs that "glorified suicide bombing" were found in his possession, according to the prosecution. The discs showed mujahideen fighters and the bombing of allied forces in Iraq.

Hamid was convicted of three counts of soliciting to murder and three counts of providing training for terrorism.

Atilla Ahmet, 42, of Lewisham, south-east London


A preacher and a longterm friend of Hamid, he was the official amir – leader – of the group.

Described as the righthand man of Abu Hamza, the hook-handed, one-eyed cleric who ran the radicalised mosque in Finsbury Park, Ahmet has been denounced as Attila the Scum by tabloid newspapers.

Before the trial started he pleaded guilty to three counts of soliciting murder. He was accused by Hamid's lawyer in court of making a "shabby deal" with prosecutors.

Born and raised in south London, Atilla Ahmet's family were Turkish Cypriots. In his early years he was known to friends as Alan.

He worked as a soccer coach in south-east London's Bexley League, managing Sydenham Boys, Athenlay and Fisher Athletic.

Brian Miller, the chairman of the Bexley League, said: "He was a nutter, very volatile and took it far too seriously. Once I had to referee the managers - not the game."

The married father-of-four abandoned football, however, after embracing radical Islam in 1998.

Calling himself Abu Abdullah, Ahmet was at the centre of the rows with the trustees at Finsbury Park mosque. After Hamza's arrest in 2004, he became more outspoken.

He was accused of being an al-Qaida official after he gave a controversial interview to the American news channel CNN in February 2006.

During a second interview with CNN in August, he said 9/11 was "a deserved punch on the nose" for the US and described the former prime minister Tony Blair as "fair game" for a terrorist attack.

Ahmet relished the news that Hamas had killed Jews in Israel and that insurgents had killed coalition soldiers in Iraq and Afghanistan.

His hatred of "kuffars" – a derogatory term for non-Muslims – was matched only by his contempt for munafiqs, the Arabic word for hypocrite, which he used to describe any moderate Muslim who did not back his extremist agenda.

Atilla boasted he would happily go to prison for 50 years if he got the chance to publicise his hate-filled views in the media.

After a few hours of questioning at Paddington Green police station, however, he started having claustrophobia-induced panic attacks.

Other defendants spoke of Atilla "cracking up" in Belmarsh and said his guilty pleas were a desperate attempt to get out of jail early.

Friendless on the inside, Atilla was said to have become paranoid, accusing fellow defendants of being MI5 spies, and sacking his legal team.

He pleaded guilty to three counts of soliciting to murder after the crown dropped five other counts.

Kibley da Costa, 24, of West Norwood, south-east London

A Jamaican-born, onetime bus driver, he was presented by his lawyers as being "radical but not extreme". He supposedly had one of the worst attendance records at Hamid's Friday evening meetings.

Brought up in a Christian family in the "ghetto" in Kingston, Da Costa moved to the UK in 1995.

He felt marked by an accident that occurred when he was a bus driver: a drunken pedestrian fell under the wheels of his vehicle and the man died of his injuries.

In 2003, after converting to Islam, he began calling himself Abdul Khaliq, although his family would not use the name. "Mummy has not adapted to
Abdul Khaliq," he told the court.

Da Costa explained that he had children by two women, whom he referred to as his "wives".

About the bus accident, he said: "A drunken guy fell under my bus and the bus wheel ran over his leg. Because of the alcohol in his system he died a couple of days later in hospital.

"They were trying to sort out counselling for me because I was blaming myself for it, even though it was proved it wasn't my fault."

He had started a wholesale clothing company when he was arrested with the others in September last year.

Da Costa denied any extremist beliefs and said he thought 21/7 was "stupid, innit".

He had worked with youth groups in south London, volunteering to talk to black Muslim youngsters in an attempt to steer them away from street
gangs such as the Muslim Boys.

Da Costa portrayed himself as a joker, yelling at surveillance officers he saw spying on the group in the New Forest to "come and have a cup of tea with us".

Searches found DVDs of al-Qaida "executions" in Da Costa's possession, including that of the British captive Ken Bigley. Another disc showed very young children mimicking a beheading. He also had an "al-Qaida manual".

Da Costa was found guilty of providing training for the purposes of terrorism, attending a place used for terrorist training and possessing a record likely to be useful to a terrorist.

Mohammad al-Figari, 44, of Tottenham, north London

A convicted drug smuggler and convert to Islam, his real name was Roger Michael Figari. Born in Trinidad, he was brought up by "very religious" grandmothers - one Catholic, one Hindu.

He moved to London in 1989, studied law and economics at Kilburn Polytechnic and worked for the Inland Revenue and the Department of Social Services.

He claimed he had drifted into crime after becoming a chauffeur under contract to the BBC.

"I tried to lead a decent, honest life but, being a chauffeur, you tend to compromise certain beliefs that I had at the time," he told the court.

"Some of the clients I had in the back of the car - their lifestyles weren't all that above board. There were certain things you had to do for them which compromised things."

He supplied clients with drugs and "female partners" and obtained a criminal record for theft and assault. By 1997, he had fallen in with a smuggling gang importing cocaine from Jamaica using drug mules who swallowed packets of the drug.

Figari said he converted to Islam 10 days before his arrest for smuggling, having been interested in the black American organisation the Nation of Islam. He was eventually convicted and sentenced to eight years.

While a prisoner in Wandsworth he came across one of the extremist documents that formed one of the terror charges against him.

A pamphlet called How Can I Train Myself for Jihad? still bore the stamp of HMP Wandsworth's library when it was produced in the trial.

Figari had met Hamid shortly before being sent to prison and the preacher continued to send him Islamic literature.

After his release on Christmas Eve 2002, Figari became a loyal follower. He first came to the authorities' attention when he joined Hamid on the same camping trip to Baysbrown Farm that the 21/7 bombers attended.

By the time of his arrest in 2006, Figari had obtained employment supervising deliveries of pharmaceuticals at a London hospital - despite his drugs conviction.

Figari admitted having a conversation with Hamid during which the two men were recorded discussing "leopard crawling" and other training exercises.

Under police surveillance, Figari was heard using the military terms clips, belt and magazines.

He maintained that the clips and belts were weight training equipment and the magazines were the kind you read.

On arrest he had in his possession DVDs showing executions and an "al-Qaida manual". There were also pamphlets on "military training for jihad".

He was convicted of attending terror training camps and possessing records likely to be of use to a terrorist.

Kader Ahmed, 20, of Plaistow, east London

The youngest of the defendants in the glass-screened dock, Ahmed was only 17 when he met Hamid at Speaker's Corner in Hyde Park. The preacher became a father figure to him.

A Somalia-born immigrant, Ahmed moved to London to escape the civil war. He was taken out of his east London secondary school at the age of 14 and educated at home by his Muslim mother.

He lived in the same council flat in Plaistow, east London, since coming to Britain. He was given the nickname Mohammed Plaistow by other defendants to differentiate him from the dozens of other Mohammeds who passed through Hamid's doors.

His parents were pleased when he became more devout in 2004 after meeting Hamid.

Ahmed said the 21/7 bombers Ramzi Mohammed, Hussain Osman and Muktar Said Ibrahim were among the Muslims who frequented Speaker's Corner to hear Hamid and other preachers talk.

Ahmed insisted the camping trips were innocent jaunts "like scouts or cadets". The Baysbrown Farm visit in August 2004 was the first time he had been outside London.

He went on another minibus trip with Hamid and others to Scotland during Christmas 2004, visiting Inverness and Loch Ness.

Ahmed said the purpose of the trip, which took place when the group were not under security service surveillance, was to try to find the Loch Ness monster.

Ahmed sneeringly called Dawood - the undercover officer who infiltrated the group - James Bond and claimed the officer had fabricated evidence.

The military-style training he was filmed doing was in preparation for paintballing, he claimed, adding that: "If other people were doing it, English people, you wouldn't say it was wrong."

The youth had become estranged from his father and by the time of the raids, according to Hamid, Ahmed had become "like a son" to him.

Anti-terror police believed the teenager had, in effect, become Hamid's righthand man in the group.

Ahmed's solicitor, Hugh Mullan, said his client considered the training to be harmless fun. "Any lad that age would jump at the chance, particularly given his background, to do all those exciting things he did," Mullan said.

"Kader Ahmed never said one thing to indicate he has fanatical views."

In conversation with Dawood, his enthusiasm was for becoming an electrician and returning to Somalia to "help rebuild" the country, Mullan said.

Ahmed had in his possession DVDs glorifying suicide bombers and murders of allied forces in Iraq. He also had records of speeches by Osama Bin Laden.

He was convicted of attending a terrorist training camp.

-----------------------------------

February 26, 2008 Times Online

Analysis: terror camp convictions mark end of the Hamza network

Sean O'Neill, Crime and Security Editor

In his defence, Mohammed Hamid painted himself as a bit of a Jack the Lad and some of his ranting and raving would certainly qualify him for serious psychiatric assessment.

Britain's security services have made the mistake of dismissing such loudmouths before. In the late 1990s, MI5 and others regarded Abu Hamza al-Masri, the imam of Finsbury Park mosque, as "a harmless clown".

The judgment made was that Abu Hamza's vitriolic views about Jews and infidels were offensive but he was not a threat to Britain. That was an erroneous judgment and the damage eventually done to British and international security by Abu Hamza's stewardship of Finsbury Park mosque was immense.

Hamid and Attila Ahmet were close disciples of Abu Hamza, who is now in jail, and another firebrand preacher, Abdullah el-Faisal, who has been deported to Jamaica. When Abu Hamza was jailed in 2004 they took up his mission of brainwashing and grooming recruits for holy war.
Related Links
Multimedia
Ahmet, who called himself Abu Abdullah and was one of the Finsbury Park heavy mob, took over his mentor's street sermons outside the closed and boarded mosque. He also assumed the role of media demon, airing his objectionable views to anyone who poked a camera in his face.

Hamid was more subtle, luring recruits through talks at Speakers' Corner in Hyde Park and his Oxford Circus bookstall. Muktar Said Ibrahim, the leader of the 21/7 bomb cell, helped him out at the stall.

Hamid and Ahmet embarked on the same outdoor activities — designed to test and bond their tutees — that Abu Hamza had prescribed for his followers. The Jameah Islamiyah School had also been one of his haunts.

The significance of the arrest of the pair in 2006 can be measured in that it was followed by a noticeable lull in al-Qaeda activity in Britain.

Hamid, Ahmet and their associates — including the 21/7 gang — may well have been the last graduates of Abu Hamza's Finsbury Park terrorist finishing school. Their imprisonment meant that a key recruitment network had been taken out of operation.

The relative quiet of the next few months allowed Scotland Yard's Counter-terrorism Command to take on the intricate task of investigating the murder in November 2006 of the Russian dissident Alexander Litvinenko.

It was only a pause. Al-Qaeda has proved itself to be a resilient organisation that absorbs blows, regroups and reforms its networks and returns. Striking against Britain remains one of its key objectives.

http://www.timesonline.co.uk/tol/news/uk/crime/article3438492.ece

----------------------------------

From Times Online February 26, 2008


How the terror camp gang were bugged and caught
color-999">(Metropolitan Police/PA Wire)

color-666">Atilla Ahmet, one of the guilty gang: "Democracy is the enemy of Islam"

Lucy Bannerman, Sean O'Neill and Michael Evans of The Times http://www.timesonline.co.uk/tol/news/uk/crime/article3437865.ece

So familiar a sight were the Muslim men who came to Baysbrown Farm campsite and pitched tent in the highest field, just below the crags, that the Cumbrian farmer had nicknamed them "my Taleban".

So harmless and engaging did they seem that BBC producers paid them to go paintballing, filmed them for a series called Don't Panic, I'm Islamic and regarded their leader, Mohammed Hamid, as "a Cockney comic".

And so seemingly inept and childish were their efforts at training — crawling through streams, using sticks as pretend guns and staying out all night in the woods — that the police and MI5 surveillance teams must have wondered if the Operation Overramp terror training camps investigation wasn't a waste of time and resources.

Any doubts about the seriousness of the group gathered around Hamid and Attila Ahmet were to be dispelled, however, in the days after July 21, 2005.

The four men who had attempted to blow themselves up on three Tube trains and a London bus, in imitation of the 7/7 bombers who killed 52 people a fortnight before, had all been on the weekends in the Lake District.

Hamid had taken two of the terrorists paintballing on July 3 and texted some on hearing news of the 7/7 attacks with the message: "We fear no one except Allah, we will not change our ways, we are proud to be a Muslim, we will not hide."

Later investigations would show that Hamid had called or texted the 21/7 bombers at least 173 times between autumn 2004 and July 2005.

This was not Carry on Camping after all. The antics of this group represented the earliest stages in the process of selecting and indoctrinating recruits who would go on to fight jihad overseas or return to Britain as killers.

Before July 2005, MI5 watchers reported back that Hamid seemed to be interested only in sending his pupils to fight in Afghanistan and there was no indication of a direct threat to Britain.What had most alarmed the authorities about the July 2005 attacks was the speed with which junior recruits and street-corner agitators had been transformed into would-be martyrs.

The group around Hamid now had to be the subject of a much more targeted surveillance and evidence-gathering operation.

Hamid and Ahment had been watched intermittently since 2004, but the assessment that they posed no direct threat meant that closing down other terror cells engaged in the final stages of planning attacks took precedence.

There also had to be parallel legislative changes. In 2004, Hamid's group were doing nothing illegal by engaging in mock military training in the Lakes and the New Forest. The Terrorism Act 2006 would introduce offences relating to terrorist training, encouraging terrorism and acts preparatory to terrorism.

Hamid, who had travelled to the Pakistan-Afghan border in 2002, was arrested in August 2005 as a potential witness in the case against the 21/7 attackers. He had been a common link to all the men.

The following month, the security services began what they refer to as "electronic coverage" of Hamid's home in Clapton, East London. In other words, covert agents broke into the property and wired it for sound.

The aim was to listen in on the Friday night meetings to which Hamid would invite his followers, after first drawing them into his orbit through his bookshop, proselytising stall at Oxford Circus or appearances at Speakers' Corner.

One of those who approached Hamid in the West End of London, in April 2006, was an undercover police officer who became known to the group as Dawood.

The covert surveillance and the human intelligence from Dawood quickly paid dividends. High-quality sound recordings were obtained of what Hamid and Ahmet were saying to their followers, and each other, when they thought they were in private. Hundreds of hours of recorded conversations revealed poisonous sermons by Ahmet.

"Democracy is the enemy of Islam" he said, identifying Tower Bridge, London Bridge, Prince Charles and the Duchess of Cornwall as potential targets.

Hamid was heard predicting "six or seven atrocities" before the 2012 Olympics. Civilians, the Houses of Parliament and the police were all legitimate targets in the mission "to implement Allah's law".

They were dangerous sentiments and he knew it. "It is not permissible for you to talk outside this room once it has been spoken here," he told his recruits.

Dawood was taken to training weekends in the grounds of Jameah Islamiyah school near Crowborough, East Sussex, where Hamid tried to educate his team in the hardships they might expect in the Afghan mountains, and to the New Forest where the group practised casualty evacuation exercises.

On one trip to Sussex in July 2006, one of the group — Hassan Mutagumbwa — approached the undercover officer on Winchelsea beach and asked him for money for a one-way ticket to Africa for "a brother who won't be coming back".

A few days later Mutagumbwa, 22, was stopped at Heathrow as he tried to catch a flight to Nairobi with military fatigues in his luggage. He was en-route to become a suicide bomber in Somalia and is now serving a ten-year sentence for seeking money for terrorism.

Driving back through London in the late summer of 2006, the group passed Paddington Green high-security police station. Hamid shouted out of the car window: "Here is your terrorist, come and get me."

He did not have long to wait. The authorities were biding their time — waiting for the new anti-terror legislation to be in place and for the group to be gathered together so that they could arrest all the suspects at once.

The opportunity came on a Friday night in September 2006 when Hamid had gathered his followers in the Bridge to China Town halal Chinese restaurant in South London.

They had barely finished their prawn crackers and noodles from the bargain buffet when five riot vans pulled up and 50 armed police filed through the door. The diners were ordered to put down their chopsticks while police seized mobile phones. The kitchen was closed and a dozen men were placed under arrest.

In subsequent searches of their homes a huge array of extremist material was recovered as well as a number of ball-bearing guns. One member of the group, known as Salaam Joh, has subsequently been jailed for five years for possessing a sawn-off shotgun.

A senior counter-terrorism source said: "There has always been the danger of trivialising what these people were doing. They were engaged in paramilitary training for terrorism, they talked repeatedly of fighting and killing non-believers and they rejected Muslims who did not follow their path.

"They posed a huge danger to young impressionable people who could have been lured into terrorism."