This item is available on the Militant Islam Monitor website, at http://www.militantislammonitor.org/article/id/7197
Terror Tied Islamist Groups Issue Boilerplate Statements On Muslim Attacks In Paris - Worry About How It Will Affect Them
November 17, 2015


American Islamist groups with links to terrorist organizations have issued cynically self serving boilerplate statements on the Muslim terrorist attacks in Paris with MPAC worrying about a nonexistent "backlash".The Islamic Society of North America is an unindicted co- conspirator in the U.S. vs Holy Land Hamas funding trial. ISNA's mission statement is contained in their name,they aim to establish an Islamic Society of North America,The Islamic Circle of North America is a group linked to Al Qaeda,The Council on American Islamic Relations is a Saudi funded front group for Hamas. the head of the Muslim American Society, Mazen Mokhtar, is a known Al Qaeda operative. MAS's goal is also in their name, to transform America into a Muslim American Society.

ISNA Condemns Terrorist Attacks in Paris

(Plainfield, IN 11/14/15) - The Islamic Society of North America (ISNA), the oldest and largest American Muslim umbrella organization, today condemned the six terrorist attacks that left over 100 dead in Paris, France.

SEE: Scores killed in Paris terror attacks; police storm theater with hostages (USA Today)

In a statement, ISNA President Azhar Azeez said:

"We strongly condemn the terrorist attacks in Paris. No religious tradition can ever justify nor condone such ruthless and senseless acts of violence. Our prayers and condolences go out to the family and loved ones of the victims."

The Islamic Society of North America's position on terrorism and extremism has been consistent with mainstream Islam as practiced by the overwhelming majority of Muslims in America and around the world.

SEE: ISNA's Position on Terrorism and Religious Extremism

The Islamic Society of North America (ISNA) is the largest and oldest Islamic umbrella organization in North America. Its mission is to foster the development of the Muslim community, interfaith relations, civic engagement, and better understanding of Islam

---END---

CONTACT: ISNA Communications Director Edgar Hopida, 317-839-1820 or 317-679-6350,[email protected] http://www.isna.net/isna-condemns-terrorist-attacks-in-paris.html

----------------------------------------------------------------------------

ICNA Horrified by the violent events in Paris

-—FOR IMMEDIATE RELEASE—-

NEW YORK, NY (November 13, 2015) – The Islamic Circle of North America ​is horrified by the series of events taking place in France. Our thoughts and prayers are with the families of the victims, the first responders, and all of the people of France.

"The loss of innocent lives, especially on a mass scale is devastating to all people of conscience. ICNA stands united with the people of France and all persons of good conscience in condemning this senseless outrage that threatens the safety of all of us.

"ICNA also appeals to the French authorities to take swift action in apprehending the perpetrators of this attack and bring them to justice.

"This kind of violence is inhuman and barbaric and is not justifiable by any religion. We are closely monitoring the news and o​​ur prayers are for the victims and their families at this difficult time." said ICNA President Naeem Baig.
Allah says, "Because of that, We decreed upon the Children of Israel that whoever kills a soul unless for a soul or for corruption [done] in the land – it is as if he had slain mankind entirely. And whoever saves one – it is as if he had saved mankind entirely. And our messengers had certainly come to them with clear proofs. Then indeed many of them, [even] after that, throughout the land, were transgressors." [Quran 5:32]

See a detailed article on ICNA's stance on violence and extremism:
Islam Condemns Extremism

The Islamic Circle of North America is a leading American Muslim organization dedicated to the betterment of society through the application of Islamic values. Since 1968, ICNA has worked to build relations between communities by devoting itself to education, outreach, social services and relief efforts.
—END—
Islamic Circle of North America
E-mail:

Office: (718) 658-1199

-------------------------------------------------------------------------------------

CAIR Condemns Paris Terror Attacks

(WASHINGTON, D.C., 11/13/15) – The Council on American-Islamic Relations (CAIR), the nation's largest Muslim civil rights and advocacy organization, today condemned terror attacks in Paris that left many people dead and injured.

In a statement, CAIR said:

"These savage and despicable attacks on civilians, whether they occur in Paris, Beirut or any other city, are outrageous and without justification. We condemn these horrific crimes in the strongest terms possible. Our thoughts and prayers are with the loved ones of those killed and injured and with all of France. The perpetrators of these heinous attacks must be apprehended and brought to justice."

CAIR has consistently and repeatedly condemned all acts of terrorism wherever they have occurred.

SEE: CAIR's Condemnation of Terrorism

CAIR-Philadelphia Executive Director Jacob Bender and Staff Attorney Ryan Houldin are available for interviews. Call 267-515-6710 or email [email protected].

CAIR is America's largest Muslim civil liberties and advocacy organization. Its mission is to enhance the understanding of Islam, encourage dialogue, protect civil liberties, empower American Muslims, and build coalitions that promote justice and mutual understanding.

– END –

Local Contacts: CAIR-Philadelphia Executive Director Jacob Bender, 267-515-6711, [email protected]; CAIR-Philadelphia Staff Attorney Ryan Houldin, 267-515-6712, [email protected]

National Contacts: CAIR National Communications Director Ibrahim Hooper, 202-744-7726, [email protected]; CAIR Communications Coordinator Nabeelah Naeem, 202-341-4171, [email protected]

http://pa.cair.com/pressrelease/cair-condemns-paris-terror-attacks/

-------------------------------------------------------------------------------------------------

Paris Attacks are Despicable, Our Prayers are with the Victims

November 14, 2015

The attacks in Paris were horrific and despicable, and taking innocent life violates the principles of every faith. The orchestration of multiple locations and maximization of casualties shows a sinister disregard for life that is grossly at odds with any and all of us as human beings and as American citizens.

We must redouble our efforts for partnership and cooperation with law enforcement, as they have the challenging dual responsibility to neutralize any terrorist threat and also to protect communities from any backlash.

Our country must be united in this time of crisis; unity will enhance our efforts to fend off any violent extremism and preserve the values of our society.

To mitigate any attempt by ISIS in their recruiting efforts in the U.S., we are promoting programs to build resilience against its terrorist ideology.

Our prayers and condolences go out to the families and loved ones of the victims.

We share these same condolences with the French Embassy, and later this week, plan to visit the Embassy with our interfaith partners as a way to express our collective concern and solidarity.

We also acknowledge the carnage that took place in Beirut. Our hearts go out to those impacted by that attack and to all victims of terrorism around the world.

In peace,

Salam Al-Marayati
President

http://www.mpac.org/blog/paris-attacks-are-despicable.php

------------------------------------------------------------------------------------------------------------------

MAS Condemns Paris Attacks

(Washington, D.C., November 14, 2015) The Muslim American Society (MAS) strongly condemns the Paris attacks that took the lives of over 140 individuals and injured hundreds more.

In a statement, MAS Executive Director Mazen Mokhtar said: "It is with a heavy heart that we hear about the mass casualties caused by the Paris attacks. This complete disregard for the sanctity of human life is both despicable and cowardly. It is our hope that the perpetrators of these acts of violence are brought to justice. Our thoughts and prayers are with the families of the victims, and with the city of Paris."

For Immediate Release

Contact: Lana Safah

The Muslim American Society is a dynamic charitable, religious, social, cultural and educational organization. Its mission is to move people to strive for God consciousness, liberty, and justice, and to convey Islam with utmost clarity.

http://www.muslimamericansociety.org/content/mas-condemns-paris-attacks/

MIM: Also see:

American Islamist Terror Linked Groups Issue Boilerplate Statements on the Death of Bin Laden

http://www.militantislammonitor.org/article/id/4936

Muslim Organisations Attempt To Whitewash Ft. Hood Jihad With Boilerplate Statements

http://www.militantislammonitor.org/article/id/4146

-----------------------------------------------------------------------------------

MIM: CAIR recently held an event which was aimed at undermining FBI counter terrorism efforts,

FREE Community Event: Trapped by the FBI!

Posted November 2, 2015

Important FREE Presentation about the FBI and the Entrapment of American Muslims

WHEN: Sunday, Nov 15, 3:00 – 5:00 pm

WHERE: Friends Center, 1501 Cherry Street, Philadelphia, PA 19102

As has been reported in the America media, in their attempt to fight an ill-conceived "war on terror," agencies of the US Government, especially the FBI, are often the very authors of the attempted terror attacks they are charged with preventing. This tactic often involves the recruitment and manipulation by the FBI of impressionable young men in the American Muslim community, a ploy known as "entrapment" that makes use of informants.

Award-winning investigative journalist Trevor Aaronson, author of The Terror Factory: Inside the FBI's Manufactured War on Terrorism, will discuss his reporting on the FBI's use of informants and stings in U.S. Muslim communities. He will also show his documentary for Al Jazeera Media Network, "Informants," which screened at the London Investigative Film Festival. Aaronson is a 2015 TED Fellow, and he has been featured on CBS This Morning, NPR's All Things Considered, MSNBC, This American Life, and WNYC's On the Media, among others. For further information, call the CAIR office, 267-515-6710.

Do not miss this important program. Please distribute this announcement widely.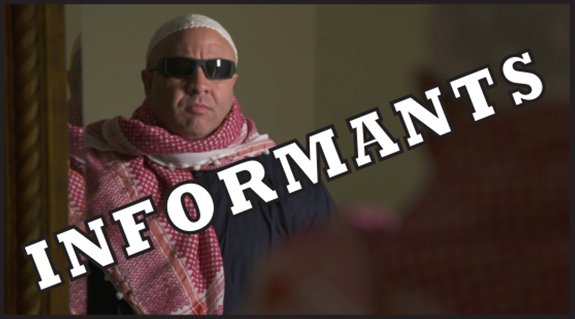 http://pa.cair.com/news/free-community-event-trapped-by-the-fbi/
FBI Entrapment Workshop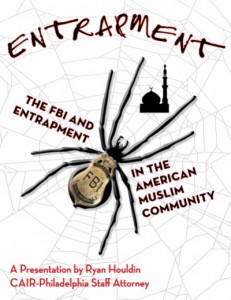 This workshop educates the community on the methods and dangers of entrapment and provides the tools needed to prevent entrapment of community members to become terrorists in the commonwealth of Pennsylvania.
Presented by CAIR-Philadelphia's Staff Attorney Ryan Houldin.
Contact us today to schedule this presentation for your community.
http://pa.cair.com/education/fbi-entrapment/
NAIT Statement Against Terrorism
Dr. Muzammil Siddiqi (Chairman)
Br. Azhar Azeez (ISNA President)
Dr. Gaddoor Saidi
Dr. Bassam Osman
Br. M. Farooq Malik
Br. M. Ali Sarodi
Dr. Mujeeb Cheema


Click here for :

721 Enterprise Drive, Oak Brook, IL 60523

630-789-9191

In

[email protected]

AsSalaamu Alaykum wa Rehmatullah brothers, sisters, and friends,

"Who so ever kills a soul except as a punishment for murder or mischief in the land, it shall be as if he has killed all mankind, and who so ever saves the life of one, it shall be as if he had saved the life of all mankind," (Qur'an: 5:32)


NAIT affirms and unequivocally reiterates that those who commit acts of terror, murder and cruelty in the name of Islam are not only destroying innocent lives, but are also betraying the values of the faith they claim to represent. No injustice towards Muslims can ever justify the massacre of innocent lives, and no act of terror will ever serve the cause of Islam. NAIT strongly condemn the terrorist attacks in Paris and San Bernardino. No religious tradition can ever justify nor condone such ruthless and senseless acts of violence. Our prayers and condolences go out to the family and loved ones of the victims.
Just as we reject a Muslim committing terror, we deplore any kind of terrorism committed against any faith based organization or its members and stand in solidarity with our fellow Americans against any form of terror or racism regardless of the perpetrator. NAIT's primary mission is to protect the properties of those centers and is not involved in the operational management of those facilities. We encourage all centers to have good governance while respecting local, State and Federal laws. We encourage them to reach out to other interfaith organizations, reach out their neighbors, and lend a helping hand to those in need. We also encourage centers' leadership to speak out against terrorism, be inclusive of women, and maintain close relationship with law enforcement agencies.
The current wave of Islamophobia and its leaders continue tirelessly to paint law abiding Muslims with the same brush tainted by the extremists on the fringe, and NAIT is no exception. CAIR, MAS, ISNA, ICNA, NAIT and countless Muslim organizations have been unfairly targeted with the hope of limiting their support from the community to reduce their influence and effectiveness. We urge all Muslims to increase their support to their local centers as well as the national organizations that are in the forefront in the fight to protect Islam and Muslims.
We repudiate and dissociate ourselves from any "Muslim" group or individual who commits such brutal and un-Islamic acts resulting in harm to any human being. We refuse to allow our faith to be held hostage by the criminal actions of so called Muslims acting outside the teachings of both the Qur'an and the teachings of Prophet Muhammad and the prophets who came before him, peace be upon them all.


O believers! Stand firm for justice and bear true witness for the sake of Allah, even though it be against yourselves, your parents or your relatives. It does not matter whether the party is rich or poor - Allah is well-wisher of both. So let not your selfish desires swerve you from justice. If you distort your testimony or decline to give it, then you should remember that Allah is fully aware of your actions.(Qur'an 4:135)




http://campaign.r20.constantcontact.com/render?ca=96735546-52d6-4d25-9dc7-1fe8ab0ec93b&c=9d2a9c60-7c20-11e3-8def-d4ae52a68661&ch=9dd00420-7c20-11e3-8e10-d4ae52a68661
This item is available on the Militant Islam Monitor website, at http://www.militantislammonitor.org/article/id/7197