-----------------------------
CAIR: 'Moderate' friends of terror
by Daniel Pipes
New York Post
April 22, 2002
sans-serif">http://www.danielpipes.org/394/cair-moderate-friends-of-terror
The Washington-based Council on American-Islamic Relations presents itself as just another civil-rights group. "We are similar to a Muslim NAACP," says spokesman Ibrahim Hooper. Its public language - about promoting "interest and understanding among the general public with regards to Islam and Muslims in North America" - certainly boosts an image of moderation.
That reputation has permitted CAIR to prosper since its founding in 1994, garnering sizeable donations, invitations to the White House, respectful media citations and a serious hearing by corporations.
In reality, CAIR is something quite different. For starters, it's on the wrong side in the war on terrorism. One indication came in October 1998, when the group demanded the removal of a Los Angeles billboard describing Osama bin Laden as "the sworn enemy," finding this depiction "offensive to Muslims."
The same year, CAIR denied bin Laden's responsibility for the twin East African embassy bombings. As Hooper saw it, those explosions resulted from some vague "misunderstandings of both sides." (A New York court, however, blamed bin Laden's side alone for the embassy blasts.)
In 2001, CAIR denied his culpability for the Sept. 11 massacre, saying only that "if [note the "if"] Osama bin Laden was behind it, we condemn him by name." (Only in December was CAIR finally embarrassed into acknowledging his role.)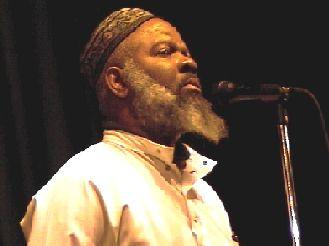 Siraj Wahhaj, unindicted and on CAIR's advisory board.

CAIR consistently defends other militant Islamic terrorists too. The conviction of the perpetrators of the 1993 World Trade Center bombing it deemed "a travesty of justice." The conviction of Omar Abdel Rahman, the blind sheikh who planned to blow up New York City landmarks, it called a "hate crime." The extradition order for suspected Hamas terrorist Mousa Abu Marook it labeled "anti-Islamic" and "anti-American."

Not surprisingly, CAIR also backs those who finance terrorism. When President Bush closed the Holy Land Foundation in December for collecting money he said was "used to support the Hamas terror organization," CAIR decried his action as "unjust" and "disturbing."

CAIR even includes at least one person associated with terrorism in its own ranks. On Feb. 2, 1995, U.S. Attorney Mary Jo White named Siraj Wahhaj as one of the "unindicted persons who may be alleged as co-conspirators" in the attempt to blow up New York City monuments. Yet CAIR deems him "one of the most respected Muslim leaders in America" and includes him on its advisory board.

For these and other reasons, the FBI's former chief of counterterrorism, Steven Pomerantz, concludes that "CAIR, its leaders and its activities effectively give aid to international terrorist groups."

Nor is terrorism the only disturbing aspect of CAIR's record. Other problems include:
Intimidating moderate Muslims. In at least two cases (Hisham Kabbani and Khalid Durán), CAIR has defamed moderate Muslims who reject its extremist agenda, leading to death threats against them.

Embracing murderers. CAIR responded to the arrest and conviction of Jamil Al-Amin (the former H. Rap Brown) by praising him, raising funds for him and then denying his guilt after his conviction for the murder of an Atlanta policeman. Likewise with Ahmad Adnan Chaudhry of San Bernardino, Calif.: Disregarding his conviction for attempting murder, CAIR declared him "innocent" and set up a defense fund for him.

Promoting anti-Semitism. The head of CAIR's Los Angeles office, Hussam Ayloush, routinely uses the term "zionazi" when referring to Israelis. CAIR co-hosted an event in May 1998 at which an Egyptian militant Islamic leader, Wagdi Ghunaym, called Jews the "descendants of the apes."

Omar Ahmad, founding chairman of CAIR.

Aggressive ambitions. As reported by the San Ramon Valley Herald, CAIR Chairman Omar M. Ahmad told a crowd of California Muslims in July 1998, "Islam isn't in America to be equal to any other faith, but to become dominant. The Koran . . . should be the highest authority in America, and Islam the only accepted religion on earth."
CAIR's real record is one of extremism. North American Muslims themselves are beginning to discover - and the government, leading media, churches, and businesses should follow - that CAIR represents not the noble civilization of Islam but an aggressive and radical strain similar to that which led to the suicide hijackings last September. CAIR must be shunned as a fringe group by responsible institutions and individuals throughout North America.
http://www.danielpipes.org/394/cair-moderate-friends-of-terror
-------------------------------------
MIM: In 1998 Larry Shaw spoke at a radical Islamist fundraiser which included Omar Ahmad of CAIR and Abdulrahman Alamoudi the former head of the American Muslim Council who was jailed for 23 years for terrorism related offenses.
Washington Report on Middle East Affairs, January/February 1998, Pages 85-86
Muslim-American Activism
AMA RAISES POLITICAL CONSCIOUSNESS AND $100,000 AT ST. LOUIS CONVENTION
With the slogan "2,000 by the Year 2000," the American Muslim Alliance held its second national convention at the St. Louis, Missouri, Marriott Hotel Oct. 4. The slogan, national chairman Dr. Agha Saeed told delegates, means that the organization plans to encourage 2,000 Muslim candidates to run, for elective office in the U.S. national elections in the year 2000.
If this sounds ambitious in a country which to date does not have a single Muslim member of Congress, members of the AMA board of directors, none of whom are paid for their services and all of whom pay their own travel and other expenses, can point to AMA's phenomenal growth since its founding in 1994. Although the national organization does not issue a charter until a local chapter has 30 paid-up members, by the end of 1997 there were 75 regional chapters, some of them with membership in the hundreds.
Former Illinois Republican Rep. Paul Findley was the keynote speaker at the evening banquet. In earlier sessions former California Republican Rep. Paul N. (Pete) McCloskey of California offered organizational advice and anecdotes from his congressional career, pointing out that "it's not the number of voters for you, it's the number who vote for you" that counts. Former California Representative Jim Bates, now a resident of Idaho and a convert to Islam, offered a five-year master plan for Muslims to foster a positive media image, gain political access and influence, and elect Muslims to offices ranging from school boards to Congress.
A positive sign of things to come was the fund-raising session that followed Representative Findley's speech. Some 400 persons attending the banquet pledged more than $100,000 toward AMA's 1998 budget. Since the entire expenses of this organization, which maintains a national headquarters office with one paid secretary in Fremont, California, were $35,000 in 1996 and an estimated $51,000 in 1997, the jump in revenues presages continued rapid expansion in 1998. Three national programs are planned between January and October to coordinate election-year efforts to turn out the Muslim vote and, where appropriate, reach agreed endorsements of candidates for elective office.
Dr. Syed Akhbar Raza, a Missouri physician, welcomed delegates to St. Louis on behalf of the convention organizing committee with some remarks that were both inspirational and cautionary. "We are, by the grace of Allah, in America and...we are in fact Americans...and we have accepted the benefits of living here," he said. "Now we must create our niche within this country's political system. The longer we allow our ship to be battered by the nationalistic differences from our various native lands, the longer our journey will be stalled...Allow yourselves to forget your home country differences so that we may become one force in America."
Dr. Raza said that in the coming sessions "inevitably these wonderful and knowledgeable speakers will motivate and excite you. You will likely feel the desire to clear tall buildings in a single leap. However, you must temper your enthusiasm with one critical reality. We can accomplish nothing alone. If we are to succeed as we plan, it will take a determined, intense and ultimately satisfying combined effort from all American Muslims, allied as one."
Following up on the theme of unity was an Islamic leadership panel made up of representatives of five of the major Islamic organizations in the United States. Besides AMA national chairman Dr. Agha Saeed and national vice chairman Dr. Shabbir Safdar, the panel included Abdurahman Al-amoudi of the American Muslim Council (AMC) in Washington, DC, Omar Ahmed of the Council on American Islamic Relations (CAIR) in Washington and California, Dr. Maher Hathout of the Muslim Public Affairs Council (MPAC) in Los Angeles, and Inayat Lalani of the American Muslim Caucus, headquartered in Dallas/Fort Worth. A message of solidarity with the panel was read from Dr. Mohammad Mehdi of the National Council on Islamic Affairs.
To sustained applause AMC President Alamoudi proposed formation of a council of presidents of major American Islamic organizations to provide a framework for effective and unified decisions and actions by Muslims across the United States (see article by Mr. Alamoudi on p. 50 of this issue). (Although Omar Ahmed of CAIR expressed doubt during the panel discussion that the community was ready for such a formal structure so early in its political awakening, he publicly withdrew this objection and pledged CAIR's cooperation with the project at a December AMA program in California which will be covered in the March Washington Report.)
AMA board member Erik Vicker, an African-American attorney from St. Louis, told delegates, "We have to define in the American context what Islam is, who we are and what we stand for...The U.S. is in a state of political chaos. It needs what we have to offer. Our jihad is to struggle for what is right. As we are true to our faith, God will provide us with all the power we seek and more than we can imagine."
Dr. Maher Hathout said "there is no political future for Muslims separate from the future of Muslims as a whole." He called upon his listeners to participate "in the making and shaping of events in this country." He criticized "the Zionist lobby" for "insisting on monopolizing the American destiny" and seeking to "resist allowing Americans to think for themselves." The result, Dr. Hathout said, is the present "schizophrenic American foreign policy."
New York attorney Abdeen Jabara, a former executive director of the American-Arab Anti-Discrimination Committee (ADC), noted that in the 1996 elections "candidates spent double what had ever been spent before." Noting that participation in elections is dropping dramatically as American voters increasingly conclude that the individual is disenfranchised by monied interests, he said, "The Dow is up for American democracy in trouble."
Criticizing the Federal Election Commission, composed of three Republicans and three Democrats, Jabara said the six members "catch the little fish and let the big fish get away." He noted, too, that few members of Congress are interested in enacting either of the two campaign finance reforms that could make a difference. These are setting campaign spending limits and providing public financing for election campaigns.
Editor Richard Curtiss of the Washington Report on Middle East Affairs suggested that "in the long run there probably is only one way to solve not only the Jerusalem problem, but also the many other problems that beset Muslims in the United States as a result of media stereotyping and the many deliberate attempts to marginalize them and their role in American life. That is for U.S. Muslims to organize themselves to take the lead in helping the American people take back control of their own Middle East policy." He offered a number of suggestions for "making the Muslim presence felt" in the 1998 and 2000 election years.
State Senator Larry Shaw, a Muslim from North Carolina, A.M. Abdul Majeed, deputy director of the Department of Alcohol and Drugs in California, and Najeeb Ahmad, elected to a school board in an area with a low percentage of Muslim residents, were presented to the delegates as members of a panel entitled "Our Success Stories."
Prof. Anwar Syed addressed the question of Muslim participation in a non-Muslim society, an issue that until recently bothered many Muslim immigrants to the United States. "It's no longer a question of whether Muslims should participate," he said. "As far as the American Muslim Alliance is concerned, that question is settled. We have no plans to go away. As far as we're concerned, the old medieval question of Dar al Islam and Dar al Harb does not apply. America is not Dar al Harb."
Professor Syed noted also that "it is clear that Muslim candidates for office cannot hope to win just with Muslim votes. Their purpose cannot merely be advancement of Muslim causes. We have to include American causes."
AMA treasurer Dr. Riaz Ahmad of Detroit, after discussing finances with the members, announced that the AMA now has been granted tax-exempt status. He said, "Donating to AMA is not a charity. It's an obligation. We want to live here, but we are America's most endangered species." He added, however, that "we should take some comfort in the fact that we did make the difference in some states" during the 1996 elections.
Another AMA board member, Dr. M.A.Q. Siddiqi of New Jersey, elaborated on this theme. He reported to members that Sen. Robert Torricelli of New Jersey has noted publicly on three occasions that the Muslim bloc vote was a crucial factor in his narrow 1996 election victory over Dick Zimmer. Dr. Siddiqi noted also that Sen. Tim Johnson publicly credits a campaign by American Muslims of Pakistani background for his victory in South Dakota over an incumbent senator who had authored the legislation that ended the U.S. military aid program to Pakistan.
Other speakers and panel and workshop participants included Imam Mohammed Nur Abdullah, Nasaryab Hassan, Nabil Abdelhamid, Tom Watson, Dr. Rukshanda Hassan, Farooq Ansari, Iqbal Raza, Shamim Hussain, Prof. Bashir Ahmad, Abdul Kungbargi, Rep. Larry Shaw, Nihad Awad, Safir Ahmad, Dr. Mahjabeen Islam-Husain, Prof. Bashir Hussain, Imam Malik Ali, Dr. Mohammed Ali Chaudhry, Asim Ghafoor, Rafiq Jaber, Prof. Samih Alarian and fund-raiser Ahmad Sakr.
http://www.washington-report.org/backissues/0198/9801085.htm