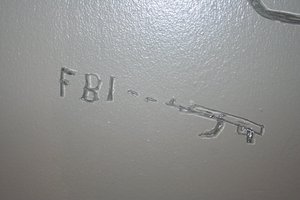 Some of the graffiti that prosecutors say Fort Dix Six suspect Agron Abdullahu scratched into his detention-center cell door.

http://www.philly.com/inquirer/home_region/8065262.html

Feds: Base Plot Suspect Threatens FBI

http://www.guardian.co.uk/worldlatest/story/0,,-6719306,00.html
Tuesday June 19, 2007

By GEOFF MULVIHILL

Associated Press Writer

MOUNT LAUREL, N.J. (AP) - Drawings found in the prison cell of a man suspected of plotting to attack Fort Dix suggest that he wants to seek revenge against FBI agents and should remain in custody, prosecutors said Monday.

The drawings - include one with the letters "FBI" and a gun pointing to them - are another reason that Agron Abdullahu should not be released from custody as he awaits trial, the U.S. Attorney's Office said in legal documents filed Monday.

Abdullahu seemed to be thinking about "seeking revenge against the FBI agents who caused him to be imprisoned in the first place," they wrote. "Releasing Abdullahu now would not only endanger the community at large, but also the agents who investigated this case."

Guards at the Federal Detention Center in Philadelphia found the FBI drawing and another in the one-person cell where Abdullahu is being held.

The other drawing was of the phrase - "Rainca Kosava UCK." Prosecutors contend that it refers to the Kosovo Liberation Army, which they say has links to some terrorist groups. Authorities said Abdullahu admitted to drawing the graffiti and explained that "Rainca" was the town where he was born.

The government said the drawings were etched with the screw from a light switch plate onto the door of Abdullahu's cell.

Abdullahu was arrested, along with five other men on May 7.

The other five were accused of conspiring to kill soldiers - a crime punishable by life in prison. Abdullahu, a 24-year-old baker, was charged with providing guns to illegal aliens, punishable by up to 10 years in prison.

Like three of the other suspects, he is an ethnic Albanian who was born in the former Yugoslavia. He arrived in the United States as a teenager in 1999 after leaving war-torn Kosovo and being airlifted from neighboring Macedonia.

The federal public defender representing him, Lisa Evans Lewis, argued last month that he should be freed on bail because he has a responsibility to his parents and younger sisters and because he was not willing to go along with a plot to kill soldiers.

In an unusual move, Abdullahu himself testified at the bail hearing. At one point, he told the judge: "I would never do anything to harm this country."

Federal Magistrate Joel Schneider rejected those arguments, and tearful pleas from his family. Schneider said he would rule on an appeal this week.

The drawings were found more than a week after the initial denial of bail.

Lewis, who generally does not speak to reporters, did not return an after-hours call to her office. Greg Reinert, a spokesman for the U.S. Attorney's Office, said his office would not elaborate on the government filing.

----------------

Terror suspect scrawls violent graffiti in cell, U.S. says

Federal prosecutors say one of the Fort Dix Six suspects drew pictures suggesting that he wanted to attack the FBI.

By Troy Graham

Inquirer Staff Writer

http://www.philly.com/inquirer/local/nj/8065262.html

Some of the graffiti that prosecutors say Fort Dix Six suspect Agron Abdullahu scratched into his detention-center cell door. Agron Abdullahu, one of the Fort Dix Six, scratched graffiti into the door of his jail cell that included an AK-47 assault rifle firing bullets at the letters "FBI," prosecutors charged yesterday.

They said he also etched the name of a town in Kosovo, his homeland, along with an Albanian acronym for the Kosovo Liberation Army, which prosecutors called a paramilitary organization with a history of war crimes.

"The subject matter of the etchings alone is disturbing at best, and at worst demonstrates the volition of an individual predisposed to violence," prosecutors wrote in a brief filed in federal court in Camden yesterday.

The brief, which includes pictures of the etchings, was filed in response to a motion from Abdullahu's attorney asking the court to reconsider its decision to hold Abdullahu without bail.

Abdullahu was one of six men arrested May 7 as part of a federal terrorism investigation. Five of the men were charged with plotting to attack Fort Dix in the hopes of killing soldiers there. They face life in prison if convicted.

Abdullahu, 24, of Buena Vista Township, Atlantic County, was charged with helping three of those suspects acquire weapons. He faces 10 years in prison if convicted. He was not charged with being a part of the plot to attack Fort Dix.

All six men pleaded not guilty last week.

Abdullahu's attorney, Lisa Evans Lewis, said in her motion for bail that Abdullahu credits this country with saving his life and keeping his family together.

Abdullahu's family escaped the war and ethnic cleansing of their native Kosovo by walking more than 30 miles to a refugee camp in what is now Macedonia, she wrote. They won a lottery to come to the United States, arriving through Fort Dix in 1999.

Abdullahu told his attorney that he never would have harmed this country because his family was "eternally grateful to the United States."

Despite that argument, a judge denied Lewis' first motion for bail in May. More than a week later, prison guards at the Federal Detention Center in Philadelphia discovered the etchings in Abdullahu's cell after removing him for a legal visit.

Abdullahu admitted to making the etchings, prosecutors said in their brief, but he would not elaborate on the Albanian acronym "UCK." Prosecutors said that etching "evinces a loyalty to an ethnic Albanian paramilitary organization."

The brief also said that a metal light-switch cover in Abdullahu's cell was missing a screw, which was found on the top bunk. A corner of the light switch cover had been filed down and "could easily be used as a weapon," the brief said.

The U.S. Attorney's Office would not comment on the brief, and Lewis did not return a phone message late yesterday seeking comment.

In the brief, prosecutors said that releasing Abdullahu would endanger not only the community but also the FBI agents who investigated the case.

"Abdullahu had plenty of time on his hands in his prison cell to think about the situation in which he found himself," the brief said. "Abdullahu's thoughts clearly turned to seeking revenge against the FBI agents who caused him to be imprisoned in the first place."

------------

http://www.app.com/apps/pbcs.dll/article?Date=20070615&Category=NEWS03&ArtNo=706150377&SectionCat=&Template=printart

Fort Dix Six plead not guilty in plot 6/15/07
Judge hopeful trial can begin by October
CAMDEN — The six men accused of plotting to attack soldiers at Fort Dix pleaded not guilty Thursday as a federal judge promised to have the trial wrapped up by the end of the year.
"If the government is not able to prove this case, they should not be in jail. I want to get this resolved," U.S. District Judge Robert Kugler said.
Kugler set a tentative trial date of Aug. 13, but said he hoped the trial could realistically begin by early October.
Assistant U.S. Attorney William Fitzpatrick said he thinks the trial will last about four weeks.
The trial will take months to prepare because jury selection for such a high-profile case could be difficult, and because the defense lawyers will need to review a mountain of evidence, including more than 1,000 audiotaped conversations, the judge said.
Government lawyers said they would start sharing CDs of the conversations with defense lawyers quickly.
Calling it "an unusual case," Kugler said he would try to pave the way for a smooth trial by increasing security, allowing journalists to see evidence online as soon as it is introduced in court, and possibly blocking off streets around the federal courthouse in Camden.
Kugler also said he would work with other judges to get trials on the defense lawyers' calendars — including a capital murder trial in Burlington County — rescheduled.
The men were arrested and charged last month with planning the attack. Authorities said they planned to use mortars, rocket-propelled grenades and guns in a raid on a New Jersey installation used mainly to train reservists. The assault never took place.
The suspects — one from Turkey, one from Jordan, and four of whom are ethnic Albanians from the former Yugoslavia — have been held without bail in a federal detention center since they were arrested May 7.
Mohamad Ibrahim Shnewer, Serdar Tatar and the brothers Dritan, Eljvir and Shain Duka are charged in the indictment with conspiring to kill military personnel, which is punishable by life in prison.
Dritan and Shain Duka also are charged with possession of machine guns. All three Duka brothers are charged with possession of weapons by illegal immigrants.
A sixth man, Agron Abdullahu, is charged with providing weapons to illegal immigrants, punishable by up to 10 years in prison. On Thursday, another federal judge rejected his appeal of an earlier decision that he should be detained as he awaits trial.
Investigators zeroed in on the men after an electronics store clerk told the FBI about footage of them firing assault weapons and screaming about jihad on a video they asked him to transfer to DVD.
The men allegedly practiced firing weapons in the Pocono Mountains in Pennsylvania and made a deal, through a paid FBI informant, to buy fully automatic weapons.
Authorities said the six scouted out East Coast military installations to find one to attack, but settled on Fort Dix largely because Tatar knew his way around from delivering pizzas to the base for his father's restaurant.